Tompkins, Walker warn against community development merging with code enforcement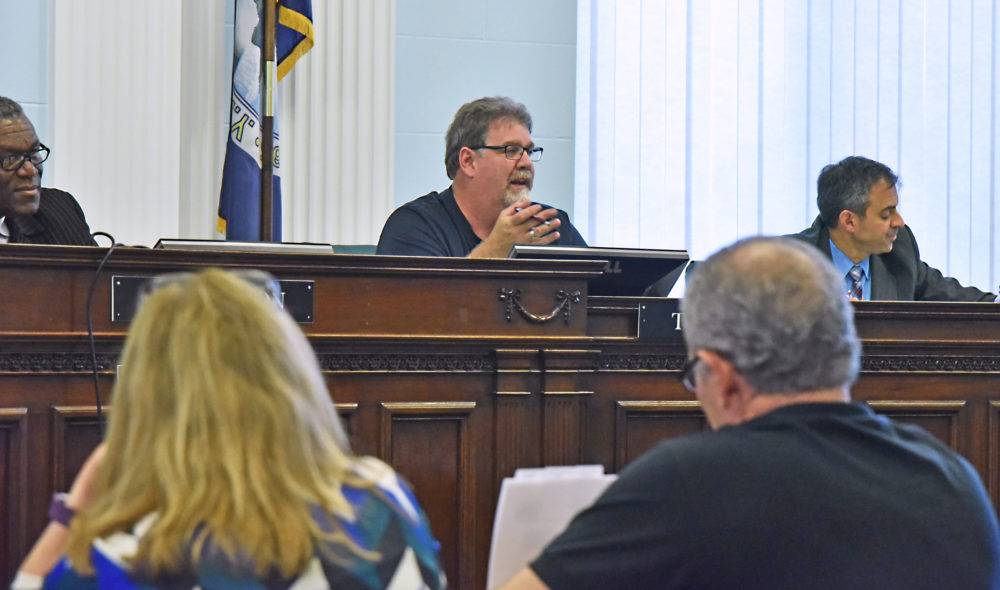 While four other cities in WNYork received a combined $10 million from Albany on Wednesday, Niagara Falls took another step closer to a control board when the bulk of a one-hour meeting on the 2017-18 budget resulted mostly in warnings against a certain department merger.
Developed "in isolation" by the Dyster administration, the idea to combine community development and code enforcement was met with skepticism from councillors Kenny Tompkins (above center) and Charles Walker (above left) who are worried the merged department would lack the technical expertise and qualified personnel to carry out inspections and generate revenue.
Well-regarded head of code enforcement Louis Fontana is retiring soon and Community Development Director Seth Piccirillo is being positioned to head a combined department.
"It's being proposed on a trial basis," said City Controller Daniel Morello, who was the only official administration representative at the hearing.
"The problem with 'trail basis' is it often it becomes permanent," said Tompkins. "I wish the city administrator and mayor were here," he said.
"We may be saving money here, but it could be the wrong money," Tompkins said.
The administration is looking to save in the realm of $100,000 or more from the merger.
Tompkins said he wasn't against department mergers but said it would make more sense to merge code enforcement with engineering considering the technical expertise both departments require.
"We need somebody who knows construction," Tompkins said. "When they have a question, they go to Lou."
Council members present had questions about the proposed merger's organizational structure as well as employees' ability to handle the work load.
"If we aren't getting the work done, we aren't going to be generating revenue," Walker said.
Community development should endeavor to become self sufficient, he said.
Piccirillo was at a community development action plan meeting, which was scheduled months ago.
"Cost savings: At least $100k," Piccirillo said. "I am willing to oversee the codes office at zero cost or salary increase. Why? I believe strongly in streamlining government and breaking down municipal silos. My title would not change. Nor my salary. I would oversee both organizational charts. My department oversees three inspectors now, one code enforcement and two housing quality standards specialists. Inspections are part of what we do already," he said.
"My current department has a clear track record of productivity and a strong organizational culture. That is why we are being asked to take on more responsibility. We will ensure that code enforcement productivity increases by getting real input from employees, setting goals, then a strategy and operational procedures around those goals (a plan) and then execute that plan. Regardless of department or task, thats the only way success is achieved," said Piccirillo.
"The everyday citizen that needs to renovate his or her house, or that has a complaint, does not want to be bounced around to departments. They just want action. I believe that streamlined departments can help accomplish that goal. In the future, I also think it would make sense to merge economic development and planning under CD. That would be a one stop shop for all development and investment."
During Wednesday's hearing, new City Clerk Lisa Vitello said additional marriage licenses have generated about $20,000 more revenue as well as announcing that passport services could be rolled within four months.
"As a border city, we should be doing that," Vitello said.
Another budget hearing will take place in council chambers at city hall next Wednesday at 5 p.m.