Forbes St. residents in 2017 suffering from 1950's Love Canal toxic waste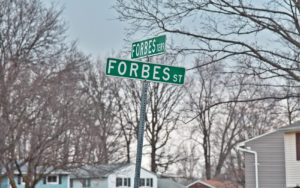 When the Love Canal area of Niagara Falls was evacuated and remediated during the late 70s and early 80s, unbeknownst to the current residents of Forbes Street and Forbes Terrace, the site's deadly toxic waste was trucked just a short distance away.
After the dumping took place, most of the 138 homes today were yet to be built on the residential street separating North Tonawanda and Wheatfield.
And the families that moved in were never warned.
Some came to tree-lined Forbes Street to escape the horror of Love Canal. Others moved there to enjoy the quaint, semi-rural nature of the neighborhood as well as a large green space to the north of the homes. Crops have been grown in the vicinity, and even in 2017, the area in question was recently considered for a new housing development.
During the 80s and 90s and up to now neighborhood kids hung out at the dump, where strange orange ponds still persist. They rode dirt bikes and started fires in the rusty steel drums littered throughout, where local chemical companies dumped 2,600 tons of Love Canal toxic waste.
The Niagara Sanitation Landfill in Wheatfield also became a repository for other companies with names such as Bell Aerospace, Durez, Hooker Chemical and their cancer-causing industrial byproducts, making it an even more contaminated threat to public safety than the world-infamous Love Canal.
Past and current residents — after years of suffering in isolation through numerous cancers and other immune system diseases — began to connect the dots regarding their illnesses and that big greenspace behind their homes that they were assured when moving in was "just wetlands."
Now, entire families are reporting illnesses, and a growing number of 'For Sale' signs show that residents are taking this deadly threat seriously.
Through private soil testing, Forbes residents say the contamination is leeching in all directions from the landfill site and contaminating the groundwater, filling up their backyards and getting into their basements, bringing all manner of frightening killer substances into their homes and their bodies.
More than 40 individual notices of claim have been filed with the Town of Wheatfield, adding up to more than $2 billion dollars in damages.
Wheatfield Town Attorney Matthew Brooks said on Monday the town carries the standard $1 million liability insurance policy, with an additional policy of up to $5 million in coverage.
"These claims go back many years, and we haven't had the same insurance company all these years," said Town Attorney Matthew Brooks at Monday's town board meeting.
"The expenses will be covered by taxes or grants from other government agencies," he said. "It's a long way down the road, but ultimately, we'll have to see if the insurance company will afford coverage."
No lawsuit has been filed yet as the residents' attorney is still accepting claims from Forbes Street and Forbes Terrace residents.
At the meeting, Town Supervisor Robert Cliffe told the audience a new document from the DEC has been posted on the town's website.
"They actually started already doing some shallow-bore testing and they are going to be doing some deeper-bore testing later on this year," Cliffe said.
"They are starting to cut down some trees very shortly and start digging test wells when they can get in there. They need to know what they want to do finally to cap this or close this once and for all, and they have to do testing to get this decision."
Meanwhile, residents are wondering what to do next. Some who've fled the street have reported many of their symptoms abating.
But that won't take away the untold number of cancers developed because of the dioxins, PCBs and DDT, lives interrupted and now being uprooted.
A fence is *still* being proposed to keep out the neighborhood kids and others from a moist deadly playground, however, residents say the damage is done.
As it is, the only warning that you're about to step into a marshy Class 2 toxic waste dump are approximately 12 small signs with far-too succinct text that reads "No Trespassing."
Of the vast remainder of Forbes residents choosing for now to stay — or having nowhere else to go — many are putting signs on their front lawn, giving visitors to 'For Sale' homes on the street the information they never got.
So it never happens again.