Relief amongst WFP-endorsed candidates after meritless Republican lawsuit gets dismissed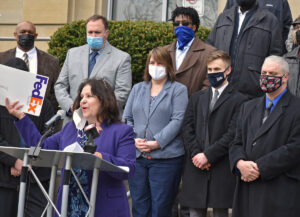 A boneheaded nuisance lawsuit filed by the state GOP — and signed off and supported by the Niagara County Republican party — tried to get legitimately endorsed candidates of The Working Families Party off the ballot. (One of them is Legislator Anita Mullane, above, who's holding the served lawsuit papers during a press conference April 17 in Lockport.)
It's the kind of cynical, dishonest move that makes people legitimately dislike politicians and lawyers.
A State Supreme Court judge in Onondaga County — where dozens of these cases statewide were consolidated — saw right through it and tossed out the lawsuit, which alleged that WFP state leaders invalidated vital candidate documents by using digital signatures instead of "wet" ones.
Supreme Court Judge Scott J. DelConte said there is no law mandating nominating petitions must contain "hand affixed and 'wet' original signatures. To the contrary, the Legislature has specifically authorized electronic signatures on election-related and other documents through the Electronic Signatures and Records Act."
"Simply put, Petitioners fail to allege any fatal errors or defects in the WFP's Wilson-Pakula authorization."
(A Wilson Pakula is an authorization given by a political party — in this case The Working Families Party — to a candidate not registered with that party to run as its representative.)
The ruling continues: "Even if they had alleged such errors, however, that certificate would still be presumptively valid because of the acknowledgments contained on it. All documents acknowledged by a notary public are presumed to have been properly signed and notarized in accordance with the law."
What makes this Republican lawsuit all the more egregious is that all County Boards of Elections were made aware — in a bi-partisan email — of an executive order by the governor allowing notarial acts to be performed remotely using video conferencing provided critical criteria are met.
"The primary purpose of Election Law is to safeguard the integrity of the electoral process and not to defeat elections. And as such, it is of primary importance that will of the party committee of the political subdivision is expressed."
What all this means is the the Niagara County Republicans are willing to stoop to any level to disrupt this upcoming election, keep legitimate party-endorsed candidates off the ballot, and keep themselves in control of a 40-year-old dynasty that's been sinking the county and causing folks for years to flee.
Candidates who were targeted by the lawsuit include: Austin Tylec (NT mayoral candidate); Jim Berry (NT 3rd Ward alderman candidate); Janette Evans (NT Alderman at Large); Ryan Howze (2nd Ward Alderman candidate); Bob Brennan (1st Ward Alderman candidate); Anita Mullane (Legislator from City of Lockport, 13th District); Daryl Bodewes (7th District Legislature candidate, NT/Wheatfield); Jon Wiley (5th Ward Alderman Candidate in City of Lockport); Sara Beilein-Capen (14th District Legislative candidate) and others from Niagara Falls (including Donta Myles, city council candidate as well asLegislature candidate and current council member William Kennedy) and John Jacoby (Lewiston Town Board).
As all of them can attest, this meritless lawsuit was a waste of resources and time that could have been spent reaching out to Working Families registered voters prior to the upcoming June. 20th primary.
So as this lawsuit shows, either the Republican leadership here in Niagara County are incredibly cynical, opportunistic and intellectually dishonest or maybe just actually inept.
The complete legal ruling can be found here.
FULL DISCLOSURE: The author of this article, Joseph Kissel, is running for the 9th Legislative seat in Niagara County, is the endorsed candidate in that race of the Working Families Party, and was also named as one of the defendants in the lawsuit that was dismissed.