Waterfront complex on former brownfield commanding rents up to $3,200 a month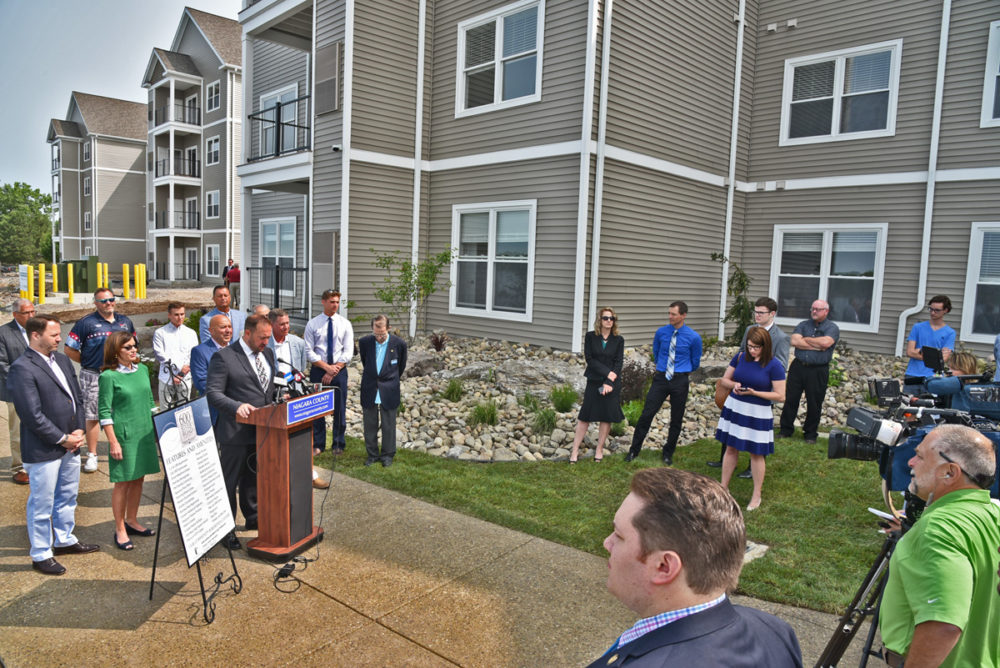 Lt. Gov. Kathy Hochul, who's been instrumental in toxic-waste site clean ups in Niagara County, re-appeared in North Tonawanda this morning to tout the state's brownfield remediation program in catapulting the brand-new apartment complex on River Road as a catalyst for more development along the waterfront.
Hochul: "I've spent a tremendous amount of time in North Tonawanda. And the transformation to someone is so visible. When I lived in the Southtowns we didn't actually come up to the Northtowns. We didn't spend time in North Tonawanda. Now it's a destination. It has a reputation for being a culinary place. A place where people can congregate. New breweries, restaurants."
"All that's great. But you need a place for people to live. And that's what this project is signaling. That this community is alive and well and vibrant and open for business. And so I believe there is going to be high demand for projects like this along the waterfront because this is truly one of our premiere locations in Western New York."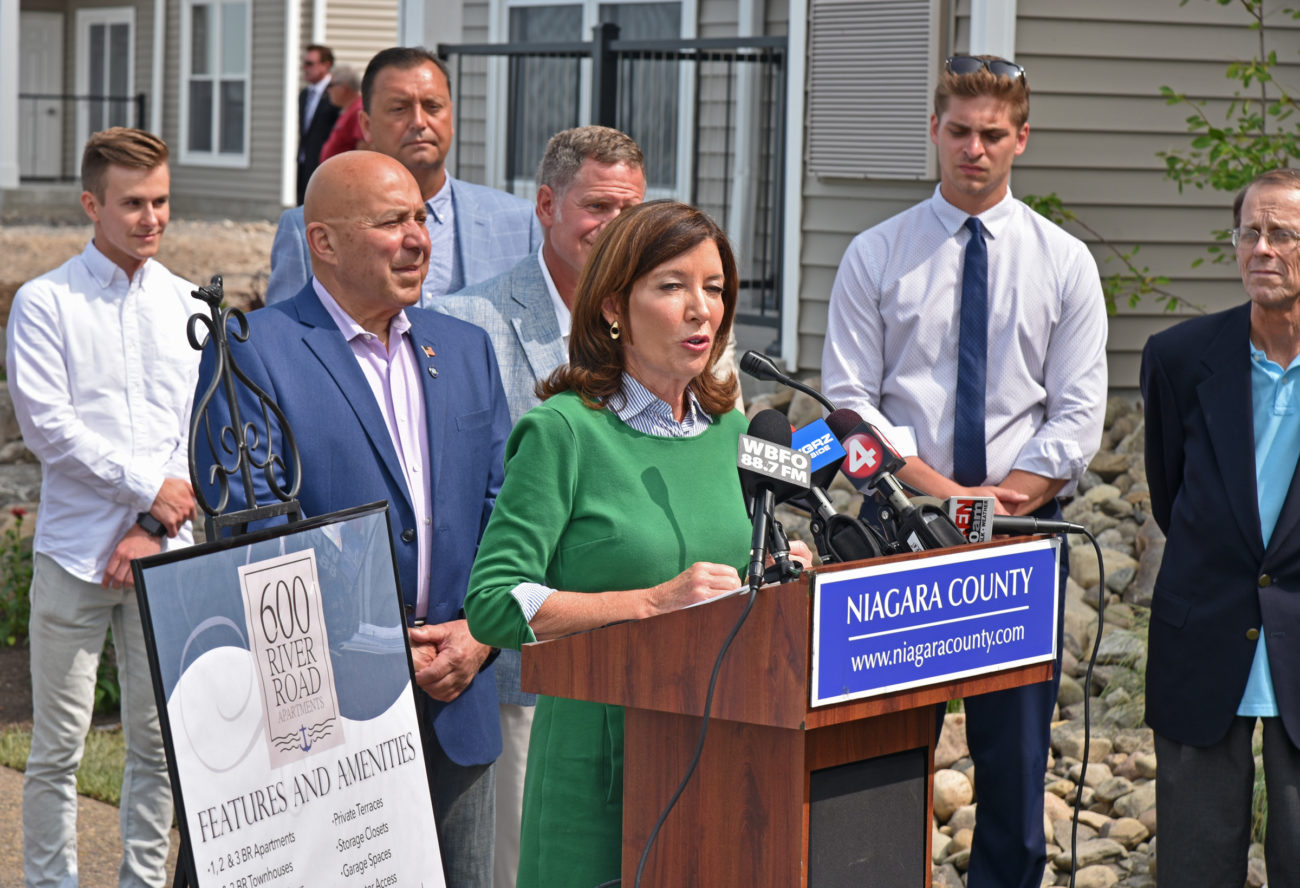 "This magnificent waterfront that was overlooked for decades. And yes it was great place when it was an iron-works facility and a marina after and people could work here and build the middle class and like so many of our other industrial cities from here down to Bethlehem Steel. Buttthat era is over. But what happened was so many of these business just abandoned their families, leaving the communities to just look at this this wasteland, a reminder of the former glory days. It's hurtful."
"But now to have visionary individuals like our develop Lou (Visone). You've done a wonderful job for having this vision. This is what it takes. It takes someone who says I can transform into this where people want to live and congregate and build their lives and you've accomplished that here today. 88 units. Incredibly beautiful. Amenities. Swimming pool. Fitness center. You've got me signing up for this. This is what I need to relax from my job."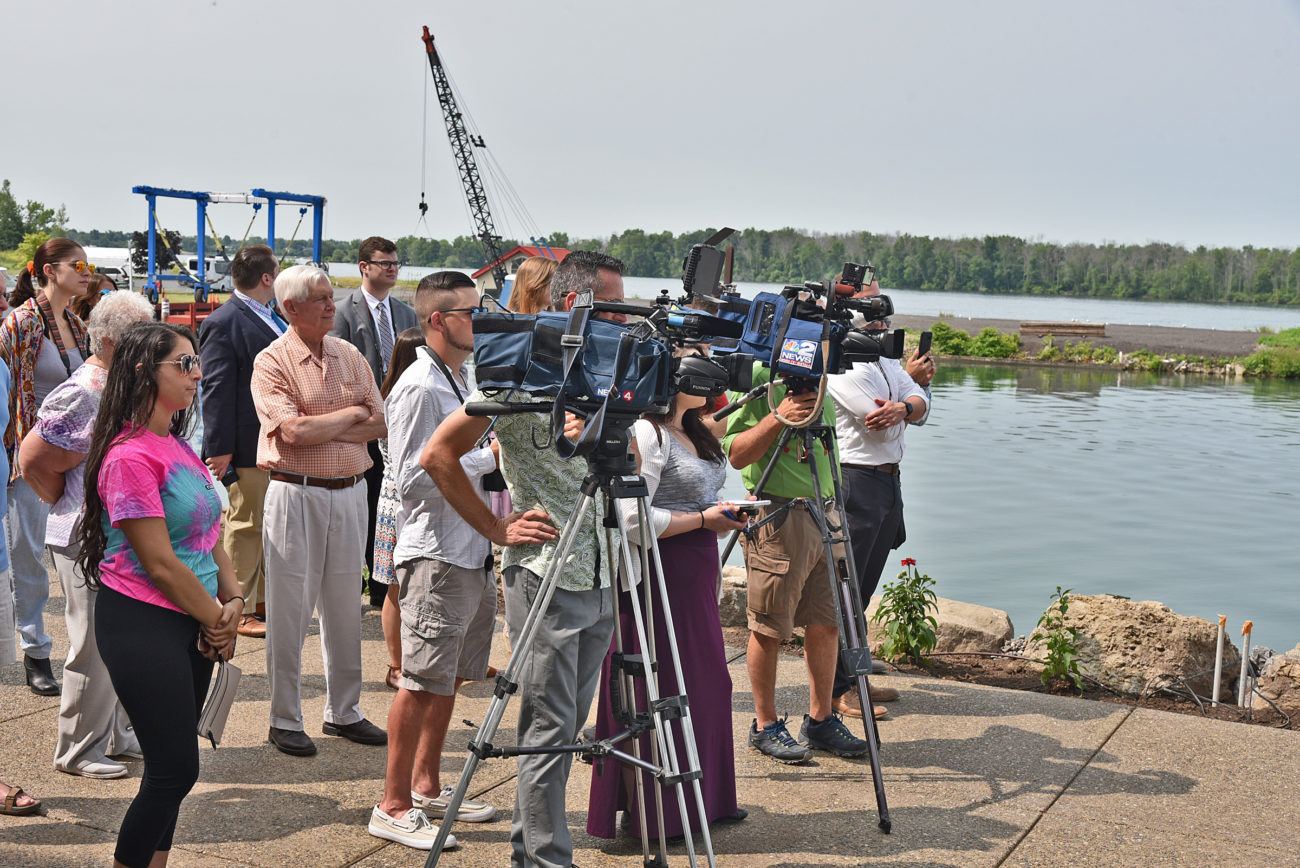 "I cannot overstate the value of real estate on our waterfront. So I'm really proud that the state was able to step up with $600,000 from the Department of State to start the cleanup in 2014-15. This land had to be remediated. You would not want to walk on the land the way it was before. But also $2 million in Brownfield tax credits. A program that is literally changing the landscape across the State of New York with our investments. Almost nearly 400 projects throughout New York State."
"When we said to the community you no longer have to look at a visible reminder of the past. Your future can be built on these very sites. And that's why this program is critically important. And so i just want to say as someone who covers the entire state almost in a week. I was up in the Thousand Islands yesterday. And tomorrow I'll be in Staten Island and Manhattan and the Catskills the day after."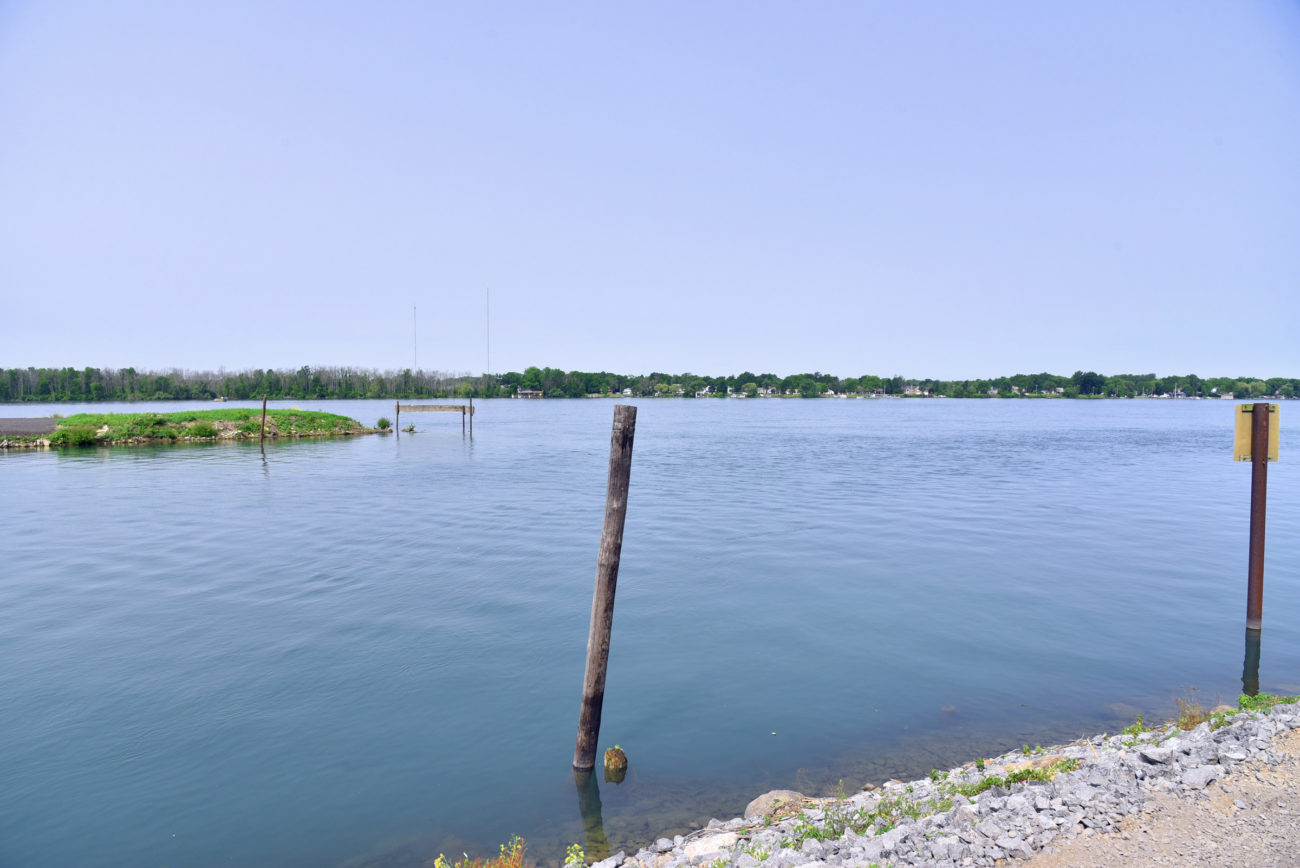 "I am so proud of my hometown. I am so proud to see this resurgence. And I'm not the only one the who recognizes it. The fact that Niagara County has seen a 10 percent increase in young people ages 25 to 34 moving here, completely obliterating the losses that we started when I was younger and my family all left. And people had go out to search for jobs. Now the brain drain is now stopped up. People are staying here and also they are coming back here. But they are coming back because we now offer amenities and homes like this. And destinations like the beautiful waterfront here. And whether it's the Wurlitzer Building, which had a magnificent past but now they've got the best chocolate I've ever tasted at Platter's. You need to go over there to try the chocolate peanut butter sponge candy and a brewery in the same building."
"I want to commend the the leaders of North Tonawanda and our great mayor here who's done a tremendous job working with local government and county legislators and city councillors. It all takes a team effort. But I hope you feel the difference that your state government under Gov. Cuomo and our administration who wants to be willing partners. We want you to succeed. We want progress like this to go forward. So it is a high honor for me to be able to be here as Western New Yorker to celebrate the rebirth of this waterfront."
After several other speakers, developer Lucian Visone Jr. of Clarence addresses the crowd.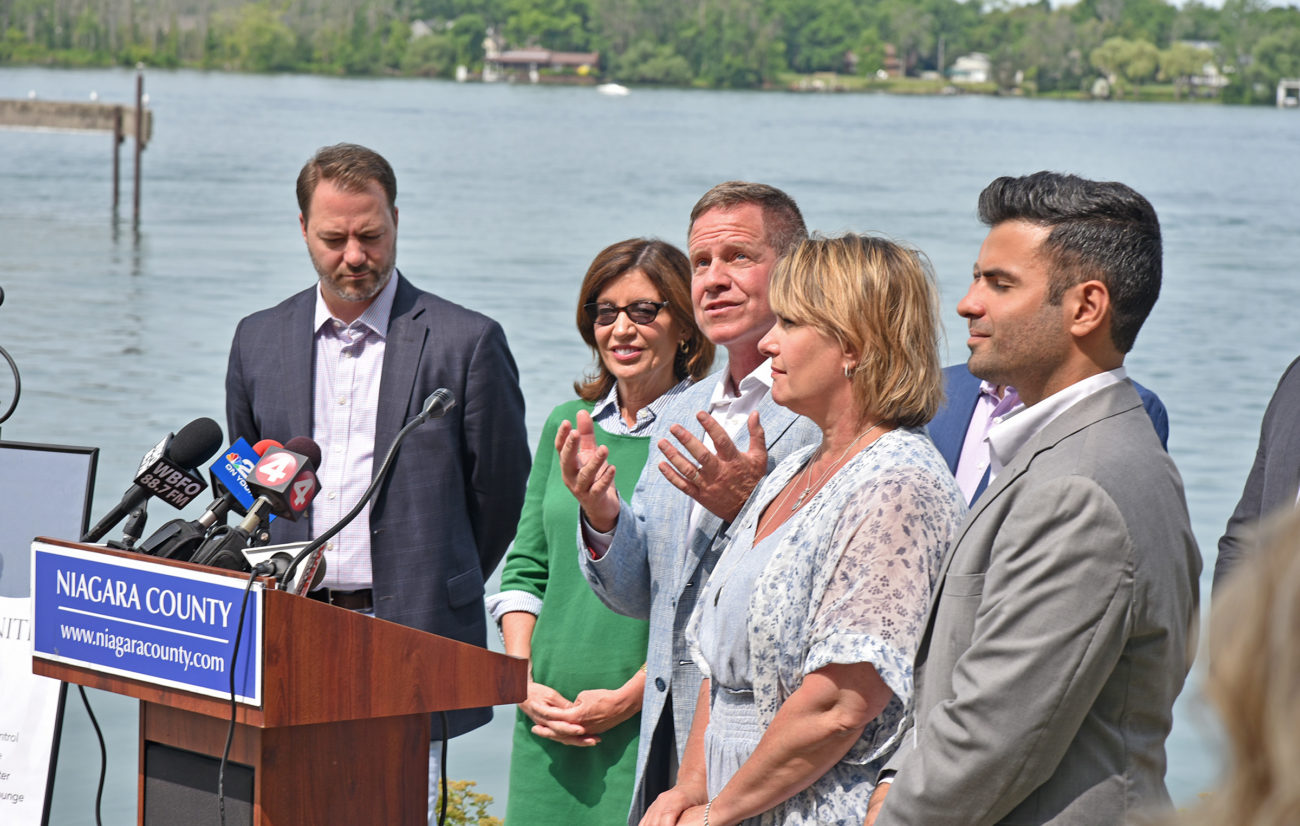 Visone (center, with hands out): "This all started in 2011-12 when we purchased a boat in Niagara Falls and my trailer lights weren't quite working, and we were heading down River Road. Right out front here there was a little hand-written sign 'For Sale By Owner.'"
"We pulled right in. Picture of the sign. Walked the property. It was literally a pile of rubble. And walked way out here and saw this. This could be something great. Called the woman up. And literally went to her kitchen table the next day and made a deal on the land. And she helped me. Along the way so many people have helped. When you're locking arms, you're locking arms. (Locks arms with wife, Hochul.) So when you're locking arms and you're helping each other it's hard to fall! Right? Because you've got help alongside you, right? So from the top state EPA, DEC, Bob's office at the time, Art's time later, the engineering department, Dale Marshall, super helpful. People coming alongside of you to help you. Nobody wanted to see this thing fail. Everybody wants to see this succeed. And here we are: four-stories, 36 units in here. People living here already. We had some guests visiting for the weekend. They said 'Wow!' We feel like we've gone to a vacation destination. You could call it home. This is really home. Fighting a battle some times, and now we get to enjoy this all together."
From 1886 to 1972, Tonawanda Iron Works operated on the almost-six acre site, which was remediated of toxic waste in 2014 and 2015.
In Jan. 2017, Visone's development company received a 10-year property tax break from the Niagara County industrial Development Agency.