NT belatedly pursuing security concerns at city hall; ignores questionable ethics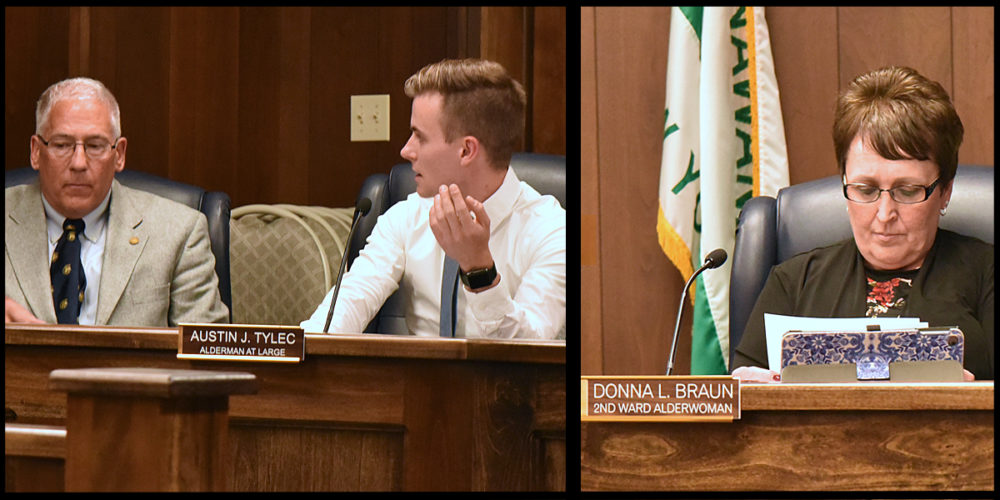 Two threats to the well-being of NT city government were handled very differently by the common council Tuesday.
After last week's firearms-and-explosives scare at city hall, Alderman at Large Robert Pecoraro — who that night also lost the Independence Party primary by a wide margin to challenger Bob Brennan — called to create a committee focusing on the security of the city's municipal buildings.
During Tuesday's meeting, however, the mayor noted he's brought up security concerns in past years and is still worried about "all the nooks and crannies" at city hall and its many points of entry.
Alderman at Large Austin Tylec also said he's spoken to NT police officers who have previously offered suggestions about improving security. "Some have been followed and some have not," Tylec said.
While supporting the efforts to make NT municipal buildings harder targets, Tylec took issue with the resolution's brief wording as well as naming appointed City Clerk Matt Parish — who also lost his Independence Party primary — to form it.
Tylec cited city code which he said requires committees to be formed exclusively by the council and said resolutions should include the number of members, who appoints them as well as the amount of power they have to enact solutions.
Tylec said the resolution should be tabled and discussed at next week's workshop meeting, which would include the police chief as well as any other stakeholders.
The council majority did not agree.
"The time for action is now," said Pecoraro, who said specifics about the committee can come later.
Independent council observer BJ VanDewater had this to say, however: "The time for doing this in a hurry is behind us."
VanDewater also echoed the idea of discussing NT's security issues at the next workshop meeting with interested individuals. (During a public comment, resident Karl Bauer said he'd be interested serving on it.)
VanDewater also said it might be helpful to bring in outsiders. "People who are familiar with the environment may not be the best ones to fix it."
Meanwhile, embattled Alderwoman Donna Braun offered a statement about the campaign donations she received from a towing company recently given an exclusive contract to work in the city:
"I would just like to say that if people are still thinking about what happened last week at the workshop. First of all, I believe BJ said as council people we are here to take care of our constituents. As we run campaigns, we have campaign fundraisers. And they are mostly attended by friends and family. And those are where you get contributions from. The family that runs Certified Towing has been friends of mine for many years prior to even me being an elected official. So they have supported me since then as a friend. As I only went and approved the towing contract with Certified Towing on the recommendation of our police chief. There is no money changing hands from the city to Certified Towing. Certified Towing is our towing contract and yes that's how they make a living. And if people think it was unethical of me to take contributions from Certified Towing then that's your opinion and I'm not the only one that has (pause) had that happen. In this administration and past administrations. And maybe that's what we have to look at if everyone has a problem with it. But first and foremost those people were my friends way before I became a council person. I go with the chief's recommendation. Every single council person up here um agreed to that towing contract with Certified. We did our due diligence and brought in other towing companies. And they still went on the recommendation of Chief Zgolak, Chief Sikora, and Mark Zellner from DPW. Ummm and that's what I have to say about the um that topic."
However, Brennan also spoke on the matter:
"After last week's workshop meeting, it became crystal clear that there is a total lack of understanding on behalf of some members of this council as to the appearance of impropriety. After receiving substantial donations from a company, a council member not only voted in favor of awarding said company a city-wide contract, but in fact made the original motion to do so."
Saying this wasn't an isolated incident, Brennan also mentioned the awarding of the city's auditing contract to Amato Fox after the chief accountant called their proposal "unprofessional" and recommended going with a firm specializing in municipal audits.
"In the private sector, every five years you need to have a new auditor," said NT's chief accountant Amanda Reimer in October 2018. "You've had the same one for 39 years."
The council majority voted against her previously praised professional opinion and signed for another year with Amato Fox.
"Campaign contributions from the auditing firm were discovered after the vote was made official," Brennan said Tuesday.
Tylec submitted his resolution to the council calling for an NT ethics board — previously shot down in February by the council majority — but it met a similarly icy reception. Tylec said he would bring up the matter again at Tuesday's 6:30 p.m. workshop at city hall.
"Was there an ethics violation last week?" Brennan asked. "That is not for me to say but this is exactly the type of situation where an ethics committee could be helpful. It is my opinion that the council member in question should have either publicly disclosed the donations received from the company or abstained from the vote."
The idea of an ethics board isn't necessarily limited to punitive matters, though, as it should serve an educational aspect as well.
"It can be a resource for all of our community members, elected officials and city employees," Tylec said.
So when city officials are crossing a line, they know it and know what to do about it …