Councilman Tompkins madder than hell at city budget; hearings begin 5 p.m. Wed.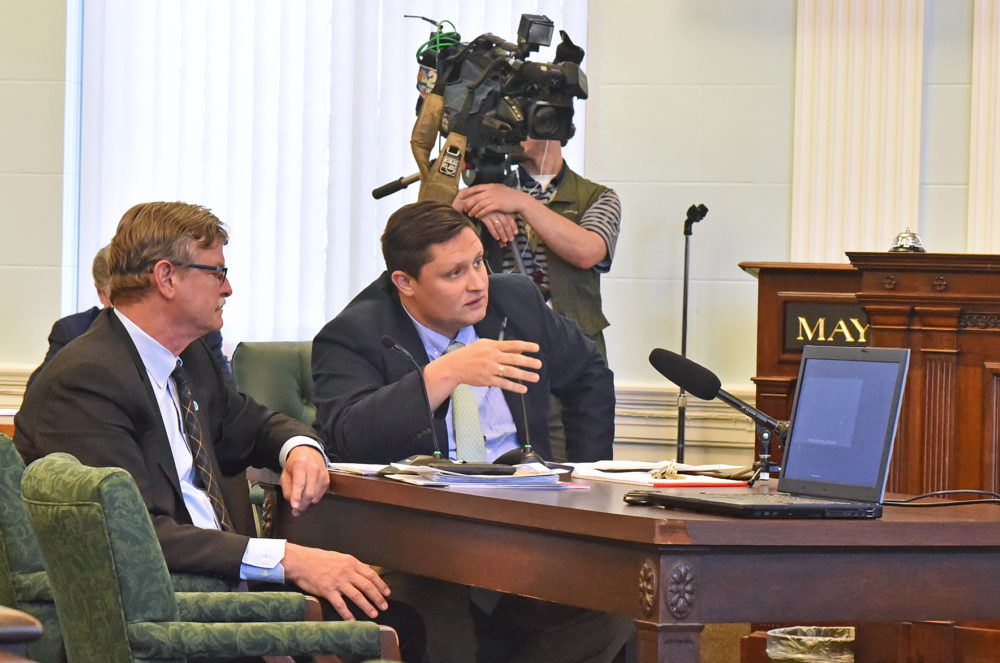 "I think they are absolutely fucking nuts," said councilman Kenny Tompkins before Monday's common council meeting.
"Can you print that? Go ahead!"
Mayor Paul Dyster unveiled the administration's proposed 2018 city budget last Friday that saw a 2.8 percent tax increase for homeowners and an 11 percent increase for businesses and no cuts to the city's workforce. 
"They are throwing every last hard decision on the council," Tompkins said.
While the administration had little in the way of updates Monday, City Administrator Nick Melson (above) said 73 city employees were eligible for retirement and the city would seek savings through not hiring replacements.
"I think he's right to cut by attrition," Tompkins said. "I think there's a lot of fat in the budget. I think there's a lot of stuff that needs to come out."
"I walked into the Marketside for breakfast Saturday morning and I got mugged. Little old ladies and older guys saying, 'What are you gonna do wth our taxes?!?! What are you gonna do with our taxes?!?!"
"People are upset. People are scared. There's got to be ways to do something about it. There's got to be a way."
Budget hearings will take place 5 p.m. each Wednesday during October in council chambers at city hall.