Albany Symphony concert at Flight of Five is Lockport's 'Event of the Summer'
Where to park and sit for free outdoor concert featuring original piece about Lockport; taking place 8 p.m. Saturday with fireworks at 9:45 p.m.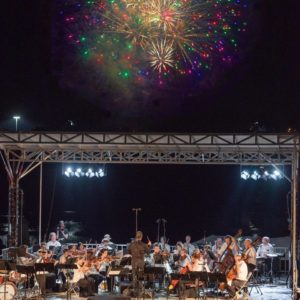 The Albany Symphony concludes its week-long tour and homage to communities along the Erie Canal with an 8 p.m. concert at the Flight of Five locks in Lockport.
The free concert is part of a 200-year anniversary celebration of the historic waterway that built America.
Since the orchestra will be performing on a barge in the locks more-than-usual civic coordination was required, and Mayor Anne McCaffrey recently delivered some information regarding event logistics.
"We already approved closing Pine Street from Main Street to Gooding and Caledonia or Grant up there," McCaffrey said. "Now the recommendation — also by the police chief — is to close the Big Bridge in front of city hall here. We will keep Main Street completely open. But from Main to Niagara —really just in front of city hall here — to close that to vehicle traffic. We believe we are going to have a lot of pedestrians, and we want to make sure it's a safe environment for people watching the event."
The concert will feature a 40-minute original work by composer David Mallamud that was written to be relatable to the entire audience. The work is a take on the "Cinderella" story set along the Erie Canal and concluding at the Flight of Five — like the concert series — and will feature humor and styles of music not usually associated with a 40-member-strong band playing symphonic instruments.
"They will be performing in the locks right behind Lockview Plaza to the west of Lock 35, facing Canal Street. So if you are standing in front of Steamworks, you're going to be straight-on viewing the concert. The Pine Street bridge is closed. And the Big Bridge is closed. We will be able to have people completely around the entire event and let them see the concert. The fireworks will take place right after, approximately 9:45 or 10 p.m. That has been approved to take place just north of Tom Callahan's Cave Tours on the city-owned Gooding Street lot where we had the fire a few years ago. That is where we are going to be shooting off the fireworks. (Fire Chief) Pat Brady is coordinating all of that."
The city is also closing a portion of Caledonia "for a short period of time as there's going to be a bus with the people from the Albany Symphony at the Dale Association," said McCaffrey.
"We are expecting a good crowd," she said.
The mayor discussed parking for the event.
"We are looking right now for parking at the lot next to Mollinaro's — it's a city-owned lot. The parking lot behind the library can be utilized. In front of city hall. Any of the on-street parking. You can park throughout the city. We are thinking right now that we are going to close the Main Street parking lot next to Mill's Jewelers because we think people will want to sit there are view the fireworks. It will be a great place to watch the fireworks. People might want to bring their chairs there. If you have kids, that would be a good spot for kids to see the fireworks."
"Also, probably the Pine Street one. We are thinking we are closing that to vehicle traffic. Also, Papa Leo's is a city-owned parking lot."
"Get there early. They will be doing a sound check in the afternoon. In case of rain, Lockport High School is the rain location. If we find out for sure it's going to rain we will know sometime mid-morning. We are really praying for no rain. It would change the feel. And if there's rain there's no fireworks."