Councilman says administration not giving him equal access to information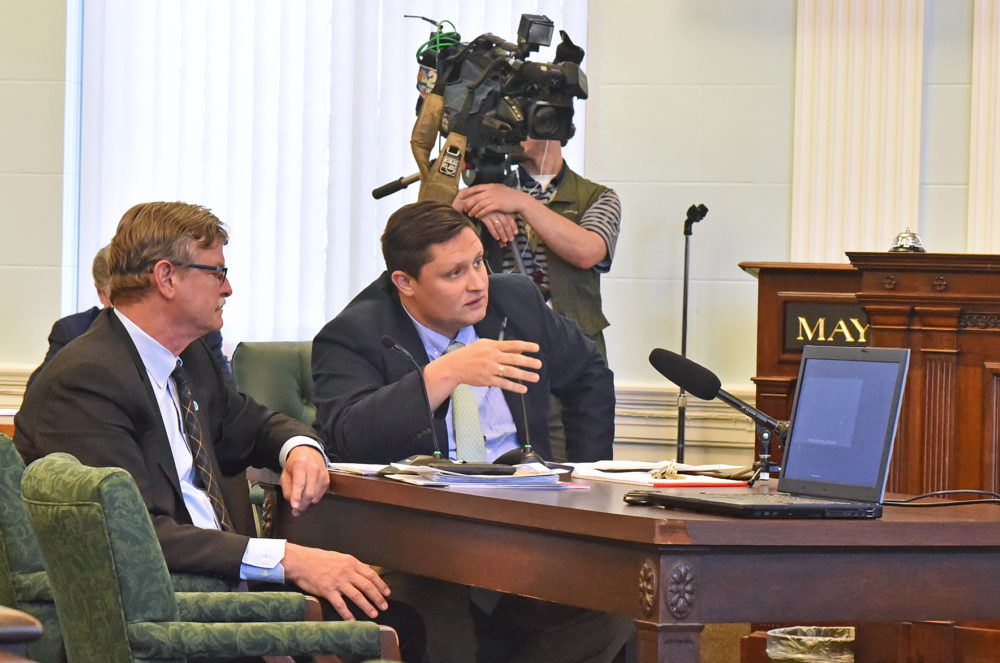 City Administrator Nick Melson tells councilman in response, "FOIL it!"
With Tuesday's council approval of a $1.3 million rehab plan for about 35 streets, the City of Niagara Falls has exhausted the last $430,000 in remaining casino funds.
"However, we may not use the entire amount," said Niagara Falls City Administrator Nick Melson (above) in response to a question from councilman Kenny Tompkins regarding how much was left in the fund.
"We're not going to put anything away for next year?" Tompkins asked. "If this casino stalemate goes on next year we won't have any funds except for CHIPS funds." (Consolidated Local Street and Highway Improvement Program).
"That's a decision we are going to have make in the budget process," Melson said. "So if we don't have a resolution to … If the Seneca Nation chooses to not meet its obligation with the State of New York and thus the City of Niagara Falls by the time we put together the budget in September then you'll get a proposal from the administration which will include tax dollars to pay for road projects with perhaps bonding if that's a decision made by this body."
"Wouldn't it be better saving trying to save a little of this now for next year?" asked Tompkins, referring to emergency road projects the city may have no control over.
"No," Melson answered. "Because a lot of these roads are at a point — and I'm not going to use their names — one of these streets is already at $79,236.11. If we don't go in and make that repair now we could potentially have double that next year."
"You've got about 35 or 66 on this list," said Tompkins. "And I thank you for giving it to me ahead of time." Tompkins did not receive the administration document that he was looking at in front of Councilman Andrew Touma.
Melson: "Yeah. That list is not public."
Tompkins: "I'm not public either. I'm a city councilman — believe it or not. You can call me any time. It works. But anyway …"
Melson: Excuse me, excuse me, sir. I'm going to address that point. I don't talk to … I really, honestly and I know you know this is the case as well. I probably talk to you more than I talk to my family. So I take offense to that remark. And secondly, that list of streets that you have is an administrative document which we are proposing to the council that a portion of it paid for which is your function under the charter, sir."
Tompkins: "So why do some councilman have it and not all?"
Melson: "FOIL it! then."
Tompkins: "We don't have to FOIL as a city council. Remember?" (FOIL refers to the Federal Freedom of Information Law.)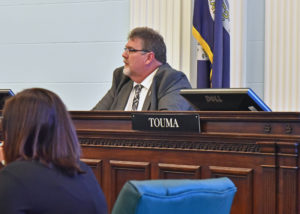 Tompkins (above): "Anyway, there's 35, 36 streets on this list? Are you telling me these are the ones that need it the most?"
Melson: "Yes. And they are not all getting paved."
Tompkins: "What are they getting then?"
Melson: "A portion of those streets will be paved. Not even half of them."
(inaudible crosstalk)
Melson: "This is why we don't want a list like this to be out in public."
Tompkins: "I'm not giving the names of the streets to anybody here. We are talking here on what they are for. I see one street on here. I hate to say it. It doesn't really need to be paved. It needs a little bit of patching but it doesn't count anywhere near the amount that's on this sheet."
Mayor Paul Dyster: "Councillor, we have engineers to make those decisions. Right? This is not a political process. It's an engineering process. They come up with a list of candidate streets each year based on traffic numbers and conditions of the street. Remember, we are trying to get the most with our money. So as the administrator was saying, doing a street this year may not look as bad if you only spend half as much money on it, right?"