Pipeline project fails to gain critical water-quality permit; no pipeline, no Pendleton compressor station
National Fuel CEO issues warning to state regarding need to expand gas pipeline infrastructure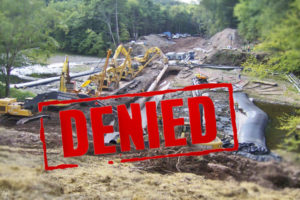 A federal agency had already granted approval for its proposed $500 million pipeline — prematurely, since New York State still needed to issue air and water permits.
Just minutes before the Department of Environmental Conservation's deadline expired on Friday, it ruled against the project and National Fuel.
To construct the 100-mile pipeline — which would deliver fracked gas from Pennsylvania to Canada — 169 streams in Allegany, Cattaraugus, Erie, and Niagara counties would be affected enough during the construction to warrant denying the permit.
National Fuel said there were "voluminous detailed studies prepared and submitted by the companies and our consultants that show any such effects are temporary and minor."
Sierra Club Niagara said this in wake of the decision:
"In its denial, the DEC stated that the project would cross an unacceptable number of streams and wetlands and cause far too much damage to the local environment. It stated that the pipeline would damage more than 70 acres of wetlands, some permanently; it would likewise cause harm to significant animal species, including  brown and rainbow trout. DEC further stated that 'the Project fails to avoid or adequately mitigate adverse impacts to water quality' and 'causes a negative cumulative effect on water quality to that watershed or basin.' DEC went so far as to note that National Fuel, the company behind the pipeline, did not try to avoid harm where possible."
The CEO of National Fuel, Ronald Tanski, said this: "We believe the NYS DEC's analysis completely ignores the record that we developed in this process and is inconsistent with the standards of the Clean Water Act. Further, it attempts to set a new standard that cannot possibly be met by any infrastructure project in the state that crosses streams or wetlands, whether it is a road, bridge, water, or an energy infrastructure project."
Roger Downs, Sierra Club Atlantic Chapter Conservation Director: "Governor Cuomo's rejection of the Northern Access Pipeline continues unparalleled national leadership in thwarting harmful gas infrastructure projects that threaten irreplaceable water resources and the stability of our climate. This project was identical in scope and impact to the Constitution Pipeline that Cuomo rejected a year ago. The water quality certification denials for the two pipelines together represent a precedent that is a strong counter to Trump's anti-environmental agenda, which seeks to lift all barriers to new fossil fuel infrastructure development."
Tanksi: "Moreover, we are highly concerned about the ability of utilities in the state to meet the future energy needs of their consumers and the businesses and industries that drive the state's economy. New York's continued denial of permits for energy infrastructure projects is simply not sustainable, as it will have the effect of reducing New York's energy reliability, lead to higher costs for consumers and be a limiting factor in the ability for industry to locate or expand in the state. While New York proclaims that it is 'open for business,' and 'a premier place to invest and grow,' the NYS DEC's action belies that claim."
Tanski: "Today, 57 percent of the electric generation capacity in the state is powered by natural gas, and, as more coal and nuclear power plants are scheduled to be shut down, new gas-fired plants are being built in their place. Additional natural gas infrastructure is essential to connect nearby, growing supply areas to New York consumers. As New York continues a long-term transition to more and more renewable electric generation, it is essential for the natural gas industry to stand ready, at a moment's notice, to provide the gas supply necessary to generate the power to support the reliability of the power grid. National Fuel remains committed to this energy infrastructure project that will be an important contributor to the energy dependability and economic vibrancy of New York state."
Joe Gibson, Western New York community organizer with Clean Air Council: "I'm glad that Cuomo and the DEC didn't heel to National Fuel. The denial of this pipeline, following that of the Constitution Pipeline last year, says to me that the governor won't allow destructive fracked-gas pipelines through our state anymore. I hope he continues to stop the buildup of all fracked-gas infrastructure across the state."
"As of this writing, it is unknown whether National Fuel will move forward with eminent domain proceedings against landowners who refused to sign contracts allowing the 24-inch gas pipeline to cross their properties. Opponents of the pipeline and of the unjust use of eminent domain hope that National Fuel will withdraw the lawsuit, considering the state has denied its proposal to build the pipeline."
Additionally, although no pipeline would mean no compressor station in Pendleton, Friday's ruling does not cover that since it related only to water impacts. The proposed 22,000-horsepower gas compressor posed air-quality concerns in the surrounding neighborhood.