Getting 'bonked' when you least expect it with county-wide police dispatch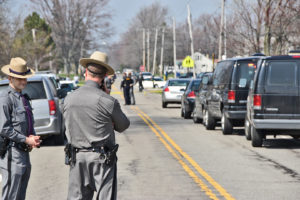 "Bonk!"
It's the sound made when officers using the county-wide radio system — which features a single channel for all its police agencies — can't get through to the dispatcher because of another emergency in progress, which could be in Barker, Royalton or Lewiston.
Getting 'bonked' has been steadily increasing the last few years, according to the North Tonawanda Police Benevolent Assoc., and the 'bonks' reached crisis level during the recent windstorm throughout Niagara County.
County-wide emergencies like that one and other large-scale unplanned police situations are concerning the officers who do not believe a single-channel serving an entire county is a good idea for their the residents' — or their own — safety.
The current system serving North Tonawanda got its start in 2012, when cost — and the desire to retire an old dispatch system at NT police headquarters on Payne Ave. — led to the system being moved to the county level in Lockport.
A few years later, the dispatchers brought from North Tonawanda, who were trained in the specifics of this area, were replaced by dispatchers who did not have that knowledge, according to Erik Anthony of the N.T. Police Benevolent Assoc.
In addition to a new series of time-consuming questions before the call is sent out, the 'bonks' have resulted in slower response times, they say.
Anthony said the police department during its 100+ years of existence has never spoken out publicly on an issue like this, but he believes it's necessary to bring attention to an issue that potentially affects everyone. That includes the police officers who put their lives and well-being at risk using a shared dispatch system.
Anthony said the police officers are stepping forward on this issue because the North Tonawanda Common Council is not addressing the issue regarding increasing response times.
In the attempt to return dispatch service to the city, Anthony and the NTPBA has outlined three plans, and the PBA will be releasing cost projections next week, sharing them first with the common council.
Anthony said a cost of $200,000 for returning the service to the city is realistic.
The City of North Tonawanda released this statement regarding the issue:
"In 2012, after much study, discussion and debate, the City of North Tonawanda and the County of Niagara came to an agreement to consolidate dispatch services. This consolidation allowed the City to retire an outdated dispatch system that was unable to perform even the minimum function of processing calls originating from wireless phones. Further, with this consolidation, the City was able to maintain the size of its police force and upgrade many of the police department's vehicles and SWAT equipment."
"Recently, the North Tonawanda Police Benevolent Association has filed a Supreme Court action and an employment charge with the Public Employment Relation Board regarding the County dispatch. While both of these matters were initially unsuccessful and dismissed outright, the PBA has filed appeals regarding these matters and litigation is ongoing. As such, while the City fully appreciates Sherriff Voutour's and the PBA's positions, we will not have any further comment regarding dispatch pending final resolution of the outstanding litigation initiated by the PBA."