Community leaders want access, diversity on building sites in Niagara Falls
NOAH wants agreement in place before June 1 regarding the training and placement of African-American residents on local construction sites.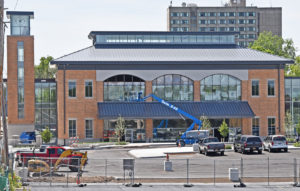 Two members of Niagara Organizing Alliance for Hope spoke before the Niagara Falls Common Council on Monday.
"My name is Joseph Gregory Miles, and I'm a member of NOAH and the chair of the Community Benefits Agreement or CBA. I've also served as a deacon at Bethany Missionary Baptist Church under the leadership of Vice President of NOAH Raymond Allen."
"NOAH is comprised of 20 organizations, which includes churches, unions and non-profit organizations from across Niagara County."
"We are focused on transforming the community based on the value of justice, fairness and equality. I became involved with NOAH after becoming aware of the lack of diversity among workers at the train station construction site."
"So I approached my labor leader. I'm a member of Local 91. And he understood and placed one of our apprentices — a minority apprentice — Clyde Pullman, who I consider the poster child of the train station."
"It was encouraging for that neighborhood to see someone of color in that demographic work from that area on the project. Prior to that it was very dismal numbers."
"Why such a disparity? We want answers. According to the city, developers and the unions are the reason for the disparity. Many in the African-American population lack the necessary qualifications to attain work with the union. Hence, disqualifying them to work on the projects like the train station."
"In order to become a union apprentice one must have a high school equivalency diploma or equivalency GED, a valid driver's license, access to a vehicle, which many African Americans do not possess. The realty is that African American or minorities interested in the union and construction jobs do not have the qualifications, and it's related to poverty and race in our city."
"African Americans make up 22 percent of our population and a poverty rate of 40 percent. Two out of every five. In comparison to caucasians who make up 71 percent of the population and a poverty rate of 15 percent or 3 out of 20."
"The leaders of NOAH held a public meeting on Oct. 29, 2015, where we were described what we're doing to the mayoral candidates at the time, the city council candidates and city members. We asked with them to work with NOAH to hire more minority, low-income residents by supporting the creation of the community benefits agreement that will prevent scenarios like Amtrak ever happening again."
"Here are the names of the public officials that have signed their names in support of the CBA. We have yet to see an increase of African Americans working on any work site. Yet we keep working working with the mayor and Seth Picirllo diligently with the labors, trades, Russ Torentello, Scott Bridges, they've been a part of team to improve improve the workforce development in Niagara Falls. "
"As Councilman Ezra Scott said during his campaign and continues to say, a connected city is a protected city. Work projects brought into our communities need to have workers that reflect our communities. Diversity needs to become more evident in the unions and construction fields by hiring more African Americans and people of color. We all must be given an opportunity to earn a decent, living wage especially when there are other workers brought into our own low income neighborhood."
"Thank you and I hope we can coon establish a timeline to see that this CBA — Community Benefits Agreement – will soon be put into place."
Miles leaves the podium to applause. Joanne Scott spoke next.
"Thank you for allowing us to be here this evening. I want to begin by introducing myself to those of you that may not know who I am or where I come from."
"I have been a lifetime resident of Niagara Falls. I've been here all my life. I've been employed and I was fortunate enough to retire after 40 years of the DuPont Company in Niagara Falls."
"I've seen Niagara Falls flourish and I've also seen niagara Falls fall down."
"What bothers me the most is that I have family, friends, relatives, grandchildren and so on that do not have the opportunity that I had. And as my colleague says regarding the issue regarding Amtrak we realized at that time people of color were not given the opportunity or the chance to learn, to be trained or to be considered to sit on the bench with people that are making a very good living."
"One of the things we have talked about is workforce development training. We've talked about the CBA; we've talked about anything that can help us get us to be able to change what is going on Niagara Falls."
"For the last two years, we have been working diligently with Mayor Dyster. We meet once a month and we have been discussing. And as a result of that we came up with the pre-apprentice curriculum program. We've met with trades, labor. We've partnered with banks. We developed relationships."
"NOAH has grown. Many people say they remember the old NOAH. Well, this is the new NOAH. And I want to emphasize that we will no longer continue to accept things the way they are."
"Now recently, we had worked on establishing a CBA. We submitted a resolution to Councilman Walker and we thanked him for meeting with us. But we need more communication, more responses. And we need to know. After we had a meeting, and the city council accepted the work that we were doing with NOAH. So we know you're on board with us. There's no question there. The question is, we want to continue to push forward until we see a change in the City of Niagara Falls — not in just saying something but actually making it happen."
"And I'm representing here tonight community people; we have people here that are working with us to help the various churches, various organizations, and NOAH is growing. And that tells me as president of NOAH that there is a concern in the interest to turn this city around."
"So we are looking before June 1st to have a resolution to be able to review policy so that we can continue to implement not only when they get through apprentice training, and not only once they are developed, that there are jobs, locally, within this city they can be selected and they can have an opportunity before anyone goes on the outside to hire. That these people will be ready; they will be established and they will be trained and qualified to sit on the trades bench and on the labor benches. That we know they can be pooled from those pools. And we need to know there's a document established to say that this is what the city has committed to do — not just here say or whatever."
"We need commitments, we need better communication. And we've already established that with the mayor. We met with him today and we are all involved in the ESPRY program. NOAH is on the steering committee and we are there to make sure that the $1.5 million that the state has given to the city of Niagara Falls be allocated so these people can have opportunities and get jobs as they qualify."
Scott leaves the podium to applause from the audience.