Wheatfield Town Board Report: Krueger Road, biosolids concerns continue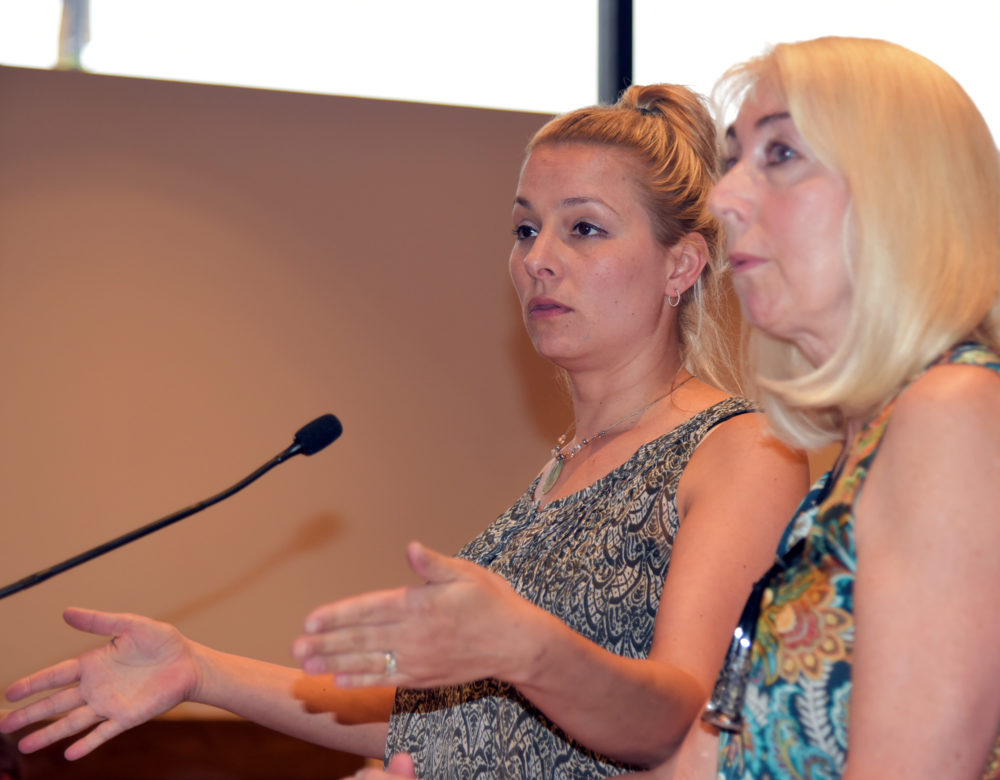 The town's moratorium on solar panels was set to expire soon, which is why a public hearing was scheduled for Monday.
A late filing by the state, however, extended the length of the moratorium, which led to the town board tabling the proposed six-month extension.
A public hearing on that extension brought forth no speakers.
Supervisor Robert Cliffe said the town's new regulations would soon be made public. As of now, the town's entire code on solar panel amounts to two sentences, he said.
Town attorney Matthew Brooks said he's been noticing an increase of other municipalities enacting solar panel moratoriums.
"If it's a standalone structure, it can overwhelm an area," said Cliffe. "That's all been addressed in the potential law."
Deborah Fadel, left in the above photo, said she collected hundreds of signatures from residents supporting sidewalks along Krueger Road.
"They've been very supportive," she said, adding that residents said shouldering the costs of the infrastructure improvements was worth it. "They feel it's very unsafe and something needs to be done."
"In turn, because this grant is going to take a couple of years, I, myself and Kelly are requesting a couple more things to make our road safe," Fadel said.
"I asked for this early spring to have two more 30 mph signs on our road. Originally, there were none on the right side where Ryan was killed. So the next day after I brought it up they came up and put two signs but I would like two more signs put up. By the time they hit my house they are doing 45 to 50. So if you want to put them in front of my yard. I don't care."
She also said the state traffic engineer for Erie and Niagara County said he wanted to help assess safety solutions for the road but would need Cliffe to call him.
"Did you call that man?" she asked.
"We did have a discussion but we were more concerned with Shawnee Road that day," said Cliffe. "We did not spend much time on Krueger Road."
"Could you contact him and just see what could be done," she said. "They said they would send somebody out with a highway engineer and our highway superintendent."
"I noticed that the sheriff has been around, but he's parked down by the firehall," she said. "By then people are already braking for the stop sign. I had offered my driveway. He's welcome to be there. It's a double driveway with red maple trees. It's hidden."
Cliffe: "We like to avoid private driveways."
Fadel: "If we give permission, it's OK?"
Resident and biosolids watchdog Julie Otto asked the town board if there's been any response from New York State's Agriculture and Markets regarding the town's appeal to the ruling that said Wheatfield's ban on fertilizer made from sewage sludge infringes upon a farmer's right to use it.
The answer was 'no word,' but Otto also learned that about six weeks ago State Judge Frank Caruso heard "re-arguments" from Quasar's lawyer, according to town attorney Matthew Brooks. The re-arguments were denied as they usually are, he said.
The next step for "Ag and Markets" would be to issue a ruling, said Brooks. "That hasn't arrived yet," he said.
"Is it possible they (Ag and Markets) might just stay silent in the matter?" Otto asked.
"They aren't really silent," Cliffe said. "They just haven't given us an order. If there was a farmer that wanted to put it on their property, Ag and Markets might allow that."
"But that hasn't happened."