WNY open-government group lauded for "critical work" by state-level reformers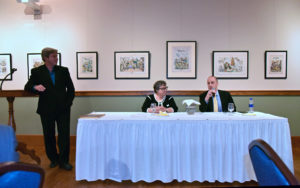 It got pretty geeky at the Buffalo Niagara Coalition for Open Government's recent forum featuring Susan Lerner from Common Cause and Alex Camrada of Reinvent Albany, two state-level advocacy groups seeking to establish local connections.
Subjects ranged from the need in smaller communities for elected representatives to file financial disclosure forms to the state comptroller losing the ability to review contracts and how that contributed to the Buffalo Billion corruption as well as professionalizing the state's board of elections and making sure "shadow government affiliated non-profits" follow the same open meeting and FOIL laws as government bodies.
"Being in a room full of citizen activists is about the most satisfying thing other than being a grandmother," said Lerner, who praised the efforts of the members of BNCOG (Buffalo Niagara Coalition for Open Government), several of which were recognized during the evening for their tenacious work leading to increased transparency at the local level.
"The activism that you are being recognized for, the people who got the certificates, the people who are coming to the meetings are what makes our country work," said Lerner, director of the advocacy group that originally helped pass the Freedom of Information Law in New York State during the early 1970s.
"People who have an investment in government of, by and for the people is the most important thing that we as Americans have going for us," she said.
"Without people like you on the ground — at any level of government — it is simply a piece of paper that a governor signs with a pen," Lerner said of the FOIL and Open Meetings laws.
In order for the small but important changes BNCOG has pushed for locally to grow into a larger systemic and cultural change regarding transparency and openness in government in WNY, the state and the country, very simply more people need to be involved.
"Good government in New York State is only going to come about if we can turn out everyday people to get involved in caring about this much like you folks have done over the last few years," said Camrada of Reinvent Albany.
"Only it needs to be scalable across the state so you get to point where instead of thousands of people coming out for a charter school rally or for gun legislation you see the same level of people for ethics and campaign finance reform," Camrada said.
"I think the sentiment is there but the activation hasn't occurred yet at the scale it needs to. But it's starting to bubble up as we see with your organization."
Since its founding in 2016 by attorney Paul Wolf, BNCOG, which promotes itself as a non-partisan group, has seen much positive media and governmental attention surround its annual reports on municipal websites and tracking executive sessions.
The efforts of its members have also led to greater openness and transparency — which is always in the best interest of residents and taxpayers and ultimately government itself — at the Lockport Housing Authority, the West Seneca Town Board as well as the Niagara County Legislature.
Other highlights from the evening included:
"I've been shocked by the hostility that we've been met with," said Wolf regarding his numerous visits to city councils and town boards all across Western New York in an effort to educate and encourage implementation of stronger open-government policies. "They have not been welcoming and they are very defensive," Wolf said. "Generally, when I walk into a room you can feel the hostility."
"There's a real problem in government across the state if you have people in power who actually are hostile to citizens' suggestions especially when they are right on things like the open meetings law," said Camrada. "The only solution I know to that is to replace those people. And that means getting involved in campaigns."
"We really believe that a new paradigm given technology is in order," said Camrada. "In New York City, an open data law was created in 2012. I believe it was the first locality to do that. Buffalo has an open data portal with hundreds of data sets. Citizens, advocacy groups and journalists shouldn't have to ask for information. The default is that government makes it available. Whether it does so through an open data portal in making machine-readable spreadsheets available for outsiders to analyze or making available policy documents and other narrative documents in a FOIL reading room."
"It's not only good government policy it actually saves government money."
"The largest growing registration category in our state is people called blanks, unaffiliated voters," said Lerner. "We have more unaffiliated voters than Republicans. So they are definitely underrepresented."
"It is onerous and wrong to put all the enforcement responsibility on the citizens," said Lerner. "It's why so many municipalities and counties are able to get away with the practices that they do because it is hard to sue. It is expensive and time consuming."
"I think your (BNCOG) reports are excellent," said Camrada. "They provide a template not only for groups like ours but hopefully for volunteer groups and good -government groups across the state. I really believe that the good-government community given all the corruption that occurs in Albany and elsewhere in the state we need as many volunteers and as many groups working on these issues as we can. There are many, many issues to work on. Probably more than the ability to monitor on our own."
DISCLOSURE: The author of this article is the secretary for the Buffalo Niagara Coalition for Open Government.