Joy Kuebler's green roofs taking on NT's brownfields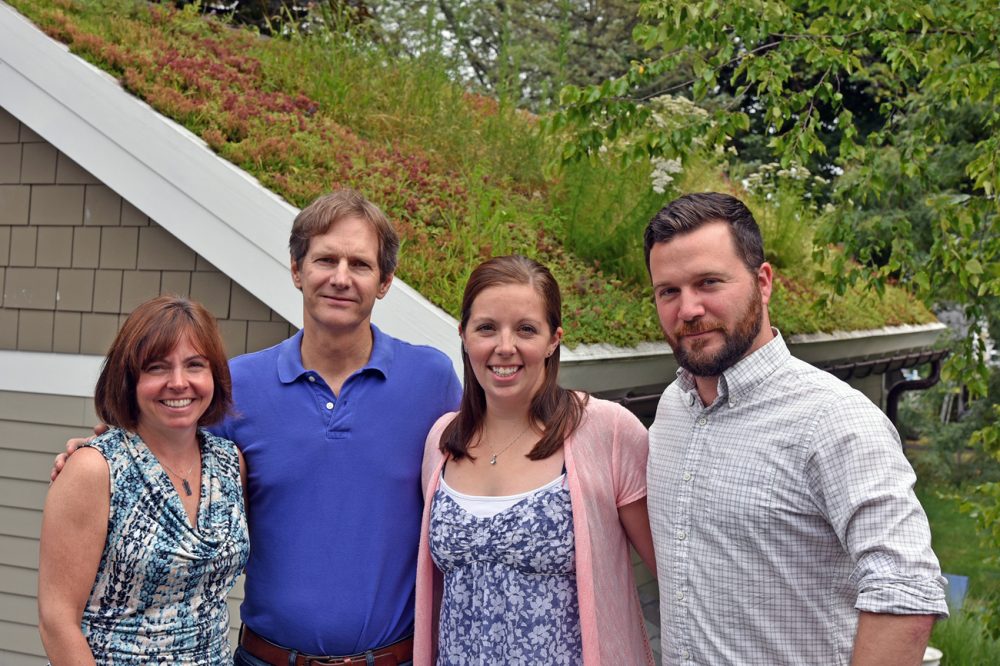 It's like an NT version of Willy Wonka complete with a peddle trolley, imaginative and interactive activities, only 13 lucky guests per tour — and even a possible surprise guest.
A people-powered tour of brownfield sites around Tonawanda Island and the Remington Lofts will take place August 27 starting and ending behind the Riviera Theatre on Main Street.
"It's a form of guerrilla urbanism," said Joy Keubler, an NT native who runs her growing landscape architecture firm on Zimmerman Street.
That concept will be employed during the brownfield tours in the form of temporary structures created with found materials, chalk and other forms of representation.
It's only temporary, but it's a way to get the participants' imaginations brimming with possibilities for the 40 developable acres on Tonawanda Island, where Daniel Webster lived during the Revolutionary War.
The project is being funded by a New York state grant for brownfield development.
"It's a great opportunity to ask questions and take a lot of feedback," Keubler said.
When it comes to re-imagining the industrial legacy of the area, Buffalo usually gets all the attention, she said.
"But a lot of the smaller communities are working hard, too," she said.
Kuebler's office is responsible for many outdoor environmentally minded projects throughout Western New York, including one undergoing construction now in Williamsville at the historic mill on Main Street.
In fact, she said she's had to turn down projects because of a lack of staff.
"We're growing like crazy," she said.
The company was founded in 2003 after the student of engineering and interior design melded the approaches with a green philosophy.
"It was just me and a computer and kid on my hip. We grew to two people, then four and then came the first recession and slimmed down, crawling our way back out. This past year we've grown exponentially and construction is strong."
In fact, with another crucial employee hire on the horizon, Kuebler's design elves will be moving during the winter into a blank space in the Wurlitzer Building.
Which if Kuebler — pronounced like the cookie brand — has anything to do with it, could soon resemble Buffalo's vibrant Tri-Main building for artists and other creative professionals.
It's because of her pioneering and enduring vision that Kuebler is part of the team promoting the reimagining of NT's industrial past.
Mike Zimmerman of Lumber City Development will also be on hand for all the tours.
"We're going to start at the Riviera, head through Webster Street, up to Tonawanda Island and come back toward Oliver Street," said Zimmerman.
He said there are many brownfield properties through the tour area.
"They can be a real hurdle to redevelopment," Zimmerman said.
With the help of state funding, though, there can be a lot of incentives for their redevelopment.
The purpose of the effort — of which the trolley tour is a component — is to devise a master plan for the historic waterfront area.
Zimmerman envisions mixed-use condos and residences as well as hotels as some of the new development, which will share space with already existing business Taylor Devices and Smith Boys marina.
The bike trolley tour represents a new way to see the community, Kuebler said.
The first tour departs from behind the Riviera at 4 p.m., with the second starting at 5:30 p.m. and the final tour departing at 7 p.m.
And who knows?
Maybe even Sweeney Payne — a pseudonym for a speculated-about NT resident writing for a Niagara county publication about the city's brownfields — might also show up to see what could be built on the fallow fields of developers' dreams.