Business community faces council over 14-percent tax increase
Businesses getting taxed 5 times more because they don't vote. "Unfortunately, we do vote; we leave."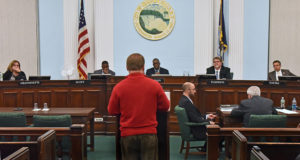 One definition of irony is "what you least expect to happen happening."
It definitely happened Monday at city hall when the common council voted to declare November "Small Business Month" in Niagara Falls.
During that time, the council will have its work cut out for itself trying to lower Mayor Paul Dyster's 14-percent tax increase for businesses. (Wednesday 5 p.m. is the council's last departmental budget meeting.)
"Small businesses are the lifeblood in any community," said Kory Schuler (below), Director of the Niagara USA Chamber of Commerce. "This 14 percent tax increase cannot go through," he said at Monday's public budget hearing.
Russ Petrozzi said it wasn't fair to burden one group with a "14.7 percent tax increase" and "somebody else with a 2.7."
"There's no way in the world you can do no tax increase. I get that."
"You asked me to serve on your fiscal review committee. Our committee gave you several ideas. None of them pleasant."
"But unfortunately this is even more unpleasant. We are sending a message to businesses that I'm going to give you five times the tax increase because you don't vote. And unfortunately, we do vote; we leave."
Vincent Cancemi said this: "We have an aging population. Fewer people own homes because they can't afford it. All of our beautiful little businesses that started on Pine Avenue. The cupcake place that everybody raved about for the first nine months, closed their doors. Take a walk down the street with me. It's empty. We don't have people here who have disposable income."
"We're not on Military Road. We not getting the people from that area in here. They don't even want to come downtown. Chief DalPorto and the policewomen and policemen around there are doing a great job. But you can't combat some of the stuff we've got. We have some major problems in the Niagara Falls. Think about voting the right way for your constituents."
Ron Anderluh: "We cant afford to lose any more businesses. A 14-percent increase says we don't need your business in Niagara Falls; go someplace else."
Anderluh also said that working with the council is like a "partnership" and speaking before the body of elected officials "is not a waste of time."
Petrozzi: "You need to send a message that you have heard us. We are all going to share in this. I still cannot understand how someone can propose five times versus one time. And parking revenue. What a perfect thing to reduce the non-homestead tax. Casino money. $200 million dollars. Not one dime was spent to bring that gap together. The gap is getting bigger. I'm not going to come back and keep complaining about it. It's your turn. Do what's right. Send a message that at least we care."