Forster offers solution for black water; warns of "huge holes in the budget"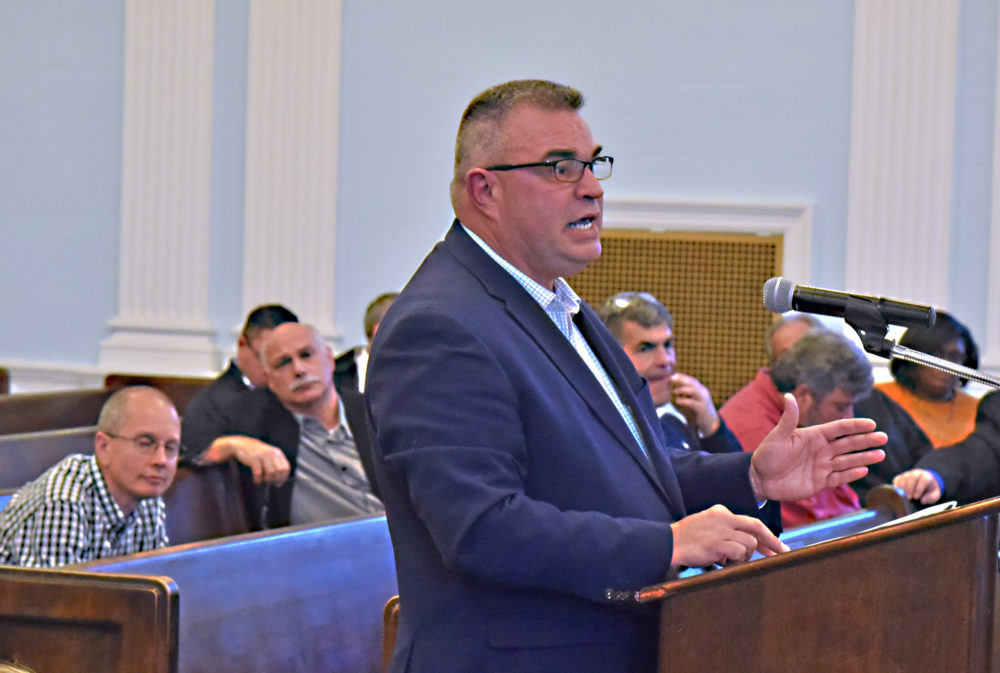 Niagara County Democratic Committe Chairman and N.F. water board member Nick Forster appeared before the city council Monday with news about massive water-infrastructure woes as well as one solution to the PR sting of a recent string of untreated sewage discharges into the Lower Niagara River.
The black water — loaded with hazardous carbon byproducts that normally shouldn't be released — shoots out next to the Maid of the Mist docks. It's been a media nightmare for the Cataract City and Forster has a solution, which he said is similar to what most other cities already do.
Build a pipe to take the outflow down and out into the river and out of sight.
Natural eddies in the lower Niagara currently take the outflow — which happened 78 times last year and 68 the year before that, Forster said — upstream instead of dissipating down the fast-moving waterway. While the city's water plant was rebuilt in 1977, the outflow arrangement was designed 100 years ago, when water levels in the lower river were higher because of less water being diverted.
"It will continue to happen," he said of the discharges. Back in 1977, about 70 percent of the waste water was industrial. Now it's closer to 30 with residential the remainder.
Forster, who took control of the water board in January, said the widely publicized discharge incident at the height of the tourist season was the result of "miscommunication on top of operator error."
He also spoke about recent massive water main breaks that are happening in varying sizes about three times per week.
The resulting low water pressure is a concern when operating hydrants in the event of a fire.
Recently, water pressure was so low, the city was on the verge of having "to boil our water for a week."
Forster, who apologized for the water discharges, said he'd like to see the water plant replaced with a "biological" plant, which could help with the ghastly smell on Buffalo Avenue — right next to the empty Nikola Tesla power plant and the unpleasant miasma perpetually hanging  over it.
The water board is working on a comprehensive list of improvements, he said.
"We are in dire need of upgrades," said Forster, who is the city council's appointment to the water board. "That's where we're at."
Other points:
— $1.9 million in overtime was paid at the water plant during the last two years.
— The water board starts new employees at $11.94 minus twenty percent for health insurance. "We get them trained and they go someplace else," Forster said.
— "We have blown big holes in our budget with these discharges," said Forster, citing numerous bills for legal counsel. "I'm not going to be able to report budget-wise for another meeting or so."
— There will be a water board meeting 5 p.m. Monday, which is a day the council won't be meeting. The water board in 2017 changed meeting dates to the third and fourth Mondays of the month, resulting in regular conflicts with city council meetings which take place every other Monday.
— The water board is looking to lease out antenna space to cellular carriers but is hampered by a long-term Elia-era arrangement that compensates the city for only $2,000 a piece, Forster said, adding he's seeing what can be done to renegotiate it.
— A new $400,000 vacuum truck is soon to be in operation that "sucks up the catch basins and cleans the sewer mains" in temperatures below 32 degrees.
— A comprehensive program of testing fire hydrants is underway, Forster said. Having a fully functioning array of hydrants throughout the city will increase safety and possibly lower insurance rates. Right now, 68 fire hydrants are out of operation out of the city's 2,220. He said, down from 150 since January. In contrast, Erie County has 25,000 hydrants and only a few are out of service at any one time, he said.
"I was out in the field with the guys and gals and there was a hydrant with a note around it," Forster said of the broken hydrant. "Across the street from a school."

"This is what's been going on at the water board."