City reverses course, begins negotiations with NT police over dispatch issue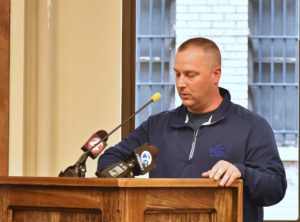 "I just wanted to announce a recent development," said Daryl Truty (above), representing the NT Police Benevolent Assoc. on Tuesday at the City of North Tonawanda's Common Council meeting.
"The PBA and the mayor have had good dialog this week regarding the dispatch issues. We can't go into any details but we hope everything works out. Most — if not all — of our issues will be addressed. We want to thank the community for the overwhelming support. Also, we'd like to thank the mayor, the council and Sheriff Voutour for the understanding and willingness to try and rectify these issues."
The city and the PBA met today Tuesday afternoon. Previously, the police union offered salary and pension concessions to help in the effort to bring back dispatch service to North Tonawanda. 
Recently, Mayor Arthur Pappas and the council announced they would not be negotiating with the PBA regarding the issue. They also expressed their disapproval and dismay with the tactics used by the union to engage and educate the community about how they feel the current county-wide system — which allows only one officer use of the radio at a time — endangers them and the citizens who call for their intervention. 
At the end of the council meeting, Pappas said, "Where there's a will, there's a way. And we may just find that way."