Five candidates vie for two seats in May 16. N.T. school-board election
Set against a sobering backdrop of challenging demographics and taxpayer frustration, four of five NT school board candidates appeared Tuesday evening at Spruce Elementary school's auditorium to hear the 2017-18 district budget presentation and the candidates deliver prepared statements.
Audience members were not allowed to ask questions after each candidate's up-to-five minutes speech.
Following the budget presentation by Assistant Superintendent Alan Getter, incumbent Barbara McCarthy spoke first.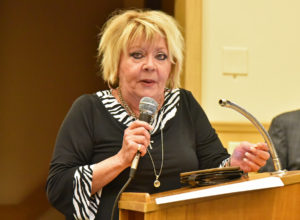 "During the time I have served on the board, there have been many issues, topics, budgets, etc. that have crossed my path."
"Most recently is the topic of the utility tax. My knowledge of this particular topic and experience helped me immediately recognize that this subject had been previously discussed in other years by other former boards, it was turned down then, and for all the reasons the community is already. Our board continues to need someone with the knowledge of past decisions, actions, presentations, and problems, someone who can use that knowledge to help teach the newer board members and give them the insight of decisions made past tense. My goal is to continue to not only remember our history, but also represent our community in the present to help continue to the make solid well-rounded decisions I am known for."
"I have been called the school board watchdog, a title I wear proudly; I am not afraid to speak my mind and stand for the people that live and pay taxes in this community. I know there can be a happy medium between taxes and the children's education. I hope my record stands for itself. Please vote McCarthy on May 16, 2017."
Zachary Niemec spoke next.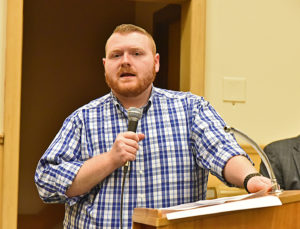 "I'm a district graduate from the class of 2011, and I have served the district as a substitute teacher while giving my time to various student organizations. My pronounced involvement includes having a seat on the high school's Academy of Business and Finance Advisory Board since my graduation, as well as a past seat on the NT Youth Board. In March, I submitted my petitions to run securing a spot on the ballot."
"I want current graduates to have an equal footing and be well equipped for their life after high school. I will seek to find ways to close budgetary gaps and implement best practices in an effort to avoid classroom or support staff cuts. Tax levy increases are not the only solution to a sound fiscal footing for the district. At the last school board meeting, I pointed out to the current board since my graduation, the district's ranking has fallen from 55th to now 74th of the 96 WNY school districts rated by Buffalo's Business First."
"I graduated during a period that was flush with elective programs and other opportunities for students. I strive to preserve these sorts of programs and to develop a plan for sustainable future offerings. Students need to be the focus while also having access to more than just basic materials, and the board should endeavor to understand what offerings students, parents, and teachers wish to see."
"That's why my campaign seeks to answer questions such as 'Are we directing funds to the best places to most effectively utilize what we have to spend and meet our goals?' As well as asking 'How are districts like us spending less money and achieving better results?'"
"As a supporter of lifelong learning, I believe we can all stand to learn from change."
Residents of North Tonawanda want to see growth and reasonable change, not just tax increases and cuts with nothing to show for them."
"I credit the programs I was afforded at NTHS allowing me to attend Johnson & Wales University for both my undergraduate and graduate education. I finished my Bachelor's degree focused on Marketing in just two and half years, followed by the completion of my Master of Business Administration degree in just eleven months."
Next, NT schools superintendent Greg Woytilla read a statement by candidate Matthew Kennedy, who could not attend because of out-of-town business at a trade show related to his employment at Ingram Micro.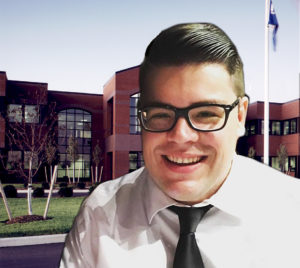 "My goal in running for this position is to be an advocate for our students in order to ensure they have the best education and opportunities to succeed. These students are the future of North Tonawanda and our country. I want to make sure that our teachers have the tools and resources to provide the utmost level of education. I'm an active volunteer in the NTHS Music and Drama Departments and has been since I was a student, which has helped in my firsthand knowledge of how these programs enrich the lives of our students. I have a background in IT and hope to work with the district to improve how they implement and use technology. I'm here to listen to our students and parents on the opportunities they see for improvement. I want the community to be proud of the hard work the students in NT can achieve and I promise that I'll work tirelessly to support this vision."
"I'm a life-long resident of North Tonawanda and proud alum of North Tonawanda High School. I'm a Pre-Sales Technical Engineer at Ingram Micro in Williamsville, NY. I hold several technical certifications from many of the leading tech companies including Dell, APC, and Vertiv. I am also involved in several community events and charities with Ingram Micro and on my personal time. I'm a proud member of the North Tonawanda High School Chorus Parent Alumni group and have been involved in every event since my graduation in 2009."
Elizabeth Sanderson, a first-grade teacher at St. Mary's in Swormville, spoke next.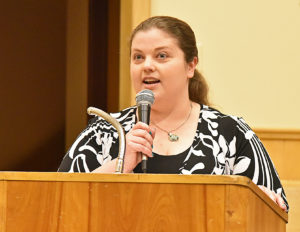 "I'm a homeowner in the city of North Tonawanda where I was born and raised. I'm currently a first-grade teacher as well as a music minister. I'm an alumni of Ohio Elementary, Reszel Middle School, and North Tonawanda High School. I received a Bachelor of Science in Childhood Education in 2012 from Buffalo State College and I'm currently wrapping up my Masters degree in Curriculum and Instruction at SUNY Buffalo. I hold certifications in Music Education, Elementary Education (reading emphasis), and Arrowsmith Program cognitive therapy. I have worked closely with the youth of our city for a decade in various capacities including private music teacher, choir director, drama camp director, NTHS Drama Club vocal director, event attendee, and volunteer. I can offer a unique perspective to the board as someone who has firsthand knowledge of working in a classroom as well as being a first-time homeowner on a budget. I understand the necessity of being fair and fiscally responsible for the taxpayers as well as giving our educators the support that they need to ensure a high-quality, well-rounded education. I strongly believe that investing in education ultimately invests in our community by attracting homebuyers and hopefully enticing our youth to start their families here as well."
Bonnie Litten-Shiesley was the final candidate to deliver her remarks.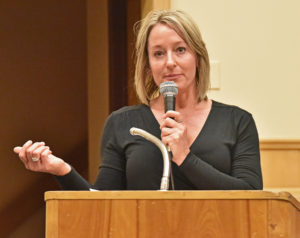 "I was born and raised in North Tonawanda, and I'm a lifelong resident from childhood through parenthood. I graduated from NTHS in 1987, and furthered my education in business at NCCC. The Litten family (parents John and Terrie, brother Rob) have owned and operated a local family business, JL Automotive, for many years."
"Professionally, I have been a strong advocate for health and fitness, focusing on the North Tonawanda local community as a Personal Trainer and Health Coach for the past 18 years. In addition, I founded the local chapter of FSMA – Families of Spinal Muscular Atrophy, and acted as President. Through my efforts, I have raised over a half a million dollars for research and family support through the foundation."
"I have two children in the district currently. My son Kale is a 10th grader at NTHS, and daughter Kyler is in 5th grade at Drake Elementary School."
"My motivation for a seat on the school board comes from my firm belief that children are our greatest resource. Every child has the potential to use his or her gift to benefit the community and beyond. I am prepared to take on a lead role, to fulfill our community's responsibility to our children, which is to provide the support and resources to encourage children to mature, develop and to reach their full potential. Education starts with family, and extends to friends, neighbors, and ultimately, our school systems."
"As a parent of a special needs child, I have faced unique personal and system-oriented educational challenges. That piece of my experience has forced me to more deeply navigate the inner-workings of the school district. As a parent of a mainstream child, I also recognize the current educational climate that all parents encounter."
"As a board member, I will also champion the taxpayer, to ensure that the district is fiscally responsible. All avenues for project and program funding must be thoroughly explored. Opportunities exist to expand programs and facilities while reducing cost. Innovative fundraising, partnerships with local businesses, and exhaustive research of grant availability may all have a part to play."
"I will bring a fresh, unique perspective to the North Tonawanda School Board, representing us all, and covering the bases from many sides: as an active parent who has navigated the system up-close for years. A deep relationship in the community with parents, teachers and business people, with strong fundraising and budget management experience; a middle-income perspective, fiscally responsible. And dedication and commitment to deliver the time and effort you deserve."
The voting takes place noon to 9 p.m. May 16 at the high school's Alumni Student Activity Center along with the district budget vote.