$13 million for cities in New York to fight zombie-home plague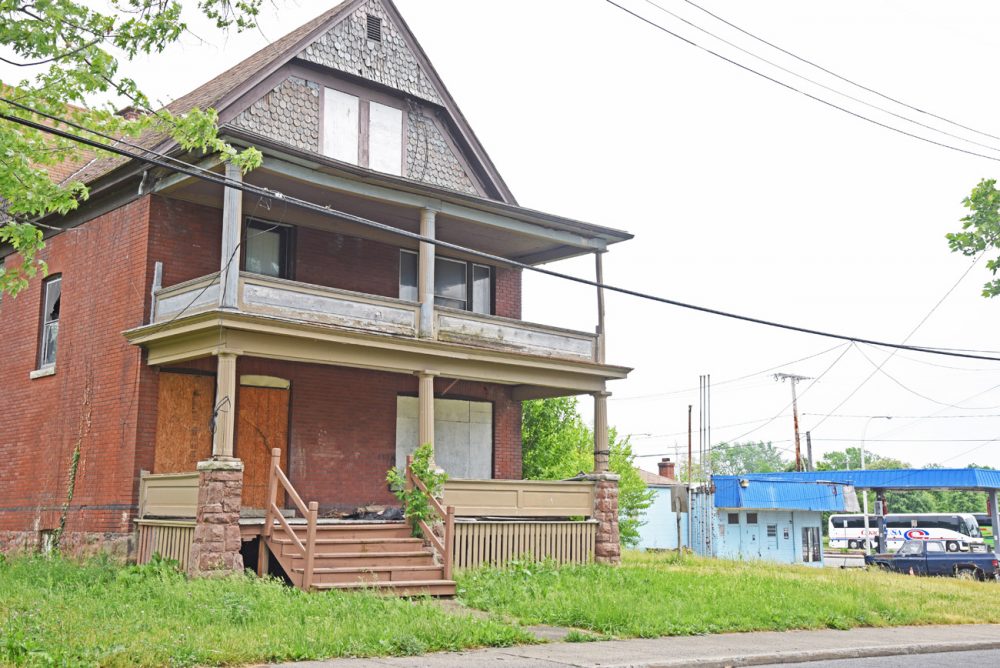 Funding Will Support Their Efforts To Reverse The Proliferation Of Vacant And Abandoned Properties And Help Families Avoid Foreclosure
NEW YORK –  Grant awards totaling $12.6 million will help 76 cities, towns, and villages across the state address the problem of vacant properties and so-called "zombie homes" – vacant and abandoned homes that are not maintained during a prolonged foreclosure proceeding. 
The grants were awarded under the Zombie Remediation and Prevention Initiative, which the Office of the Attorney General established in July with funds drawn from the $3.2 billion settlement agreement with Morgan Stanley that Attorney General Eric T. Schneiderman announced as co-chair of the federal-state working group on residential-mortgage-based securities, negotiated in February.  That settlement generated $550 million in cash and consumer relief for New Yorkers.
The Local Initiatives Support Corporation, a national community development intermediary that specializes in affordable housing, economic development, and community revitalization, is overseeing the initiative; selected the grantees; and will be providing technical assistance to the funded municipalities as they implement their plans.
"Too many homeowners across New York are still struggling to rebuild their communities in the wake of the housing crisis caused by major banks," said Attorney General Schneiderman. "I'm proud that the funding obtained by my office's settlement with Morgan Stanley will now help cities and towns across the state reverse the proliferation of zombie properties, which invite crime and threaten the value of surrounding homes. These grants will help rebuild, revitalize, and stabilize communities across the state."
"LISC is thrilled to be awarding $12.6 million in grants to cities, towns and villages, in partnership with Attorney General Schneiderman, to combat their zombie and vacant properties," said Denise Scott, LISC's executive vice president for programs. "We can't wait to work with mayors and supervisors and their communities, in places urban, suburban and rural, all over New York State. Together, we'll fight the blight!"
The money will address housing vacancy and blight by bolstering municipalities' capacity for housing code enforcement, for tracking and monitoring vacant properties, and for legal enforcement capacity to ensure banks and mortgage companies comply with local and state law. 
The initiative coincides with the June 2016 passage of the Abandoned Property Neighborhood Relief Act, a bill that the Attorney General wrote.  Among other provisions, that law requires banks to register any properties abandoned by their owners with the Department of Financial Services and to maintain those properties during the foreclosure process, and not just once the process has been completed.  Banks face significant fines for non-compliance.  The state will share the registry with localities and will run a toll-free hotline for individuals to report such properties.
Grants ranged from $52,500 to $350,000, and were awarded to municipalities as large as New York City, with a population of 8.5 million and an estimated 9,692 vacant properties, and the Town of Hempstead, with a population of 760,000 and an estimated 1,286 vacant properties; and as small as the Town of Ticonderoga, with a population of 5,042 and an estimated 104 vacant properties.
Examples of funded projects include the following:
The City of Syracuse will use $180,000 of its funding for its Blight Busting Program: to seed a revolving fund to pay for "cut and clean" efforts to maintain vacant and zombie properties.  The charges will be added to the tax bill on the property and the funds recycled for other maintenance efforts.
The City of Amsterdam will conduct surveys of vacant properties and establish a vacant properties database.
The Town of Colonie will establish a Vacant Property Unit to streamline and synchronize the town's vacant property elimination efforts.
All the funded proposals include a prevention component, to connect at-risk homeowners to services so they can avoid foreclosure and stay in their homes.
Municipalities with populations of at least 5,000 residents and at least 100 vacant and abandoned properties were invited to apply for the funds through a competitive application process.  Funding decisions were based on the following criteria: the number of abandoned properties within the municipality; the proportion of such properties compared to the overall size of the municipality; its level of general economic distress; and its demonstrated interest in addressing the problem of housing vacancy and blight. In total, 108 municipalities were invited to apply for funding; 76 submitted proposals; and all were awarded grants.
While accurate numbers have been hard to come by, it has been estimated, based on data released by Realty Trac in 2015, that there are some 16,000 zombie homes across the state.
The Abandoned Property Neighborhood Relief Act allows the state, for the first time, to accurately track the number of abandoned properties and ensure their upkeep.  The Zombie Remediation and Prevention grants allow cities and towns across the state to maximize the impact of the law and to partner with the state in addressing the blight of abandoned properties.
The Zombie Remediation and Prevention Initiative is but one component of Attorney General Schneiderman's broad strategy to help New York families and communities recover from the housing crash.  He has led the fight for strong bank settlements that hold the banks accountable for their recklessness and responsible for mitigating the damage they caused.  He has obtained settlements that brought more than $95 billion to communities across the country.
More than $5.5 billion of that settlement money has flowed into New York.  With that settlement money, the Office of the Attorney General has:
Established the Homeowners Protection Program, HOPP, in 2012, which currently funds 90 agencies across the state and has provided legal services and counseling to help nearly 65,000 families stay in their homes and avoid foreclosure ; nearly a third of them have mortgage modifications pending or approved.
Established the New York State Mortgage Assistance Program (MAP) in 2014.  Since it began, MAP has provided $18 million in small loans to homeowners to clear other debts and qualify for mortgage modifications; it has prevented more than 650 foreclosures and preserved $153 million in property value for nearby homeowners.
Allocated some $30 million from settlement monies toward land banks—local, nonprofit entities that purchase and rehabilitate abandoned properties. To date, the first ten of these land banks have restored hundreds of abandoned properties to productive use.  Recently, settlement money helped establish five additional land banks, and a sixth is in the process of getting certified.
Launched "Neighbors for Neighborhoods" in August 2016, a $4 million pilot program that will enable land banks to provide subsidies for local community members to take over individual, abandoned properties and convert them into long-term affordable rental units.
"We are grateful for this grant from Attorney General Schneiderman and for all his efforts to combat the negative impact of vacant and abandoned properties on the quality of life in Albany's neighborhoods and across New York State," said Albany Mayor Kathy Sheehan. "While we have made progress fighting blight, there is much more work to be done and this funding will provide much needed support to better coordinate our efforts."
"Attorney General Schneiderman continues to be a friend in Binghamton's fight against blight and zombie properties," said Binghamton Mayor Richard C. David. "Binghamton's plan, supported by these settlement funds, will advance creative and impactful programs to address zombie properties. I thank Attorney General Schneiderman for his continued efforts to restore integrity to New York's neighborhoods."
"Brookhaven is a large town and the number of abandoned homes continues to grow," said Town of Brookhaven Supervisor Ed Romaine. "We have been very aggressive in our effort to rid neighborhoods of 'Zombie Homes, and I applaud the Attorney General for moving this problem into the forefront. Now, thanks to the additional funding, the Town can step up the pace and continue to remove these blighted properties from the community." 
"We are grateful to Attorney General Schneiderman for awarding this grant to the Town of Islip," said Town of Islip Supervisor Angie Carpenter. "We are serious about improving every aspect of our neighborhoods, and in many places that begins with addressing these derelict and hazardous properties that have been plaguing our community. "Houses like these aren't just an eyesore that bring down the property values of responsible homeowners and neighborhoods, but are also health hazards. We are going to continue to work vigorously to eliminate this threat to the welfare of our town."
"We are grateful for this grant, which allows HPD to increase direct outreach to families in foreclosure and also develop individual and targeted plans to secure 'zombie properties,' or abandoned homes  — many of which are not being properly maintained, are creating blight and hurting our neighborhoods," said New York City Department of Housing Preservation and Development Commissioner Vicki Been. "Bottom line, the funds help us continue to stabilize affordable homeownership in many neighborhoods still recovering from the mortgage crisis."
"The City of Niagara Falls is thankful to LISC for this innovative opportunity and to Attorney General Schneiderman for his leadership in the fight against blighted, abandoned properties," said Niagara Falls' Mayor Paul Dyster. "The Niagara Falls Zombie Fight Project will use better technology and data based strategies to address vacancy, and most importantly, responsibility in our neighborhoods. This grant allows us to focus in on this issue with a level of resource that is often not available to local municipalities."
"The approval of the 'Zombie' Remediation and Prevention Initiative grant is great news for the City of Poughkeepsie," said City of Poughkeepsie Mayor Robert. G Rolison.  "This, coupled with new New York State legislation effective in December, will boost the City's effort to address critical blight in our neighborhoods. The initiative includes funds for staffing, which will address shortfalls in enforcement and abatement of the problem properties. We look forward to working closely with our State partners to implement this grant and strategically attack this challenge in our City."
"In Rochester we are working every day to bring more jobs, safer more vibrant neighborhoods and better educational opportunities to all of our city's residents," said Rochester Mayor Lovely A. Warren.  "So-called zombie properties are an impediment to these goals and State Attorney General Eric Schneiderman continues to bring needed assistance to cities like Rochester so we can meet the challenge of these derelict properties head-on. Attorney General Schneiderman understands that finding ways to eliminate zombie properties is an important part of bringing greater vibrancy to our neighborhoods and, in doing so, more jobs and better educational opportunities to everyone."
"Combatting blight in neighborhoods is a top priority for every mayor in the nation," said Syracuse Mayor Stephanie A. Miner. "Our jobs have been made harder by the irresponsible practices of major banks which have created the scourge of zombie properties in cities, increasing the burden on local government operations. I thank Attorney General Eric Schneiderman for his commitment to this issue and am thrilled we earned this competitive funding from the state. It will go a long way in supporting our efforts to revitalize Syracuse neighborhoods."