Unifying American spectacle setting up in Gratwick Park Sept. 9 – 11 along Niagara River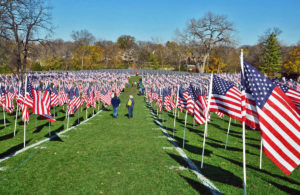 Three thousand American flags along the Niagara River will help remind citizens across Western New York that freedom — one of the things we can all agree on — comes with a cost.
The Erie-Niagara Sunrise Exchange Club working with Healing Fields, a national organization that helps organize these "pop-up" installations, is bringing one to Gratwick Park in North Tonawanda Sept. 9 through 11.
"On the 15th anniversary of the 2001 attacks, the magnitude of loss is revealed by this solemn formation of flags," according to the flag foundation's website. "Terrorists mistakenly believed that their heinous act would divide us when it actually brought us together. Posted in perfect rows and columns during the days surrounding Patriot Day in 2016, the Stars and Stripes will fly in tribute to the victims of 9/11. The scene of red, white and blue flags flying against a blue sky presents an inspiring and memorable panorama that will draw the Buffalo-Niagara Falls Metropolitan community together."
Friday, Sept. 9 will see the opening ceremony and dedication, with a tribute to fallen Iraq and Afghanistan veterans. Vietnam veterans will be honored Sat., Sept. 10., followed by a motorcycle ride with patriot riders. On Sunday, Sept. 11th, a tribute to all fallen first responders will take place followed by a closing ceremony and concert. 
The flags are 3'x5′ and each stands on an eight-foot pole.
Patriot Day is observed as the National Day of Service and Remembrance, occurs on Sept. 11 of each year in memory of the 2,977 people killed in the 2001 attacks.
Friday, Sept. 9 — 9 a.m.  Field set up- rebar & flags / rebar with caps for last 200 Volunteers (with patriotic c/d music playing) – PA and sound system
5:50 p.m. Bagpipes; Daniel Hudson will play one song before the welcome.
6:00: Emcee Robert Pecoraro welcome; followed by Program Chairman Ron Sciandra; procession of Color Guards led by John Kasmer,; Invocation by Rev Msgr Richard Wetter; National Anthem by Deja2; Pledge of Allegiance; last 200 flags to be ceremonially entered into the Healing Field;  Deja2 performs "God Bless America"; Keynote address by Iraq Silver Star awardees' David Bellavia; Benediction by Rev Msgr Richard Wetter, rifle salute and Taps by the 914 Air Wing Honor Guard followed by a cannon salute by Pete Labushecky, and bagpipes played by Daniel Hudson as people walk through the field.
Saturday, Sept. 10 — 10 a.m. Emcee (TBD) welcome, followed by Program Chairman Ron Sciandra; Patriot Riders entrance; Presentation of Colors by Vietnam Veterans Association Chapter 77; National Anthem by NTHS Students, Pledge of Allegiance; Invocation (TBD); keynote address by Mike Walker, President VVA Chapter 77, Flag Folding Ceremony 914 Air Wing Honor Guard, patriotic songs by NTHS Students; "God Bless the USA" by Kristin Nachreiner, Taps (NTHS); Rifle Salute by the Erie County Military Guard.
Sunday, Sept. 11 — 8 a.m. Welcome; Program Chair (Ron Sciandra); Reading of 9/11 Names (5 minute pauses at 8:46AM – 9:03, Twin Towers attacked and 9:37 a.m. – Pentagon attacked); 10:03 Read by approximately 30 individuals reading 50 names at a time;
1 p.m.:  Musical Prelude – Sugar and Jazz; 2 p.m.:  MC Maryalice Demler welcome, followed by Program Chairman Ron Sciandra; Presentation of the Colors Led by Capt Todd Bush, North Tonawanda Police Department; National Anthem sung by Henry Pendleton; Invocation by Rev. Dr. A.W. Moldenhauer (NT Fire Department); Pledge of Allegiance; Introduction and welcome of Special Guests: Mayors Rick Davis/Arthur Pappas, Assemblyman Robin Schimminger & NYS Senator Rob Ortt, POW/MIA Tribute, releasing of the Peace Doves by Dale Rogers, keynote address by Lt. Col. Mark Onesi USA (ret), President Bush Greetings read by MC, Taps performed by Bill Miles, patriotic songs by Henry Pendleton, 21 gun salute, Benediction by Reverend Moldenhauer, closing remarks, and bagpipes played as people pick up their flags.