Joe Whalen's last showing nearing one-year anniversary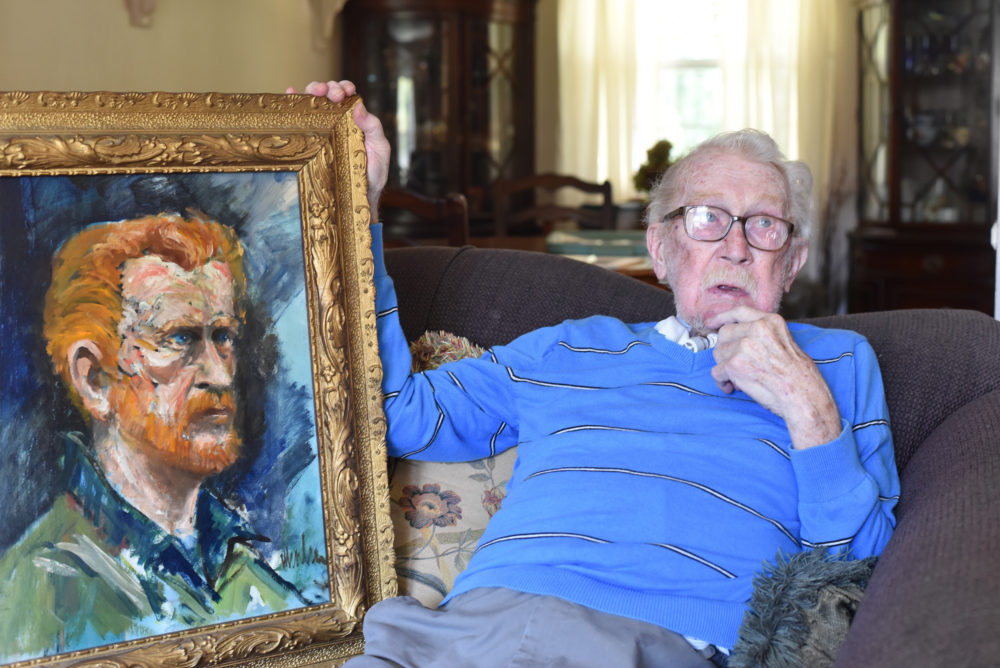 Lockport legend and artist Joe Whalen — who died in January 2016 — was about to have the last showing of his long career and he harbored no regrets during one of his final interviews.
He wasn't supposed to live past 40, he says because of multiple health problems.
Sketching was something he took up to pass the time when he became seriously ill at age seven.
"And it just became something that I had to do all the time," he says.
Unfortunately, later on, so did his drinking, which despite decades of success as an artist and teacher, got to a point where it was controlling his life, he said.
While showing off the lively sketches he's still working on and other paintings he's proud of, Whalen also brought out his 44-year chip from AA. He's been very active in the organization and has attended meetings recently despite now being in Hospice care.
"I've got three months to live. It doesn't scare me."
Whalen brought out a card from one of his AA sponsees. "You not only saved my life but gave me the greatest gift in life besides life itself, my wonderful sobriety," the note read.
"This sobriety keeps on giving each day in every aspect of my life, from helping me run my business to helping others get the program. Between giving so many people pleasure with your art talents and saving so many lives through the program, you are one very, very special man."
And that's but one testimonial.
"The impact local painter Joseph Whalen has had on the world around him is not difficult to see," says Jay Krull of the Niagara Art Trail.
"His paintings adorn the walls of hundreds if not thousands of homes, galleries, offices and other businesses throughout the world with a heavy concentration in Lockport and Niagara County," he said.
Krull is organizing the Oct. 4 show called "Whalen: A Legacy," which will explore more than 75 years of the artist's work along with the impact he has had on the community and individuals throughout his career.
The exhibit, which runs through Nov. 14 at 247 Market Street, will showcase Whalen's work starting with a 1939 drawing from he was 11 years old.
"Although his body of work alone assures his place in history, his impact reaches far beyond his art," Krull said.
"His storytelling, humor, and knowledge of local people and history enhance that legacy," Krul said. "But the most important aspect of what he has given is the influence he has had on others. It would be logical to assume that artists would be the main beneficiaries of that influence."
As a teacher Whalen's goal above all else has been to teach students to be "good citizens."
He said the corollary to art is honesty.
"A good artist has to be honest with their work," he says.
That philosophy carries beyond the studio to non-artists alike.
"For those of us who have been touched by Joe, we are thankful for that part of what we have become due to his influence," Krull says. "It carries forth a living legacy which will continue to flourish for generations to come."
To help document and celebrate Whalen's legacy, Krull is calling for his students — and there were so many of them after decades of teaching art at Niagara Wheatfield High School — as well as the people who know him to submit brief testimonials regarding how Whalen positively influenced them. These notes will be displayed on a bulletin board at the show.
Many of the artist's rarely seen sketches — used as the groundwork for his paintings — will be on display. Some will be shown with the painting that followed.
"It all starts with a sketch," Whalen says.