Knottingwood Drive residents want pipeline relocated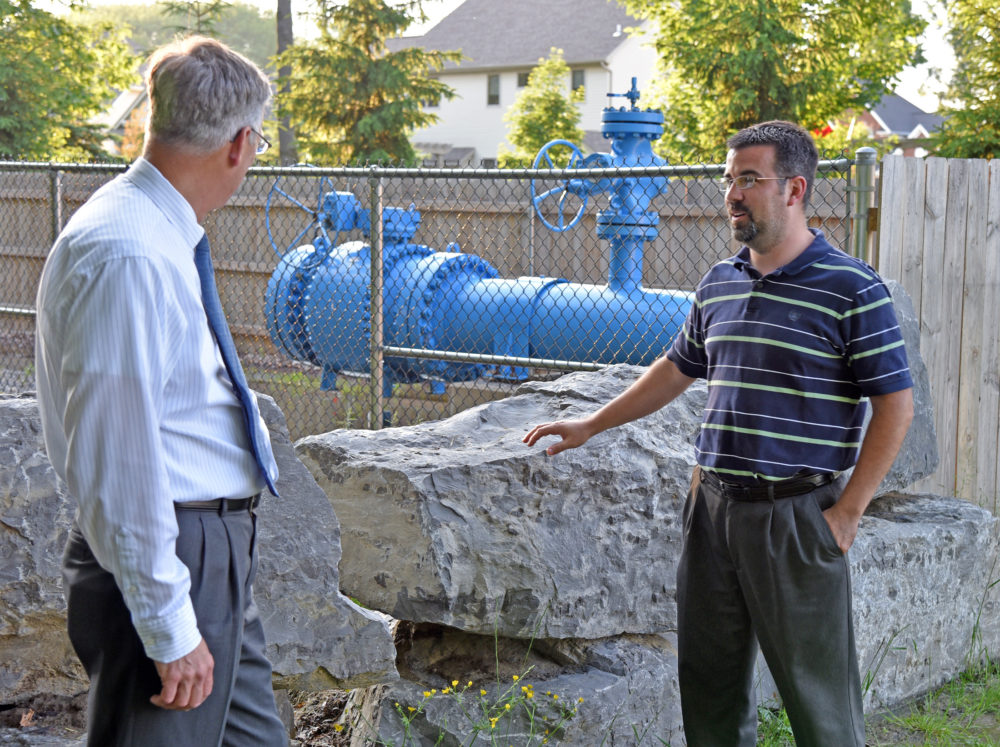 UPDATE: According to councilman Larry Helwig, this pipeline project has been cancelled indefinately.
Kelly Bird still has the scar from when she fell, running down a flight of stairs while carrying her son.
That's what can happen after firemen bang on your front door at 3 a.m. saying there's a plume of compressed natural gas shooting over the top of your house.
When she missed that last step — and he son fell on top of her — an unforgettable night became even more so.
Bird and her neighbors of the Timberlakes community off Shawnee Road in Wheatfield, however, don't want another memory like that one — or worse.
"If that pipeline was to burst it would take out all these houses," said Jim Adams while standing beside Bird's home on Knottingwood Drive in Wheatfield.
Amidst an evening full of developments and events unfolding in Wheatfield, councilman Larry Helwig on Monday related some disturbing news he gleaned from a National Fuel Gas and Empire Pipeline public information session May 22 in Pendleton.
While National Fuel Gas informed residents of other communities about upcoming changes to this pipeline to Canada, Wheatfield residents were not. Helwig saw only a few residents from Wheatfield at the meeting that drew hundreds.
Proposed changes to the pipeline station behind Bird's home include changing the diameter of the line from 18" to 24" to increase capacity.
Residents are worried the next accident has the potential to be an even bigger one.
"From what I was told from one of the supervisors at National Fuel who I contacted after the incident that happened several summers ago, the approximate blast radius is 650 feet," he said.
"So that would clearly take out the houses that are right next to it but also the houses across the street," he said. "And that was based just on what existed."
While residents concede the pipeline was there when they bought their homes, it has grown during the intervening years and that the potential impact to families was downplayed.
"The builder said 'don't worry about it'," Bird said. "Not a big deal."
Meanwhile, residents also say they are not notified properly about maintenance to the station, which involves loud and jarring blasts of natural gas.
Neighbors say since National Fuel Gas is replacing the pipeline to make it bigger, why not relocate it?
"I am sure they are going to be making a ton of money on this project so we want them to move this station to something further away from the residential area."
Helwig has said he's been in touch with a National Fuel representative who is looking into the resident's request.
Helwig also wrote a letter to Congressman Chris Collins.
"I would respectfully request your assistance in securing the relocation of the pipeline so that it will be at least 650 feet away from the residential dwellings," Helwig said.
A 650-foot buffer is required for "high-consequence area," Helwig said, and not the 100 feet proposed by National Fuel Gas.
"I am deeply disturbed and concerned that residents of Wheatfield who are significantly impacted by the location of the pipeline were not advised of the meeting or given the opportunity to express their concerns or offer alternative suggestions."
"I would respectfully request your assistance on behalf of the residents of Wheatfield and in particular, that your office contact the Federal Energy Regulatory Commission to request that they conduct a meeting concerning the project in Wheatfield, that FERC notify Wheatfield residents of the meeting and that FERC conduct a full environmental review pursuant to the National Environmental Policy Act," Helwig said.
"This project is of such significance and magnitude that a full environmental review is required."