N.T. could be next stop on pedal-trolley takeover; 2018 budget adopted
What's an entertainment district without seeing pedal trolleys lumber past filled with people laughing or sweating or drinking — or all at once — on their way to their next fun destination?
With the success of the trolley tours in downtown Buffalo, Sarah Gebhard made a presentation to the council Tuesday outlining her desire to bring a pedal trolley to North Tonawanda. The goal is to be operating by May 2018, she said.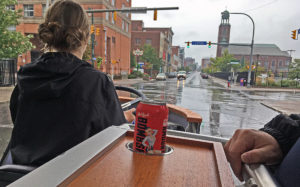 The council seemed a little wary about brining the popular — and sometimes rockin' — trolley tavern tours to Webster Street and seemed more comfortable with the idea of NT heritage tours highlighting its historic houses and waterways.
Limiting the tours at two hours helps limit the "over-the-top" behavior, Gebhard said. In deference to neighbors, tours would stop at midnight on the weekends and earlier during the week.
Gebhard wasn't asking the city for anything specifically but wanted to share her intentions with the council regarding her new venture, "Huffin Pedal Tours."
"Where there is waterfront, there is entertainment. And what better way to experience the life of the canal then to do it with your friends, family, co-wokers on a fifteen-person pedal bike? This slow moving, open mode of transportation allows for conversation and photos of your experience."
In general, the council seemed supportive but City Clerk Dan Quinn said he would look into making sure the pedal trolley does not require any kind of permitting or licensing as well as consulting with the Chief of Police Roger Zgolak.
The mayor also had words of advice for Gebhard.
Three years ago, Pappas participated in a trolley tour with Lumber City Development and Joy Kuebler Landscape Architects visiting brownfield opportunity areas around downtown.
"If you take the tour to Shores Restaurant, make sure you have good, hearty people in good shape to get over that bridge. That was something else. But it was fun. A lot of fun."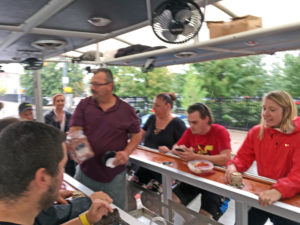 Other presentations at the council workshop included Mike Zimmerman of Lumber City who provided the council with an update on the grant it received last year to help deal with the tide of abandoned homes blighting neighborhoods around the city.
A state law enacted last year is holding banks more accountable for maintaining an adequate state of their property after occupants leave.
"We've found that once the bank knows you're paying attention it's cheaper for them to comply then to go to court over it," said paralegal Kate Lockhart of the WNY Law Center, who through the grant is  assisting the city for one year in its efforts to engage banks and their derelict properties.
Also, Steve Ash shared with the council his idea to build a bicycle-skills training park for kids aged 4-11. Ash would raise the money himself but is asking for a piece of city property for the 160' by 130' area. It would be the first of its kind in New York State, he said, a safe place for kids and parents to practice riding a bike.
Its an activity every kid does and would be a good, lifelong habit to help combat obesity in childhood as well as adulthood, Ash said.
While the council seemed open to the idea, City Attorney Luke Brown said this: "I'm having a mini-heart attack on the liability."
Brown said he would discuss the matter with the city's insurance agent and "what it would do to our potential liability."
Additionally, the 2018 $26,205,230 budget was approved. Estimated revenues were set at $18.8 million and $1 million in fund balance resulting in a $16,298,608 tax levy.