Starting Friday, fire dept. likely to aid Twin City in advanced life support
With hopes of Lockport's return to ambulance service in the rear-view mirror …
You'd be forgiven for not knowing Lockport won't be getting back into providing ambulance service for its residents.
Quietly buried in the Union-Sun & Journal article about Lockport firefighters reaching an 11-year contract with the city — which included a clause requiring the LFD to drop its ambulance lawsuit — was the pronouncement by Mayor Anne McCaffrey that the "conversation" was over. (The Buffalo News didn't publish anything about it.)
So gone is the opportunity for the city to generate revenue (as the tax base shrinks) but instead the city's finances are working within a more predictable framework with less capital investment.
Gone also is the crucial opportunity to decrease call times — frequently cited when residents asked, pleaded for ambulance service return — as well as the LFD performing paramedic-level life-saving services.
That's been replaced by the department responding to emergency calls with Twin City Ambulance. If the LFD gets there first, they will soon be able to administer advanced life support, said Chief Pat Brady (below).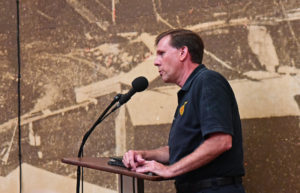 "So as far as ALS goes," Brady said at Wednesday's common council work session. "That SOP (standard operating procedure) was passed after 84 days in June. Since then, we've addressed several issues related to our equipment. We lost our main EMS engine. It's been gone for over a month for repair. We will have it back next week. So we are driving a 1988 currently that is not certified by the Dept. of Health to carry those supplies. Quite frankly, we would have difficulty in passing the full service inspection if we had that in service as an EMS piece of equipment."
"Besides that, of course, it is now vacation season. Between myself, our training officer, and the men, we've all been off over the holiday weekend, on vacation at various points in time. We also had to update the department on the collaborative protocols from the NYS Dept. of Health that took took effect on July 1. My municipal training officer and I did not see any reason to advance through that being down an engine and then have to retrain everyone after the new protocol."
"We did run into a some trouble with the batteries related to our defibrillator unit. Found that they were expiring. They were not lasting as long as we needed. So we replaced those. "
"We also found out in the span of time that we've been out of the advanced life support business there is a nationwide shortage of epinephrin. We weren't aware of that. We had to spend a few days looking around to make sure we had the proper supplies so we could start the process."
"Our last platoon will be trained tomorrow. And hopefully by the end of the week and start actually providing the service then."
"I'm hoping Friday or Monday at the latest. It depends on getting that piece of apparatus back. It's been gone since June 15th."
Councilwoman Anita Mullane: "If some of your guys are at a fire and we get an ambulance call at the same time — maybe at a different end of the city — how does that work as far as who goes where and who comes in from overtime and how long does it take?"
Brady: "It all depends on the manning at the time. If it's on the initial alarm fire, Twin City would be handling that call on their own until we have enough manpower to satisfy our remaining requirement with the fire, and then we'll start answering those calls. Generally, we keep one engine in reserve. Right now, I don't even have that to answer those calls. We generally keep at least three men at fire headquarters to answer EMS during a fire."
"We have our reserve engine in service since June 15th every day. It's answering calls every day. Six calls a day on average."
Council President David Wohleben: "Chief, if there are any more delays could you please let me know so I can let the council know what's going on."
Councilman Jo Oates: "Thanks for doing a good job for us, Pat!"
Brady: "Thanks, Joe."