Council wants more taxi "medallions" for more opportunity in the Falls
Also approves free parking for Niagara USA tourism re-branding event Monday.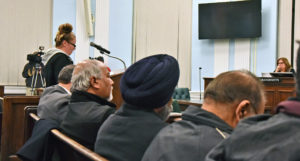 Do the taxi companies in Niagara Falls need more competition?
You can't operate a taxi in Niagara Falls unless you possess one of 89 "medallions" the city issues. They can sell from $5,000 to $20,000 a piece.
The scarcity of these medallions has brought the issue before the Niagara Falls City council several times already this year.
Visiting the council are those looking to increase livery service here. (Unlike taxis, which are more heavily regulated, liveries must be called and can't look for fares or be hailed.)
Contingents representing the taxi companies in Niagara Falls, and those seeking to expand it, have been coming to the meetings and presenting their side to the council.
Various resolutions have been tabled that would have increased regulations upon livery services and their drivers, benefitting the small number of taxi companies in the Falls, critics say.
Individuals — many from the same families — shared their stories, stating the current system wasn't fair and limited competition.
"There's a consensus amongst my colleagues more medallions circulated would give people an opportunity to drive a taxi cab or have a radio and meter in the car," said councilman Andrew Touma.
Many speakers at previous council meetings also said it's difficult to get a cab at night and that more competition — more medallions —would help alleviate that.
Police chief Bryan DalPorto said: "I'm not against that. It's part of the solution. But how many are we talking about issuing? You don't want to flood the market."
DalPorto said background checks should be conducted on all livery drivers since some of them would be transporting children and senior citizens.
In another matter, the council approved a late resolution regarding free parking for Niagara Tourism's rebranding event 10 a.m. Monday at the Conference & Event Center.
However, councillor Kristen Grandinetti voted against it, and Kenny Tompkins said he only supported "discounted" parking.
"When I go to an event I pay to park," Grandinetti said. "We implemented all these parking rules to raise revenue. It's crazy to give free parking to the NTCC. It's out of line for them to even ask for it. We give them a lot of money."
The event is launching a new brand for Niagara USA.
"Join us as we proudly unveil our new brand that captures the story of our entire destination and the imagination of the world," reads promotional copy for the event.
"The people who are going to this are partners with the city," said Touma.
Additionally, a city engineer was hired after waiving the residency requirement, which has for years held up filling that position. John Gerlach was hired for the $90,000 a year job
"The absence of the engineer has caused a significant hardship for the city both financially and operationally," reds part of the resolution that passed.
Council president Charles Walker voted again the hiring, having said it was more important for the city engineer to live within the city limits, spending their salary here. Walker also warned against setting a precedent that could affect future hirings.