Niagara News Source pitch at Pints for Progress #19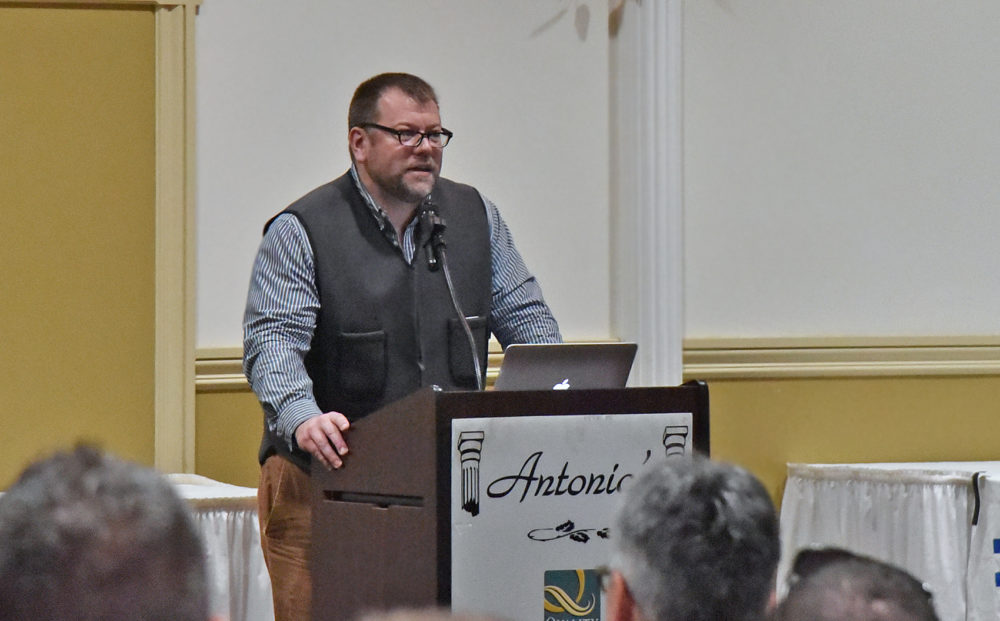 "My name is Joseph Kissel and I'm the editor, photographer and principal writer of Niagara News Source, an independent and professional online news service covering Niagara Falls, Lockport, North Tonawanda, Wheatfield, and of course, Niagara Falls, which naturally, can't be overstated in its importance to the future of Niagara County."
Regionalism and the links to Albany are also overriding concerns of this news project as well as connecting the dots amongst the power players that are obvious as well as the ones more behind the scenes.
What needs to be said right up front is that Niagara County is terribly underserved when it comes to reporting on the almost 200,000 people that live here and the roughly 47,000 that live here in this amazingly historic city that really seems to be on an upward trajectory again.
But it's going to take the work of us all, and it's also going to require a greater media presence here that's professional, fair and independent.
You can't make that claim about any other news organization operating here. Except for one independent publication in Niagara Falls — which frankly has its own issues with tone, professionalism and its extreme agenda-driven approach — any story a reporter or news editor files by any of the others can be shut down preemptively from some shadowy figure above.
But not here. That's not what Niagara News Source is about. I humbly tell you I am of the people and I answer only to the community.
For instance, although I haven't written specifically about this yet, I've been told by numerous sources that's one of the reasons the Buffalo News won't report on the 'bomb trains' coming into Buffalo and Niagara County — because Buffalo News owner Warren Buffet owns the rail lines that's bringing this highly explosive oil through here from the Bakken oil fields of North Dakota.
And that's just one example of the corporate meddling that can stifle journalism and important news about our communities.
But let's talk about Niagara Falls and the amazing opportunities and the significant challenges that remain.
Like the 20 percent of babies born at Niagara Falls Memorial that are addicted to heroin or opiates. Imagine trying to start life out like that. Unless we do something about it, this is the future of Niagara Falls. However, at last Thursday's multi agency presentation about young women's health here, there was no television media there and the Gazette ran only a very short, perfunctory article that by no means did justice to this considerably important subject.
Since last week, my published article has had dozens of shares on Facebook and has been read by almost 600 people.
Part of why I'm here today is to grow that number and reach even more people who are looking to confront the challenges of this city head-on and grow a coalition of citizens from the vast spectrum of residents here to make this city thrive again and celebrate our many communities.
(I'm pleased to say that after just a few months of operation and limited outside promotion, we're closing in one 10,000 views from about 100 articles.)
Since my site also currently covers the cities of Lockport and North Tonawanda as well as Wheatfield, I'm going to be enlisting the help of others from around Niagara County to take a look at Niagara Falls again and help progress the projects here that should be of concern to all the residents in the county.
Things like getting a good grocery store for its residents in the North End, the community center there, tackling the feral cat problem in the city, zombie homes, transparency in city government.
How can one underestimate the importance of a city that draws in 7 million visitors a year? But how can this city really become the world-class destination it deserves to be and an amazing place for people to live with all these basic problems left untended?
As Gazette Reporter Philip Gambini said to me, "There's more than enough stories here for everybody to cover something different and significant."
And he's right.
These stories need to be told, and there aren't just enough independent professionals here doing it.
With the proliferation of "fake news" in today's media scene, I'm proud to present my almost old-fashioned approach of accuracy, fairness and presenting an array of opinions that lets lets the readers draw their own conclusions instead of being told what to think.
If you haven't already, I hope you check out my news site at www Niagara News Source.com. and I thank you for your time and consideration in helping to fund this project and keep it going forward.