NT city market manager responds to farmers upset over market conditions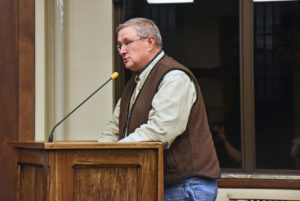 "Whenever you have market managers change, you are going to see change," said North Tonawanda Mayor Arthur Pappas at the January 17 common-council meeting.
"Mr. (Dale) Rogers goal is to turn it back to a complete farmer's market," he said.
Those comments were offered by Pappas when two residents of Niagara County came to speak in front of the council about conditions at the city's venerable farmers market.
The council is trying to finalize updated rules and regulations, including insurance requirements for vendors to make sure the city isn't liable for any incidents that occur there.
Information about the updated requirements were sent out to current tenants of the market.
However, Pete Rickard (above photo), who runs a farm and nursery in Niagara County, has been trying to get into the market for four years with no luck.
Meanwhile, the speakers said the 109-year-old market has many non-consumable items for sale including sunglasses as well as satellite TV offers.
Another speaker, Cheryl McCook, said the restrooms were frequently unkempt as well as citing lack of emergency access for the stalls.
"If somebody had a heart attack in there I don't know how they would get to you," said McCook, who also stated tenants at the market are reluctant to speak up. "We're afraid we're going to get kicked out," she said.
"We appreciate the input from people from surrounding communities," Pappas said. "The goal is to take it back to what it was: a farmer's market. Our market is not going downhill. The attendance at our market is higher than ever before. It is not going down. We need to concentrate on keeping it safe, clean, the rules consistent and the with the right communication."
City market manager Dale Rogers — a 30-year employee in NT's engineering department who retired and took over the market last year — was not at the meeting but addressed some of these points when reached by phone.
He said Rickard wants a prime location at the market, which has been difficult to accommodate.
The same applies to McCook's request for another stall under the pavilion, he said.
Rogers also said he wasn't aware of Rickard's previous attempts to get into the market because he's been the manager for only one year.
He agreed that emergency access could be better and it's something being worked on.
"We try to keep a lane open behind the church, and I agree there are times when it's not as good as I would like it," he said. "It will have to be worked on. But we had half-a-dozen emergencies there last year and we haven't had a problem."
Although Rogers wouldn't state how much revenue the market brings in for the city he said there was a small increase last year.
"I want to return this market to a more favorable condition," Rogers said. "There are farmers waiting and that shouldn't be so."
Rogers said there are a handful of vendors with their ability to return on hold — most likely until March 1 — but that he also wasn't going to throw current tenants out of the market.