Ottaviano says overpaid millions should stay at N.F. water board; Touma wants rates reduced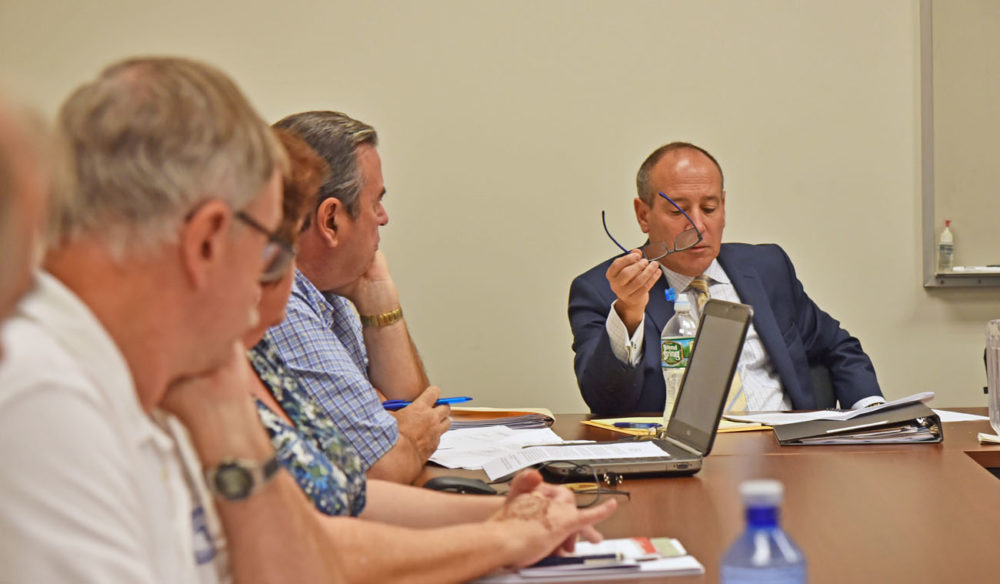 There's an extra $3.4 million in the Niagara Falls Water Board's bottom line.
The question is: what to do with it?
Water Board General Counsel John Ottaviano recommended the money should remain in-house to handle unforeseen expenses and loss of revenue.
"We have a $500,000 deductible," he said during Thursday's Niagara Falls Water Board meeting. "As your counsel, I recommend earmarking that $500,000 so we don't have to go searching for that if it should happen in the future. It's only prudent."
Ottaviano said the money could be set aside to offset declining revenue from the closing of the former DuPont plant on Buffalo Avenue.
"That could be significant," he said.
Renae Kimble asked if the $3.4 million could be used to reduce rates. (Reports of $6.3 million in overpayment did not take into account almost half needs to remain as a fund balance.)
"There's nothing to preclude you from doing that," said Randy Shepard, who presented the findings of CPA firm Bonadio & Co. to the water board, which paid the firm to perform the audit.
"As John said, take a look at the totality of the organization as it relates to where our debt structure is right now. Does it make sense to do it in refinancing the debt?" Shepard said.
"Look at what's the best direction for the Authority," he said.
But City Council Chairman Andrew Touma said taxpayers should be put first.
"We have some outrageous rates that our residents pay in Niagara Falls," Touma said after the meeting.
"It's time to offset those rates using this fund. I was disappointed the attorney didn't recommend that. But I think that's the most prudent thing to do at this time. To use the money to offset the rates and use it for capital projects."
"This is taxpayer money; so move it back to the taxpayers and offset the burden they have to take on each and every year."
The Bonadio audit focused on the finances of the water board and the Niagara Falls Public Water Authority from 2013 through 2015.
"We looked at that three-year period to get a sense of how the flow was actually happening," Shepard said.
"Based on our analysis, we confirmed that the debt service fund does have more in it than it needs to based on the minimum balance calculation."
"So it's not a 2016 issue. It's not a '12 or '13 or '14 issue. In my opinion, it's an issue from when this was first created back in '03. I don't think the right procedures were put in place to set the authority up for success. Initially, the city was doing all the bookkeeping at the time. I think what happened was that same bookkeeping just continued on. Should someone have maybe looked at that in the process and questioned if what was happening was appropriate? Probably."
"Nobody looked at the proper way to determine what the minimum balance was so they just kept funding it over a period of time and that amount has grown to where it is today," Shepard said.
Going forward, he offered these recommendations: "Make sure that the accounts are set up properly, and how the general ledger and the bank accounts are supposed to be set up. Make sure the staff and the board knows how that tool works. We recommend working through that live with staff."
He also asked the board if they would want to go further back than 2013.
"Going back prior to '13 isn't going to find anything?" Ottaviano asked.
"The money's on the books as it is," Shepard said. "The question is which bucket should it be in."
"So all that would show is having the money in different accounts but it wouldn't end up with any different balance?" Ottaviano asked.
"We were looking to see if there was money that never got into the bank accounts," said Shepard. "But what we're saying is what's there we think just got slotted in the wrong spots. So going back in time isn't going to change the amount. It's going to be, what bucket was it in?"
"So I recommend we not pay another consultant to go back and look at that," Ottaviano said. "The decision now should be when we start these new accounts should we be looking at some current computer software that's more in line with a water authority?"
Shepard said software ill-suited for the water authority's operations contributed to the accounting errors.
After the meeting concluded, Touma said: "I think what this shows is there were issues with the transactions. It also shows they've had a balance sitting in the funds for quite some time, which leads me to believe that when we've had some major capital improvements that have been completed where the the water board said they couldn't contribute, I think they misled the public."
"As a council and as community we need to push for that," Touma said of reducing rates.
"I wish we would have had a chance to speak after the report was presented. But we'll have our opportunity in the future, and certainly I'm looking to more people coming out and urging the board and the administration to move in this direction."
Resident Roy McDowell, who attended the meeting, had this to say: "It is unbelievable that the water board could go 12 years with 'inappropriate' accounting software. Basically they're saying their accountants and their attorneys are incompetent and unable to audit or analyze their books. For that reason alone Paul Drof should be terminated as well as the CPA and the legal counsel. But the really incompetent part is to say that the balance sheet at the end of the day — or year — didn't reflect the 'extra' 3.4 million."