More cats than people in the Falls; what some residents are doing to "fix it"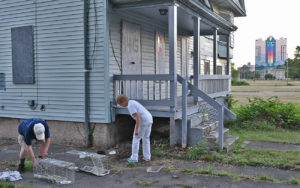 It all started about 15 years ago when Falls Street-area residents began selling their homes under the gathering dark clouds of Niagara Falls Redevelopment.
During the ensuing years of emptied lots, the remaining structures became "cat houses," serving as a nexus for a feral feline problem plaguing the entire city, including Cudaback Ave., East Falls St., areas by the casino as well as Third Street to name a few.
During the past year there's been much discussion regarding best practices to get a grip — humanely — on the "community cat" problem here.
"One cat can be responsible for hundreds and hundreds of other cats," said Muriel Forte.
Forte — along with her husband Gino — visit various neighborhoods in order to set traps for these cats within our communities.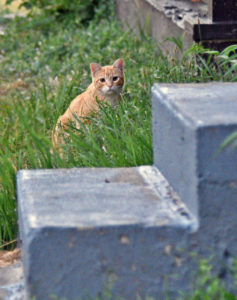 Using canned tuna — the smell carries on the wind — the cats are trapped in a 2' by 5' wire cage. A sheet is immediately placed over the enclosure, which saves the cat from extreme agitation and hissing, jumping and swiping.
The cat is then taken to the Niagara SPCA, where on certain days, the cats are spayed or neutered free of cost. Usually it's $75.
The Fortes have been doing this at-dusk ritual for 12 years and estimate the number of spayed and neutered cats released back into their communities at more than 1,000.
The point of releasing a "fixed" cat back into the wild is that it will retain its spot in the neighborhood — while ceasing to reproduce — and not letting in another cat that would.
"Community cat" experts say this is the only humane way to turn around a problem that was created by humans.
"The city climate has changed dramatically," said Forte, citing the loss of jobs and industry leaving the area. "People leave their pets behind, and if they do keep them they don't have the money for the cat to have them spayed or neutered," she said.
She said residents who need help with spaying/neutering costs should contact Feral Focus, Save A Pet or the Niagara SPCA.
In addition to the Fortes, there are other community cat trappers also working to make headway against one of the seemingly intractable problems in Niagara Falls.
Meanwhile, as the common council returns from its August hiatus, the city's feral cat policy — created with help from SPCA Director Amy Lewis — is set to be approved.
The cat trappers say the city needs to sign a contract with the SPCA regarding how community cats should be dealt with.
In a city of 47,000 people with more than 60,000 cats, Lewis says, the problem isn't going to be solved overnight.
But as the city begins to claw itself out of a hole, it's one of many issues that need to be dealt with simultaneously.