Solar sailors running on the sun, love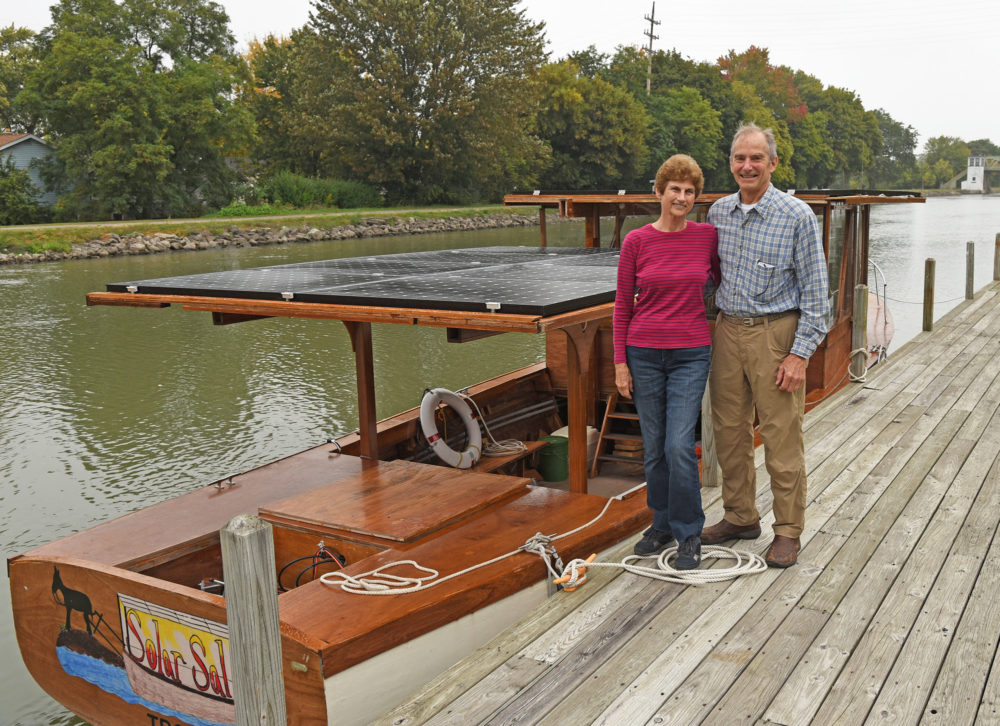 They met on the Queen Mary going to London to study science and fell in love.
Decades later, the story of Dr. David Borton and "Admiral" Harriet Borton — both physics professors — is like a greener, geekier "Titanic" but with a happy ending.
The always laughing Dr. Borton explains it this way: "I think that everybody should be using solar energy and efficient transportation," he said, making note he's been involved in the industry since 1974 and the associated oil crisis. "So if I'm working on that, I'm having a good time."
This good time, the dynamic duo are back on the water, motoring the Erie Canal starting from the Hudson Valley area to pick up 8,000 pounds of recycled cardboard boxes in Lockport on their 40-foot solar-powered cargo boat called "Solar Sal."
"It's the entire reason for the trip," Borton said.
Unfortunately, during the rainy pick-up on Wednesday, one of the bales of boxes fell into the water and went back on shore instead of in the cargo hold.
"Solar Sal" relies on a series of roof-mounted solar panel arrays to provide all the energy for operating the boat. "Why not?" David Borton asks.
"There's a nuclear reactor 93 million miles away," he said. "And that's the only safe distance for a nuclear reactor."
With good sunlight the boat can cruise at six or seven miles an hour. With overcast skies like Wednesday, the speed drops to about four and half miles an hour.
Borton said as long as there's light, the boat will move.
But "Solar Sal" doesn't employ a hybrid powertrain so when the sun sets, the Bortons have been tying up along the Erie Canal, waiting for t
he sun.
"Every night we've found a nice place to stay," Harriet said.
The Bortons would like to be back in Lockport to see several fiberglass replicas of the boat put to use here as tour boats — boats that don't emit noxious fumes and loud sounds even at idle.
The lack of noxious fumes from the engine exhaust is particularly apparent when traversing the locks of the Erie Canal, he said.
"Solar Sal" was built by David Borton and a small army of middle schoolers in the Schodack Central School District.
"This project has everything educationally," he said. "It has engineering, art, math, physics and solar energy. There's chemistry with the batteries used to store solar energy, mechanical energy to move the propeller and the boat has momentum."
Unfortunately, when the boat was set to be launched on the Hudson River, the middle schoolers couldn't actually go on a voyage. District lawyers and liability issues scuttled it.
Borton is hoping to get the kids and their parents on another trip.
"We've got a good boat here," he said.