Austin Tylec wants seat on N.T. Land Bank committee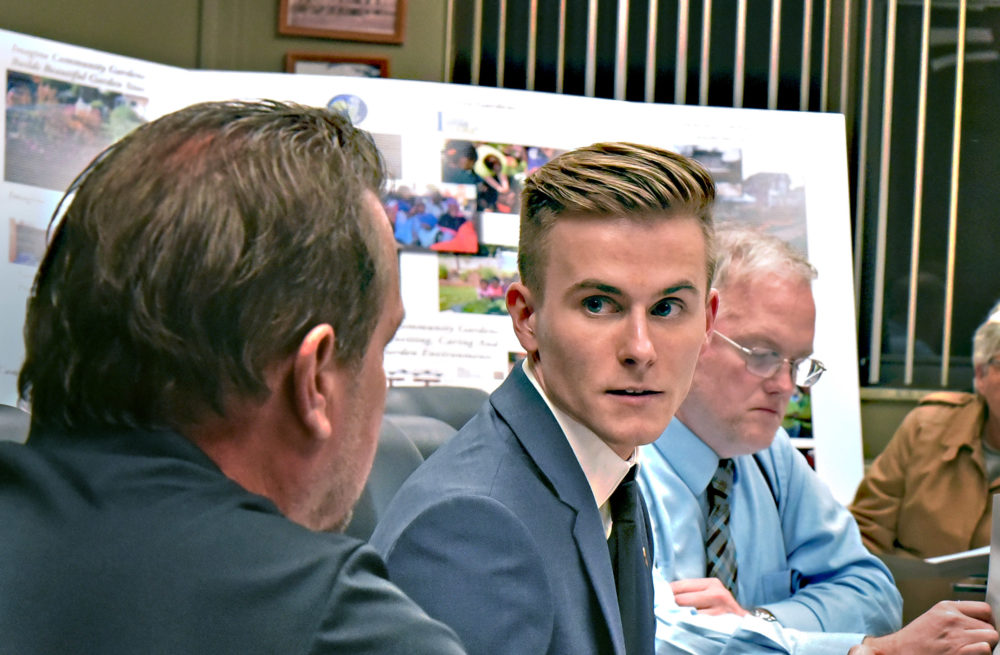 As reported Jan 4, 2018, newly sworn-in councilman Austin Tylec announced his desire to serve on North Tonawanda's budget committee as well as the city/school-district committee.
Those two haven't been offered yet but a different city committee well within Mr. Tylec's skillset has emerged at City Hall: the N.T. property selection committee for the Niagara County Land Bank.
"I believe the advisory board is an important tool that requires proper representation from individuals who have relevant professional experience, actively contribute to the improvement of our blight real-estate in North Tonawanda, or have a creditable education in development," said Tylec in the letter sent to the other council members as well as the mayor.
So far, there's been no response. But when he brings it up at tonight's 6:30 workshop there's bound to be one, especially from the fellow councillors who may be on the inside track to get appointed.
"That board will recommend foreclosed properties to the Common Council; which ultimately decides what properties are given to the Niagara County Land Bank."
Part of what the Land Bank will do includes marketing favored properties the city sets aside and vet potential owners to make sure they will be living at the location and not making it a rental.
For years, out-of-city and out-of-state landlords have trolled county auctions, including those in North Tonawanda and bought up properties for as low as $500 — never to improve them and bringing down the rest of the neighborhoods.
"Much like the County Land Bank, I represent the entire City of North Tonawanda and oversee the development of all neighborhoods as Alderman at Large; focusing much of my attention on the Oliver Street corridor. I currently serve as Vice President of the Oliver Street Merchants Association, but I also play a more active role on Oliver St. by revitalizing dilapidated properties through a local development firm. Our firm has flipped 5 run-down properties and maintains a total of 31 units on Oliver Street alone. We understand the need for improvements throughout NT and we will continue our efforts to enhance the neighborhoods."
Tylec is also a licensed realtor since 2015 and earned his master's degree in architecture from UB; and works at engineering firm Clark Patterson Lee.
"On a day-to-day basis I am immersed in hands-on planning for our Western N.Y. region that contributes to the beneficial growth and economic stability of our surrounding communities. This contributes to my broad understanding of the local housing market and my abilities to accurately assess the potential of any property."
"We must take advantage of everything the Land Bank offers for the benefit of our residents, and we must uphold our due diligence by selecting individuals for this advisory board who have applicable knowledge that insures proper insight throughout the initial selection process."
"I was elected by a majority based on my education, experience, and contributions to community development. It would be irresponsible and a disrespect to our citizens for our governing and administrative bodies to underutilize my abilities for the betterment of North Tonawanda's future. If anyone believes that another individual on the Common Council may have more applicable professional experience, a better understanding of Real Estate, or a more relevant education to the selection process, please provide your recommendations or comparable insight."
"Besides my interest in joining, I have also listed a few other recommended individuals to serve on this board. They are significant individuals within NT who also have relevant backgrounds that directly and indirectly benefit the citizens of North Tonawanda."
There is no deadline when the city must put together the committee but specifics on the matter have proved elusive for the new councilman and Tylec thinks the city could move quickly on the appointments.