NT Mayor Pappas on Wheatfield dump plaguing Forbes Street residents — himself included
Residents will be receiving a written update from the state Department of Environmental Conservation, which is doing perimeter testing for leaching at the Love Canal toxic waste site in Wheatfield.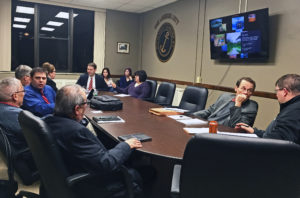 After the North Tonawanda common council workshop — nearly out the second-floor conference room door in North Tonawanda's City Hall — someone turns to the mayor.
"My kids are going to live there."
The resident is referring to Forbes Terrace, a highly residential street that separates North Tonawanda and Wheatfield. Just 500 feet north of those homes there's a repository for Love Canal toxic waste.
Mayor Arthur Pappas lives on the North Tonawanda side along with many other concerned residents.
"It doesn't become a problem until they notify us that it's  a problem," Pappas said Tuesday night.
"Right now, legally, we can't get involved. The DEC will tell us if there's a problem."
The resident expressed concern but the mayor reassured her.
"They are right on top of it. I'm in touch with them. In fact, they are now calling me instead of me calling them. They are right on schedule. So far they have done everything they said they were going to do. And I'm not someone that trusts every thing, you know."
"Especially in the history over the last four years. So far they have done everything they said they are going to do, and they are doing right on schedule. And the people are going to be getting an update from them, a written update."
The resident speaks: "My (child and spouse) are buying a home, so who would receive that document? If the house is empty who are they going to give it to?"
Mayor Pappas continues: "They are doing the whole perimeter of the area again. They are going to be testing for leaching. They are going to get a written update from the DEC, all the people involved."
"We are watching," said Mayor Pappas. "They know we are watching."
"I called a meeting about this here long before Wheatfield. And we're not even legally involved. Legally. At this point."
"Just so you know."
"Thank you," the resident says. "Because I'm worried about that."
"They were looking into it last year," Pappas says. "They want to see if the material is still contained, where it was buried."
"I think there's clay around it. It wasn't capped. It was just buried. They've tested it over the years. This isn't the first time this has come up. In testing over the years it has shown that it has stayed where it's supposed to be," he said.
"They are now testing because of people's (inaudible). I don't blame them at all. I live there. We just want to make sure it's not leaching over, and that's what they are concentrating on."
"They have named five different entities — chemical companies — that buried there and that they are going after to get them to clean up or pay for or whatever they are going do."
"But they said by the time they go through all the steps it would be 2017, which is now. And they have already started, and they are going to  be drilling wells, additional testing wells. They are doing perimeter work; the details and the update they will provide to public. But we've been watching it on our side even though legally it's not us. And we have no jurisdiction. "
"There is nothing on the NT side, nothing that we are aware of."
"Some people have claimed they've done some private testing. But at this point they have not shared those results with anybody. Even the DEC. Because I talked to the DEC guy. He says they haven't produced anything. So I don't know if that's because of their attorneys or what but they haven't done it."
Are there similar dumps in North Tonawanda unbeknownst to the residents?
"If we do, I don't know about them. There have been places where they've had things buried in the past and they've been removed. There's been some work done, some remedial work on River Road, and work and testing at the botanical gardens. If there's anything that's a danger to the public, I'm not aware of at this point."