Who's getting the gas? Residents, tradesmen, activists offer views on Northern Access Pipeline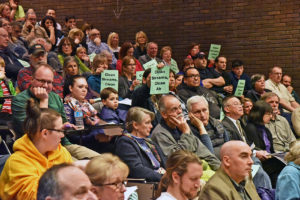 Proponents of the proposed pipeline project cited regional economic benefits at a DEC public hearing Thursday while those opposing cited health risks and asked for the comment period to be extended as well as questioning where the gas was going.
"This gas is not for this area," said Charley Bowman, a Sierra Club member who is active in environmental issues in Western New York.
Several other speakers also mentioned the fracked gas originating in Pennsylvania and passing through New York State — which has banned fracking — will be going to Canada and beyond. This was not refuted by opposition speakers, including National Fuel representative Karen Merkel.
At the public hearing's 6 p.m. start, people were spilling into the hallway of the 260-seat auditorium at Niagara County Community College, including many tradesman wearing orange and neon yellow t-shirts.
"There has been more outreach for this program than any other for National Fuel," said representative Merkel.
Members of local labor organizations and the pipeline industry said the project would have "huge economic benefits" for the area. Opponents said the jobs would last only a year and that the project put profits ahead of the safety of Western New York's fresh water supply and air quality, which is what the DEC will be ruling on.
Speakers suggested instead of building a new pipeline, National Fuel should repair the existing pipeline, which is old and has many leaks. One speaker mentioned a recent gas leak at a compressor station in Marilla that caused students to remain in school while National Fuel's help line had no action plan as to what to do in that situation.
(Gas pipeline leaks account for 20 percent of methane emissions, according to several opposition speakers, and methane is 100 times more potent as a greenhouse gas than carbon dioxide.)
Zachary Chapman, a resident of Pendleton, said: "Cuomo said 'no' to fracking. There's a reason why."
Residents stated that the proposed 22,000-horsepower compressor station — which would move the fracked gas through the 100-mile pipeline — would emit a range of toxic chemicals, including formaldehyde, benzene, xylene and other VOCs (volatile organic compounds).
Chapman said the station would be located inside a cluster of 300 homes in Pendleton and located near a school.
"I live here and I will have to breathe that crap in the air. Please say no," he said.
The tradesman and construction workers pushing for the pipeline's approval reiterated their support for the project and how it will bring approximately $139 million worth of construction work to Western New York.
"There hasn't been one person that spoke for the pipeline who doesn't have a conflict of interest," said Nick Chapman, a horticulture student at NCCC, referring to the dozens of speakers who were either employed by National Fuel or associated with pipeline construction.
At 8:54 p.m., 40 of 85 speakers signed up to speak had their chance to address the DEC and others in the room.
Most of the local media left after 20 minutes, and all had departed before the one-hour mark. The meeting lasted until 10:30 p.m. and the auditorium still held a sizable number. (The Buffalo News did not send a reporter and no story was published the following day.)
"The DEC will examine the project's potential impacts to water quality and air emissions to ensure the protection of public health and the environment before making any decision regarding permit applications for the project," said DEC press officer Kevin Frazier.
Opponents to the project are asking for an extension so the public can learn more about the impacts. The DEC representative in charge of directing the meeting said an extension is a possible outcome.
One speaker said to the DEC officials that they are an environmental protection agency and not to promote "economic development."
In the meantime, the DEC will accept comments by mail, fax or email until Feb 24.
Other comments included: Steve Palmeri said pipelines are the safest way to transport fossil fuels. "There are groups making claims about safety and they are unfounded."
— John Polkin: "If you are a National Fuel natural gas customer, all the gas you are using in your home now in Western New York is hydro-fracked gas."
— Paul McCollum: "All construction jobs start and end. That's what we do. Although that's temporary, the permanent thing is our members who live their lives and spend money in Western New York."
— Joe Palmeri: "I think it is a good idea to voice our opinions. National Fuel should be held to a higher standard. But I don't believe we need any more comment on this project, and we need to move it forward."
— National Fuel representative Merkel said the Northern Access Pipeline has its own website. (http://www.natfuel.com/Supply/NorthernAccess2016/default.aspx).
— The Pendleton Action Team's Facebook page … https://www.facebook.com/PendletonActionTeam/
Others asked why more environmentally friendly electric motors weren't being used at the compressor stations instead of gas-fired engines, and they stated that fracked gas contains toxic chemicals as well as naturally occurring radon. "Calling natural gas 'clean' is a marketing tool."
"If you approve this, you will be putting this in against the wishes of the residents of Pendleton," said Ken Chapman.
Several speakers said large energy infrastructure projects like the Northern Access Pipeline should be investing in renewable energy instead of the fossil-fuel industry, which they deemed an energy source from the past — not the future.
Alora Brucino, a horticulture student at NCCC and an emergency trauma specialist, ended her speech against the pipeline with, "Growth for the sake of growth is the ideology of the cancer cell."
"I feel like we've been hijacked in Pendleton," said resident Lou Bobzein. "This compressor needs to go into an industrial park — not a residential area. We don't want this compressor in our town. We don't want to breathe the carcinogens that are going to be emitted from this compressor. And don't kid yourself that this isn't going to effect property values."