Biggest car cruise ever at Canal Fest 2015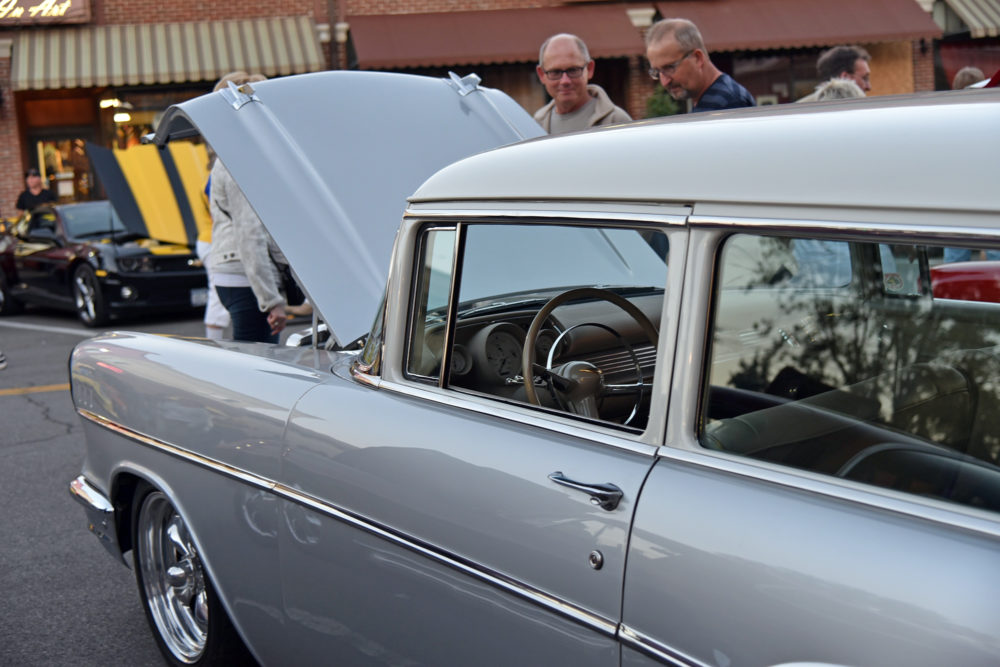 Automobiles are as American as apple pie — even though more apples are now grown in China as well as built there, and cars were first invented not in the Motor City but Germany.
But these gleaming purveyors of mobility and freedom are no better appreciated than on the back roads and boulevards of the 'good ole U.S. of A. (Unless, of course, you want to drive super-duper fast; then you'd be better off on the Autobahn or the Nurburgring or at least a track in the States.)
But a great car should look fast — or at least convey motion — even when standing still.
And there were plenty of great cars on hand Wednesday night for the 2015 Canal Fest Car Cruise, which encompassed many streets closed to traffic on both sides of the canal.
Large crowds toured the cars, which ranged from an immaculate dark green 1967 428-hp Shelby Mustang GT500 to colorful vintage Volkswagens and hotsy totsy current-generation Corvettes and Camaros to a gangster cool '40 Ford coupe and anything else imaginable during a stroll down the halls of automotive greatness. (As such, there were no lovingly restored yellow Pintos or cherried-out Cadillac Cimarrons.)
Nearby parking lots — most charging $5 — were nearly at capacity, and several parking attendants said this was the largest turnout they've seen yet at Canal Fest.
It was a gorgeous night, too, with families and children enjoying the unusual-looking shiny vehicles decked out in an array of colors from classic to crazy.
Couples strolled by clasping hands — perhaps recalling their own youthful moments of driving a now-classic car or maybe "Paradise By the Dashboard Light."
The sound of a performer at a nearby pub lent another festive element to the event, mashing up the Violent Femmes "Blister in the Sun" and Don McClean's "American Pie."
In that last song, that fly Chevy might have gone to the dry levy, but here the engines got started earlier in day at 3 p.m. at Gratwick Park.
Unfortunately, some car owners — hoping to snap up plum positions on Webster Street in front of the Riviera Theater — arrived much earlier and North Tonawanda organizer and classic car guru Carl Zellner had to chase them away.
At 3 p.m., Zellner admitted the first of the cruisers into the park. With the help of about 15 volunteers — including Steve Puscheck and his '65 Mustang — they lined up the vehicles in the configurations they would take on at Canal Fest. (Cars cleared to caravan from the park got a small sticker that allowed them admittance to the Canal Fest site.)
"Personally, I wish they would start at 4 p.m.," Zellner said, noting that it only takes about 30 minutes to line up the cars at the park.
The North Tonawanda side boasted 255 vehicles while the contingent of classic and contemporary cars on the Tonawanda side numbered about 80.
While all vehicles are welcome at the show, Zellner said he much prefers the older classic cars — most of which required large amounts of restoration or modification to make it before the eyes of appreciative Canal Fest visitors.
But isn't today's contemporary car — with all their fuel economy savings, aerodynamic bodies and massive horsepower — tomorrow's classic?
Said Zellner: "In 25 years."