New York City, 2002 — "Sometimes your feelings become your memories."
Steven Whipple said that's when he realized his recollection of Sept. 11 was bogus.
Because he lived just two miles from the smoldering, stinking, spewing nightmare of Ground Zero, the former Albion resident reported his Greenwich Village neighborhood seemingly deserted for weeks.
"It was a ghost town," he said. "No cars, no horns, no people and the restaurants were all shut down." Then he consulted his journal, which told a different story. "Actually, it says here that it lasted only three days."
Three days. Three weeks. Or 365 days.
"You say that you'll never forget this, but your mind leaves out a lot of things."
LIVING THROUGH LOSS: Sharing stories … 
They're both teachers at different schools near Ground Zero, so it's only natural Darcy and Kathy would share their Sept. 11 stories that very night.
"My friend Kathy told me everything in detail," said former Niagara Falls resident Darcy Martinez.
Told through hysterical tears, Kathy fled that charging wall of dust unleashed by the first collapsed tower. She was knocked down. Trampled in the dust storm. Her arm injured and no way to get up.
"She was convinced she was she was going to die there," Martinez said.
That was one year ago today, and she didn't. But many of Kathy's painful memories didn't survive either.
"Later, we would talk," Martinez said, "and she would leave details out. I would have to remind her of things."
STARTING TO HEAL: Taking pictures …

 
With some guilt on the Brooklyn Promenade, taking pictures is what Suzanne Schwimmer was doing when the first tower collapsed.
"Someone gasped and the tower came down smooth like a zipper, and it shrunk out of sight," she said at the same location almost a year later.
That day she shot almost an entire roll of film.
"But I could never come back and take that final picture with the towers down," she said looking across the river, trying to place where the towers should be.
Just days later, she escaped to Western New York where she lived for eight years and taught at the University of Buffalo. "I felt like I was abandoning the city," she said. "But I needed to get away."
At a prayer vigil in Buffalo, she found the Queen City affected by Sept. 11 as well — but in a different way. "It was more like rallying around the flag," she said. "In the city, it was more about actual mourning and grief."
Despite those differences in perspective and experience, Schwimmer and New York City residents appreciated the outpouring of support from other communities.
"New York was too stunned to help itself. People were walking around like robots."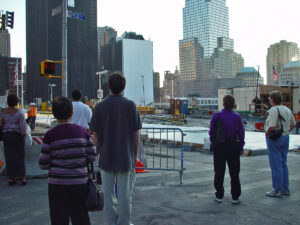 But even androids need to get on with life.
So Whipple and his boyfriend Tabb, finally got a little release on Halloween, a very special day since that's when they met five years ago.
Back then, Whipple made like Superman and Tabb dragged it up as a blonde cheerleader with pom-poms and a white-pleated miniskirt.
"By Halloween, people were ready to have fun, spend money and party again," he said.
Although the usual dark characters were present — dens of vampires, witches and the undead — the city also welcomed brighter types like clown, angels and fairies.
"At least we didn't see anything tacky like people with briefcases covered in dust."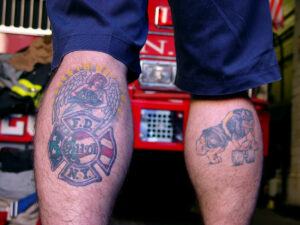 AT LAST, ACCEPTANCE: Still feeling it …
Yes, just a handful of weeks later, the city and recovery workers were spared from early snows of winter, but sure enough many felt its chill.
"Christmas was horrible," Martinez said. "The sadness was still everywhere," she said while taking another step.
Actually, they don't call it Ground Zero in the city. "It's just the World Trade Center."
It's taken Martinez a year to come back to this empty place where she once ate lunch by the fountains, shopped or met a friend for drinks on a warm Friday night. 
"Sometimes on the ferry from New Jersey, I'd look up thinking I would see the towers," she said over footsteps, humming machines and traffic.
"People used the towers to get their sense of direction," she said pointing upward.  Now when I look at the New York skyline, It's very hard for me to get my bearings."
"Now it looks just like any skyline in a big city."
The absence, the lacking.
Martinez likens it to a divorce, and one she didn't initiate.
Now she's here again alone with tourists, some reverent and some crass. With the anniversary approaching, she thought it could help her.
"Then I started thinking about the last year," she said. "It's almost like I lived it in a cloud."
That sickening, smelly cloud penetrated her school as well, producing a striking amount of behavioral problems and short-attention spans.
"Basically, the kids were acting out."
This summer, Martinez got out of that "cloud" and spent the summer in Niagara Falls with her family.
"All I wanted was to relax in my parent's back yard."
At the tail end of a restful summer, Martinez is now vowing this year is going to be different.
"We want to connect with the kids right from the beginning," she said, "so this year isn't lost too."