Austin Tylec kicks off NT's next chapter; announces campaign to be its next mayor
Four years ago, NT phenom Austin Tylec chose another local success story, Platter's Chocolates, to kick off his campaign to become one of the city's Aldermen at Large.
Austin went on to soundly defeat former County Manager Jeffrey Glatz to take the seat and begin a four-year mission to bring vitality, transparency and accountability to the city's council chambers and day-to-day operations. He's done more to keep residents "in the loop" and encourage public participation than the other council members, the mayor and his office combined.
As Assemblyman Bill Conrad (below) said during this morning's opening remarks at Platter's, Austin could be anywhere, in any big city right now working as an architect/city planner. But he's in NT for the same reasons as a lot of people. He wants to lend a hand in revitalizing the city he grew up in, attended K-12, and wants to see a bustling future for NT, with walkable neighborhoods, businesses thriving downtown, on Oliver Street and the Erie/TCH corridor.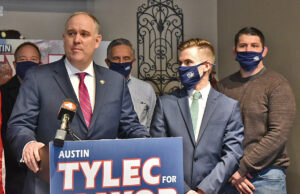 Tylec's opponent in the fall will be NT's other Alderman at Large, Bob Pecoraro (below), who recently lost to Conrad to replace NT's long-time Assemblyman Robin Schimminger.
During Tylec's four years on the council, Pecoraro has often served as his salty foil, loudly opposing him on all manner of Tylec's suggestions including the formation of a budget review committee and changing up the city's audit firm, which was recommended by North Tonawanda's previous head accountant and rejected by the majority council.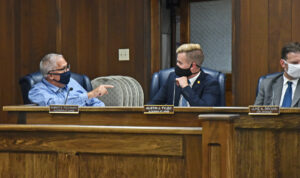 In short, Tylec has served as a lone voice against the "status quo" operation of NT's city government — and especially the currently secretive and habitually late budget process that favors artificially lower taxes during election years in a mostly successful effort to re-elect incumbents.
However, starting last year with a blistering audit report by New York State, the council majority's facade of fiscal responsibility began to crumble. And along with it, former council president Eric Zadzilka recently dropping out as well as Mayor Arthur Pappas himself.
More than anyone else in contention, Austin has the background, vigor and temperament to guide a year-round and much more transparent budget process as well as act as the city's ambassador to a new era.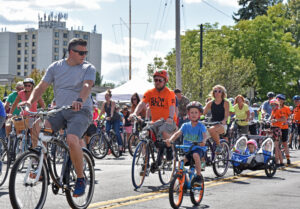 In addition to those nuts-and-bolts city issues, Tylec also organized NT's first and wildly successful "Slow Roll" in 2019 and headed up the city's 2020 Census committee — along with Pecoraro — coordinating with county and state officials to get the word out to residents about its importance in funding city programs.
"I believe in NT, and it's going to be an exciting eight months ahead," Tylec said during Tuesday's announcement at Platter's.
No doubt, much more will be said and written about both candidates during the campaign season and what kind of leadership style and vision each current Alderman would bring to the Office of the Mayor of the City of North Tonawanda.