Botanical gardens could get visitor's center with gift shop; disturbing graffiti sparks concern from Gosch
The NT common council addressed a variety of nuts-and-bolts city issues at Tuesday's workshop session.
The city's botanical gardens ("The Jewel of the 3rd Ward") received particular attention as two volunteers asked the board to consider letting the group have its own funding line in the Parks Department budget.
The move would facilitate buying flowers to landscape the 12-acre site, they said. That money comes in part from $50 reservations to rent the Gazebo. (Reservations have been down this year to only four, but the previous years saw 10.)
Sentiment on the council and from department heads seemed to suggest its was problematic to earmark funds that are raised by the city. 
Discussion about the botanical gardens also led to mentioning a Sept. 3 meeting at 500 Wheatfield St. which would see discussion on plans for the city park to receive a visitor's center which could feature a roof garden.
Additional features presented by firms Troutman Associates and Wendell Engineering include solar power and wind turbines, a bioretention area, a water collection system that diverts runs-off from the canal as well as a butterfly conservatory, indoor and outdoor bathrooms, meeting space, classrooms and a gift shop.
There was no mention of project costs or what kind of contribution the city would need to make. 
Botanical gardens volunteers said they are also working on a master plan as well as adopting a new logo.
In other discussion, newly appointed City Clerk Donna Braun said she's working on getting the SNAP Double Up Food Bucks program up and running again at the City Market. (Residents had complained about the discontinuation of the program during the last year when it was overseen by former City Clerk Matt Parish, who resigned from the position amid reports he didn't like the job.)
In other happenings, councilman at Large Austin Tylec said retiring, long-serving Assemblyman Robin Schimminger wants to give the city a few parting gifts including a sewer monitoring system for about $100,000 that would help prevent backups as well as a wood chipper to deal with increased demand from dealing with dangerous dead ash trees.
The council said they were agreeable to receiving the largesse from the Democratic Assemblyman, who Tylec pointed out, also brought the city improvements at the City Market and police radar equipment last year.
While Tylec said it wasn't guaranteed, Schimminger's office indicated they were optimistic the city would get the equipment.
97-year-old interim council member William Gosch used his time on the dais to bring to light several disturbing instances of graffiti in the 1st Ward that are not being remedied and becoming part of the landscape.
He hoped calling attention to the matter would quicken a positive resolution.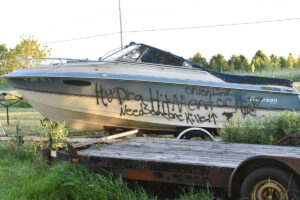 Gosch also mentioned Legislator Rich Andres was considering creating a memorial to Rosie the Riveter (a cultural amalgam and icon created to represent women's manufacturing service during WWII) which would draw attention to the contributions of local women.
In other news, Water and Wastewater Superintendent Bill Davignon (introduced by council president Eric Zadzilka as "our man, our myth, our legend") asked the city to go into special session so N.T. could join a collective purchasing agreement for chemicals with several surrounding municipalities. Niagara Falls is the lead municpality on the project, and Davignon said it will save the city "thousands" of dollars.
During his discussion, it also became known that the city will be receiving zero-percent financing on several upcoming multi-million dollar water projects because the city's average income level for a family of four was below the national poverty level. "A zero-percent loan is going to save us tremendous amounts of money," Davignon said.