N.T. City Clerk, Mayor approve political advertising on city property; council majority silent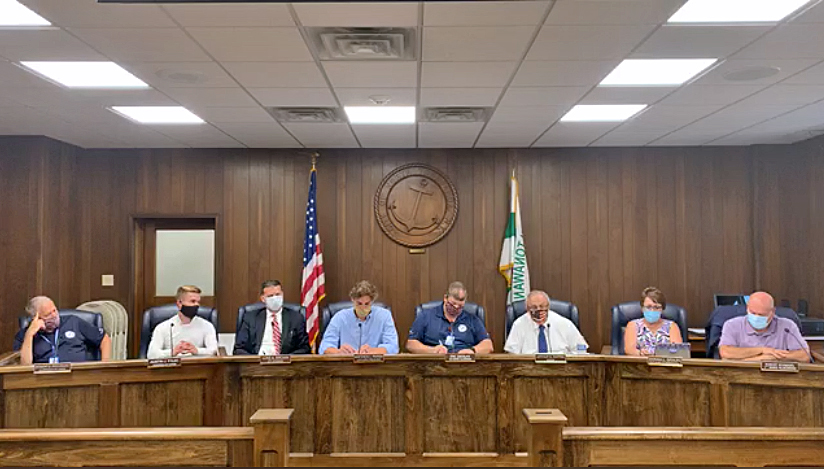 North Tonawanda's City Attorney said on Tuesday he's looking into the legality of a vendor who's set up in Gratwick Park and selling political merchandise there.
According to two instances in the N.T. City Charter, political advertising is prohibited on public property.
The decision to issue the permit allowing the trailer in Gratwick Park was made by City Clerk Matthew Parish and Mayor Arthur Pappas.
The city council does not authorize these permits. However, when Alderman at Large Austin Tylec asked the members of the Republican majority if they thought it was appropriate for a vendor to be selling political merchandise for an upcoming election on city property, none spoke out in opposition.
"They are saying it's the same as a food truck," Parish said during the meeting, referring to a judgement already rendered by NT Electrical Inspector and Code Enforcer Rob DePaolo.
As of Thursday evening, Brown had not contacted Tylec about the city attorney's opinion on the seeming illegality of the operation. Not to mention its appropriateness.
Previously, the mobile merchandiser was parked on private property at Payne and Warner avenues, which attracted opposition to what some could see as a divisive element in the city while the country manages through a pandemic, subsequent economic recession and social unrest amid an upcoming national election.
From the N.T. City Charter:
§ 31-14 Use of public property for advertising prohibited; violations and penalties.
No person shall attach, paint, print, place, put, affix or fasten to any bridge, lamppost, telegraph, telephone or other poles, hydrant, hydrant cover, tree, tree stump, fence, mileboard, milestone, danger signal, guide sign, billboard, building or other structure or object within the limits of a public highway or on any public property any bills, notice, picture, paper or character of any kind whatsoever to advertise any business or commercial enterprise or any show, performance or entertainment or POLITICAL PARTY, POLITICAL CAMPAIGN or CANDIDACY. Violation of this section shall be an offense and is punishable by a fine of not less than $5 or more than $25, or by imprisonment for not more than 10 days or by both such fine and imprisonment. Any advertisement in or upon a public highway or public place in violation of the provisions of this section may be taken down, removed or destroyed by anyone.
§ 76-1 Advertising in public places.
No person shall place upon or affix, or cause or procure to be placed upon or affixed to any sidewalk, hydrant, lamppost, tree, telephone, telegraph or electric light pole or public building in any public street or place within the city any words, characters, device, bill, placard, poster, notice, letters or pictures of any kind as a notice of or reference to any article, business, exhibition, profession, matter or event of any nature, including POLITICAL CONTESTS.