Niagara County extends tax deadline to May 31; Legislature looking to "the future"
"We hope it gives people some more flexibility," said North Tonawanda Legislator Rich Andres during Tuesday's virtual meeting regarding the tax-deadline extension.
However, Andres wants to make things clear.
"This is an extension. It is not a waiver of any tax liability. We hope it gives people the ability to plan accordingly. Give them flexibility and some extra time in which to make time go a little bit smoother for those folks in desperate need."
The county tax deadline is usually March 15.
A resolution was also passed calling on the federal government to provide the county with more PPE (Personal Protective Equipment) and get it out quickly.
"The Emergency Management Dept. has been giving out PPE to first responders and some doctor's offices, but there is a big need for more," said Niagara Falls Legislator Dennis Virtuoso.
Bringing more high-speed internet to rural areas currently underserved also got attention from the legislature.
Wheatfield Legislator David Godfrey said internet in some places of Niagara County suffer from "slow speeds or no internet at all."
Emergency Services Director Jonathan Schultz reached out to Verizon several weeks ago asking if portable internet range extenders could be deployed in the county but was turned down, Godfrey said.
The United States Department of Agriculture, through the ReConnect Program, is making hundreds of millions of dollars available through grants, loans, and grant/loan combinations to facilitate broadband deployment in areas of rural America that do not have sufficient broadband access, defined as 10 Mbps downstream, and 1 Mbps upstream.
Godfrey said the recent conditions that have found many rural residents working from home has highlighted this problem.
Godfrey was hopeful the county would see funds during the next round of funding.
Chairwoman Rebecca Wydysh also reminded legislators to submit their financial disclosure forms by May 15.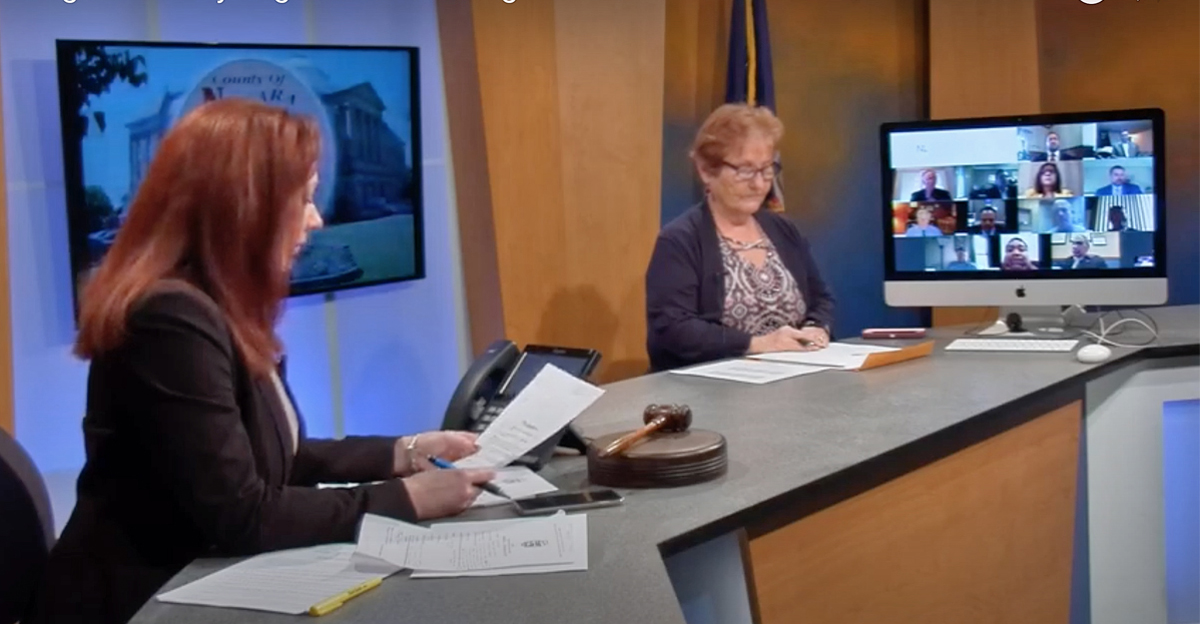 Wydysh (above left) also delivered additional remarks regarding the ongoing COVID-19 crisis.
"We are keeping the county running and essential service moving forward," said Wydysh. "First responders and health care workers are putting themselves at extra risk taking care of us. We are asking the public to follow the guidelines for physical distancing and not make all the sacrifices we've made these last few weeks go to waste."
"We are looking to the future," she said.
"We are working through this crisis day by day assessing what our county needs. We are also looking to the future. We know there are going to be great impacts to our businesses and residents, county service, private services. All of those things that are being impacted right now."
"We are already having discussions with our department heads about looking to the future and what they would need to keep their departments running well and efficiently, and we are certainly also having conversations about what the plan will look like to get our businesses back open and things back running again."
"The governor today talked about a regional approach to doing that. We have been told that Lt. Gov. Kathy Hochul will be working with us in this area to assess our statistics as far as hospitalizations, deaths, new cases and to find ways of increasing the scale of testing in the area so we know how to approach the future."
"I will be reaching out in the coming days to our leadership to discuss these things further. We have had many conversations already but we need to have conversations about how to roll things out safely again for our community while also giving them the services they need."
"We will be looking at government functions but also the business community and our community services that are offered by multiple agencies in many areas."
The entire meeting can be viewed here.