Corning GlassBarge fires up N.T. on tour of Erie Canal
Residents of the Twin Cities on Wednesday stepped onto a barge on the Erie Canal and learned about the art and science of glass and its role in the history of New York State.
"In 1868, the Brooklyn Flint Glass Company relocated to Corning N.Y., via the New York Waterways, and evolved into the company that is today known as Corning Inc.
To honor the 150th anniversary of this journey, the Corning Museum of Glass launched GlassBarge—a 30' x 80' canal barge equipped with its patented all-electric glassmaking equipment— in Brooklyn Bridge Park on May 17.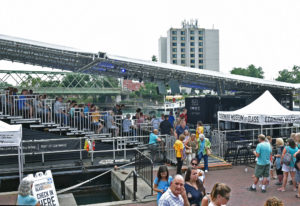 GlassBarge travelled north on the Hudson, then westward along the Erie Canal before making its way to the Finger Lakes, stopping at ports in Yonkers, Poughkeepsie, Kingston, Albany, Little Falls, Sylvan Beach, Baldwinsville, Fairport, Lockport, Buffalo, Medina, Brockport, Pittsford, Seneca Falls, and Watkins Glen."
Although the Lockport and North Tonawanda dates are wrapped up, local events are still taking place Aug. 3-5 in Buffalo; Aug. 8 in Middleport and Aug. 11-12 in Medina.
"A ceremonial last leg of the trip will take place by land, concluding in Corning with a community-wide celebration on Sept. 22.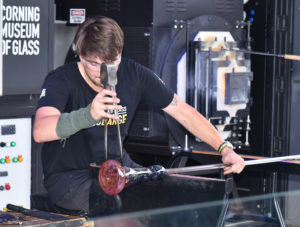 In addition to sharing the story of glassmaking in Corning, the GlassBarge tour emphasizes the continued role of New York's waterways in shaping the state's industry, culture, and community. GlassBarge is the 2018 signature event for the statewide celebration of the Erie Canal Bicentennial. The GlassBarge journey will also be celebrated back in Corning with a re-installation of the Crystal City Gallery, which shares the story of how Corning became one of the centers for glass cutting in the United States.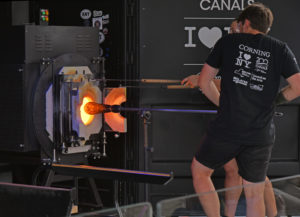 Registration is strongly encouraged. 100 seats are held for advanced ticketing. Reserve your free ticket by selecting your preferred day and demo time. Registration will be available four to six weeks prior to each stop. Please only make a reservation for the demo you plan to attend.
Limited additional seating is available for walk-up registration on the day of the event. Tickets are available on a first-come, first-served basis. Sign up for your free walk-up ticket at the registration tent located adjacent to the GlassBarge.
You can also see the show from shore. Limited seating and standing areas are available on shore for walk-up and mobility impaired visitors. No ticket is required, although you are encouraged to stop by the registration tent to receive a coupon for discounted admission to The Corning Museum of Glass."