250 Miller St. pulled from auction for likely Land Bank test case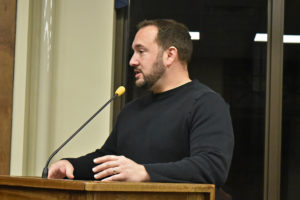 The newly formed Niagara Orleans Land Bank is rallying N.T. leaders to make the city-owned 250 Miller St. its first test property in the city.
A resolution to pull the property from Saturday's In Rem auction was unanimously approved by the N.T. city council Tuesday.
"I want to commend the council tonight for taking this proactive action," said Niagara County Legislator Richard Andres (above). 
"I think the easy thing to do is to kick it down the road, re-visit it in a year. But as we stated at our previous workshop, North Tonawanda has the opportunity to be first out of the gate."
"We have a vision," said Andres. "I know as, having spent time on the Lumber City Development Corp., we've done this before with commercial properties. It's not our first time dong something like this. So the model is there. But I want to thank each of you for buying in. This is a process that they are building the protocols right now. We have neighborhoods all over the city with home values improving in a lot of places. But there are some areas in need, so we are working proactively at this. And working hard to put this together as soon as possible."
"We need to make sure this goes forward and is done well," Andres said. "Looking forward to hopefully summertime here when we're talking about what are we going to do with this property and how it's going to come back, and like Mr. Brown (city attorney Luke Brown) had mentioned, this could bring up several houses around it. Maybe the whole block. And that's what we're really hoping for."
While the property was pulled from Saturday's auction, which will feature 19 properties —including another one on Miller St.— 250 is not guaranteed to go to the land bank or under what terms.
Another speaker, B.J. Vandewater, said based on the Niagara Orleans Land Bank's first set of minutes the organization appeared to be nascent.  "The land bank is just getting organized and they are not quite ready to do business from their minutes," Vandewater said.
While the pricing information was no longer available for 250 Miller St. — as the property was removed from the auction list — 274 Miller St. had a combined assessment of $57,000.
The City of North Tonawanda still needs to write its bylaws regarding its association with the Niagara Orleans Land Bank.
It also needs to appoint members to the selection committee, which has become a potentially defining moment for this 2018 council.
Austin Tylec, a real estate, architecture and planning professional, wants to serve on a board involving real estate, planning and architecture.
"You know, your desire to be on a committee is being entertained by if there's a vacancy," said Council President Eric Zadzilka during the agenda discussion before the meeting in the 2nd-floor conference room.
Zadzilka was offering Tylec a seat on the city's "upgrade committee."
"Yes, I'm willing to be on it," said Tylec. "The thing I said to Nick (City Attorney Nicholas Robinson) but I also want to be on the land bank committee."
"So it's a quid pro quo?" asks councilman Bob Pecoraro. "You get the land bank and the upgrade committee? You're giving a condition to you serving on the upgrade committee?"
"It seems like we need someone," said Tylec.
"We need someone on the upgrade committee; we don't need someone on the Land Bank committee," Pecoraro says.
(Later, N.T. Building Inspector Rob DePaolo said the NT Land Bank Selection committee, which he was already appointed to, will also include two council members, the city attorney and the mayor. That committee will make recommendations to the council, which has final power of approval.)
"I don't understand why — was it Eric? — they asked you to step down before asking me?" Tylec asks.
"He asked me to step down," Pecoraro says and is cut off by Zadzilka.
"Bob is serving on a bunch of committees," Zadzilka says. "I thought it was an opportunity for you because you had expressed interest in getting on a committee."
"Sure," Tylec says. "I think it should have been a discussion among the three of us."
Pecoraro asks, "Is it conditional based? You serving?"
Tylec answers, "I think it's open to discussion."