Golf course cost city $275k last year; Voccio dubious of "golf-subsidy business"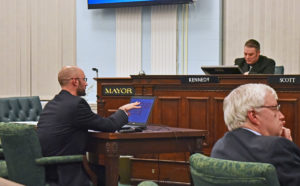 "We need to have a serious conversation about the golf-subsidy business," said Councilman Chris Voccio at Wednesday's Common Council meeting.
"If we do, then let's get into water slides, badminton and ping pong and subsidize it," Voccio said.
City Administrator Nick Melson said a proposal is underway to privatize the operations at the city's golf course but that the grounds itself would not be sold.
City Controller Dan Morelllo (above) started the conversation when he revealed during a 2017 budget review the city's golf course lost $275,000 last year.
"At every meeting going forward I will be presenting an update," said Morello.
Morello also said casino funds were currently down to less than $1 million and that $12 million were spent last year to make the budget work.
Bright spots in the review included the city's post-apocalyptic parking ramp, which broke $1 million in revenue for the first time. 2017 was also the first year the ramp accepted credit cards, netting $284,000.
Personnel costs were over-budget by $3 million during 2017, which according to Morelllo, was caused by "pay rate increases and retro payments due to new union contracts." Medical costs also increased $1.1 more than anticipated.
Councilman Chris Voccio (below) said the city might want to consider running a budget for each month instead of a full year because some departments spend money and collect revenue differently throughout the year. Keeping that into account, a monthly budget would generate a more accurate picture of where the city is financially for the year, he said.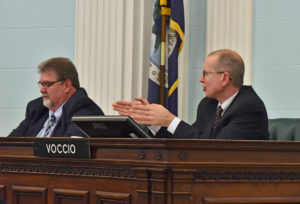 City hoping for free money with utility audit; LED lights, energy upgrades pitched
Municipal utility-bill audit firm Troy & Banks is looking to gain another client in Niagara County with the City of Niagara Falls.
The North Tonawanda City Council earlier this week announced its desire to pursue the firm's services, which includes analyzing city utility bills or making sure the street lights the city is being charged for are actually operating.
The audit is no-charge, and the City of Niagara Falls would receive the refunds and Troy & Banks receive a share based upon a contract. No mention was made at the meeting as to what the audit firm's share might be in this case.
In other news, a construction firm specializing in large-scale energy-efficiency upgrades to municipal buildings, Danforth, made a presentation to the council, with "guaranteed" energy savings of about 30 percent. The amount of energy savings over time is supposed to pay for the upgrades and installation.
A representative from Danforth also said that a large potential energy savings is LED street lights. A state plan is being rolled out allowing municipalities to buy back the poles from the power companies that currently own them. The overall plan is to lower what municipalities pay out to power companies.
"It's a heck of an opportunity for a zero-tax increase and zero cost to the taxpayer," said account executive Steve Odendecker. "We shoulder all the risk."
Typically, a public referendum would need to take place on a project like this. But because these energy upgrade activities are designated a "performance contract" by the state only a request for proposal is necessary. "It's still kept in the public eye," he said.