Lawmaker debunks drug-prevention director's claim N.T. has a higher teen-pregnancy rate than N.F.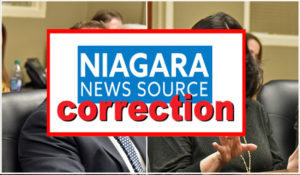 On Feb. 15, 2018, Niagara News Source published an article with the headline "N.T. has higher teen pregnancy rate than N.F.; county land bank could fight blight."
The first part of the headline is not accurate.
The statement in question came from Director of Community Health Alliance of North Tonawanda Lisa Peterangelo at last week's common council workshop. Her presentation introduced the organization, which won a federal Health and Human Services grant providing $125,000 each year for the next five years to reduce youth drug use in North Tonawanda.
About 700 people saw the story before it was edited and the disputed information removed.
Since then Peterangelo responded to a request for comment and had this to say:
"Sorry for the confusion. I was trying to keep the presentation on CHANT and the drug free community grant."
Peterangelo's comment that N.T. had a higher teen-pregnancy rate than Niagara Falls resulted from councilman Austin Tylec's request for an example when Peterangelo said "there are so many interesting facts about NT."
Peterangelo: NT has a very large teen pregnancy population.
Tylec: Compared to say Niagara Falls?
Peterangelo: Yeah.
Tylec: Higher?
Peterangelo: Mmm hmm. Yeah.
Council President Eric Zadzilk later referred to Peterangelo's headline-generating statement: "We'd like to see that some of this data — especially the vetted data — gets to the parents. Because if this is surprising to some of the people here, how many of the parents know that the teen-pregnancy rate for an example at the middle school is higher than Niagara Falls or whatnot?"
In her e-mail to Niagara News Source, Peterangelo said: "The best source for NT pregnancy is Planned Parenthood. For accuracy I would go there."
"My expertise is drug prevention," Peterangelo said. "I will be more careful next time and not allow myself to get sidelined."
The discrepancy between headline and reality was brought to light by Niagara County 8th District Legislator Richard Andres.
"My instinct while reading the article was this simply could not be true in regards to the pregnancy rates," said Andres.
"I work at the high school and cannot remember seeing a pregnant girl in the current school year and very few in my career," he said.
"I asked Elise Pignatara from our county Department of Health for information and she flat out said that this assertion is false."
During the workshop Peterangelo said: "To consider that North Tonawanda is not touched by something that the entire nation is suffering would be dangerous. It takes a city to save lives."