They're not doing it right! Executive-session motions almost always flout rules
You really don't want your local municipality going into executive session because it often means bad news.
A lawsuit against the town or city.  A sticky personnel matter. Or contract discussions. At the very least, an issue the public should be aware of.
So be wary — be very wary — when the council calls to go into executive session.
Before they retreat behind closed doors, though, listen up to how they go about it because 97 percent of the time in Western New York, they're doing it wrong.
"I move we go into executive session for the purposes of litigation" is a commonly heard phrase after you've been to enough public meetings.
And it's simply *not enough*.
"New York State Committee on Open Government opinions and several State Court decisions have made it clear that motions reiterating general terms like litigation, personnel and a contractual matter are not sufficient when seeking to hold an executive session," said attorney Paul Wolf (above center), President of the Buffalo Niagara Coalition for Open Government.
The group recently released its executive session report, which surveyed the practices of the 16 largest municipalities in Niagara and Erie counties, and found 78 executive sessions took place during a recent six-month period.
This is how it should go …
"I move to enter into executive session to discuss the collective bargaining negotiations involving the police union."
"I move to enter into executive session to discuss our litigation strategy in the case of Company X vs. the Town of Tonawanda."
"I move to enter into an executive session to discuss the employment history of a particular person (or persons)."
Notice that detail is essential. (However, the identity of the particular persons does not have to be stated.)
The goal of BNCOG's report is to educate local government officials and municipal attorneys that changes need to be made in how executive sessions are conducted, said Wolf.
"Over the years incorrect customs and traditions regarding executive session motions have taken hold," he said. "Executive session motions are made the way they are because that is how they have been done for years. New elected officials come on board and the improper procedures get passed on."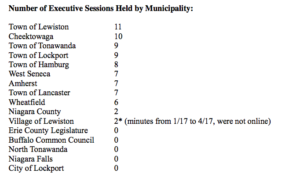 Other findings include: Cheektowaga, the Niagara County Legislature and the Village of Lewiston do not document the time an executive session starts or ends in their meeting minutes.
In five out of seven sessions held in West Seneca, the executive session lasted longer than the public portion of their meeting.
In seven out of nine sessions held in the Town of Tonawanda, the executive session lasted longer than the public portion of their meeting.
The full report can be read here …