Warning against city's 'fiscally irresponsible' $48.7 million in debt; mayor, council call it 'politics'
At Tuesday's common council meeting in North Tonawanda, there was only one "public input" speaker but he generated much response from the council and mayor.
N.T. Democratic Committee Chairman Mark Houghton said: "We have been deferring way too much tax burden to the future generations of tax payers that have to pay it back."
"As to our long-term obligations, at the end of 2015 — which is the audit from 2016, the annual one — our long-term obligations were $34.2 million," said Houghton. "At the end of 2016 — the audit that was conducted in 2017 — our long-term obligations are $48.7 million, which is a $14.4 million increase or approximately a 42 percent increase in long-term obligations."
"Also, in bonding in 2016, we bonded $4,460,250, which out of the total bonds due from 2002 through 2015, is approximately a 66 percent increase. Again, this is fiscally irresponsible."
Later in the meeting, Mayor Arthur Pappas responded.
"I want to advise people in the public when they hear these figures and hear these statements brought out that you dig a little further," he said. "And I would advise anybody when they come out with figures like this that they get the figures from the whole context of the material they are picking from. And I would invite Mr. Houghton and anyone from the public to contact our city accountant to find out exactly what those figures mean and what was being discussed and why. You'll find possible a totally different story."
Houghton later responded: "Since they said it could have been this or that causing the jump in long-term debt.  Aren't they supposed to know what caused it?" Houghton was responding to comments made after the meeting.
"If not they shouldn't be in office if they can't account for many millions of dollars," he said."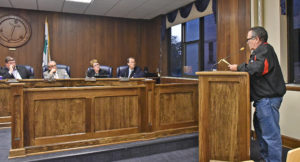 During the meeting, Houghton also remarked on some of the public works projects being undertaken recently throughout the city.
"I'd also like to compliment the current mayor and the current council for following (NT mayoral candidate) Jim McGinniss so closely on social media and getting the things he suggests done. He sure knows how get things done."
Council president Eric Zadzilka replied: "A lot of those things we're working, he's dovetailed them. He may have a future job as a reporter, too."
Councilman Bob Pecoraro said: "I have a feeling that because we're in a political season that there's a lot of negative reporting going on. And I'm here to set the record straight — as I hope all the other councilmen are too — of the great job that the city is doing, including the department heads and the employees and everyone else that's involved. The governor was here a couple of weeks ago and gave us $2.5 million. The negative behind the $2.5 million is that we didn't get $10 million. I was on that team that proposed the downtown revitalization intuitive and we got $2.5 million of which we will continue the development of our downtown area and expand the footprint of that."
Pappas continued: "Just be careful because you don't know, many people do not know what was already on the agenda, what was being being done as words were being spoken and what had already been completed. You get an entirely different picture."
"I just want to advise the public: be careful what you listen to. Be careful where it's coming from, and check the sources. Come on in. We have an open-door policy. You can get accurate information and you get as much of it as you need to make a healthy decision on your part."
Zadzilka: "I agree with that 100 percent. Good job, Mayor. And to follow that comment. There's a lot of conversations and things that take place that some people are not aware of when they post these videos and they report it as if it's the first time anybody's looking at it.  There's information missing from that equation. What solutions have been put in place? What solutions have been explored? What solutions were denied or declined by residents in certain area as well? Unfortunately, I don't follow these things very closely. When I get a call and it's not the right information that's being dispatched to the public I take it very personally because of my commitment to the city to make sure those individuals don't get slighted that some people are hearing for the first time and are probably misled. So I agree with the mayor. You need to really dig and find the facts, ask the questions. And I think there are certain times where you might want to meet with the person who's directly involved with this. And some of these things that we are hearing about are things we already had in the works like the Botanical Gardens."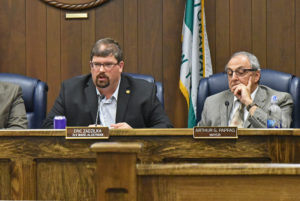 Pappas: "Things happening don't come overnight. And anybody getting involved in government will find out there are certain processes you must go through to get any project done. And it's time consuming — sometimes too long — but it's part of the process. It's part of the codes; it's part of the laws. And anybody who thinks that this council or anybody involved in government — whether it be the county or us — that's because of the political nature right now with the elections coming up that things things are getting done because they are speaking on it. Well, the public needs to look deeper. Those that are saying these things and actually believe it, then they ought to like us even more because they are getting done."
Zadzilka: "They are getting done, and they are part of process that we've been on whether or not it's being reported for the first time or not doesn't mean that we haven't been looking at these things."