Reimer: City could pocket $1.5 million by saving for projects instead of bonding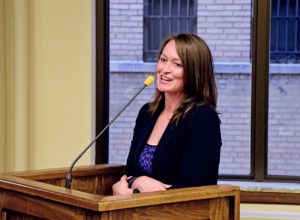 North Tonawanda City Accountant Amanda Reimer has been on something of a roll lately.
After impressing the city council — and council regular Sonia Dusza — with an early budget update and the creation of a budget committee in July, she was promoted last week to chief accountant. On Tuesday, she shared the fund-balance policy she wrote that will likely be adopted when the council convenes next week.
The two major takeaways were setting the city's fund balance at 12 to 15 percent and saving for large-scale projects instead of issuing debt.
That could save the city $1.5 million "over five years," Reimer said. "That would give us more money to spend on acquisitions and equipment."
Of course, that will require fiscal discipline, which Reimer is looking to instill in other areas like setting aside, for instance, $15,000 a year to help pay for large fire-department purchases that happen on a on a 15-year basis.
"It's all about being proactive instead of crisis budgeting," said councilman Robert Pecoraro. "You should be applauded for your leadership in that project."
As for the percentage of fund balance, although state guidelines recommend 15-20 percent, Reimer said "15-20 is high for us."
"We are not volatile, and we're pretty consistent," Reimer said.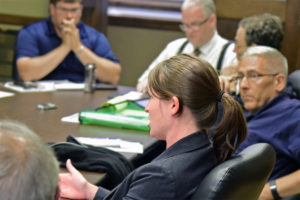 In other news, Water Superintendent Bill Davignon requested the council "give their blessing" to his effort to get high-speed internet on Tonawanda Island.
Davignon said the water and waste-water plants located there need high-speed internet for more efficient operations as well as future high-tech upgrades. Right now, the water plant computers are getting about 1 megabyte a second. "That's laughable," he said. 
"When there's a 30-40 page water report and I hit send, it's time for a coffee break," he said. "It's embarrassing actually."
A large part of the cost will be covered by a Homeland Security grant, Davignon said, noting that the final cost of the project is not yet determined. (If the cost is more than $35,000, it goes out to public bid.)
"It's a good thing for the island," Davignon said, "It's a good, forward-thinking thing. To lay that groundwork for the businesses, and there's a lot of development potential over there."
Additional conversation included creating parking spots by Sherwood Florist on Oliver Street, which is struggling with getting enough parking.