Cure for heartbreak sought Friday at second Baby Shawn walk to fight cancer
Baby Shawn is beating the odds of a cancer that's never been beaten.
It's inoperable because of its location at the base of the brain stem, and the therapies to fight this cancer date from the 1970s.
Since his diagnosis almost two years ago, Niagara Falls resident Baby Shawn has become one of the longest-surviving patients of this rare type of pediatric brain cancer.
Although he's already been to more hospitals than most adults, Shawn lives just about the same life as any kid about to start school. He runs, he plays. He absolutely loves basketball.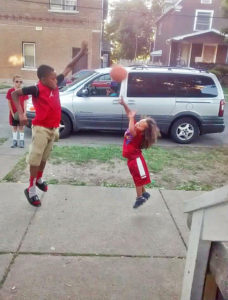 But he also has little conception of the changes that will overwhelm his body — severe weight gain ending in total paralysis — if the tumor begins to grow like it has in every other case.
There's almost nothing that can be done for Shawn other than give him a normal life mixed in with some amazing moments — like meeting NBA superstar and personal hero Stephen Curry of the Golden State Warriors — before he begins to experience the heartbreaking symptoms of this rare cancer that receives relatively little research funds.
And that's one of the reasons for the mile walk around Goat Island taking place 8:30 p.m. Friday: to raise money to fund research into finding a cure for a cancer that claims most of its young victims eight months after diagnosis.
Shawn is in his 23rd month, and he'll be leading the walk.
Family and friends and supporters will walk with him to find a cure for an inscrutable cancer that some believe could lead to a cure for all cancers.
The walk will also support programs that make life better for these kids dealing with problems and pain and suffering no child ever should.
For more information, visit the walk's Facebook page or call organizer Mike Esposito at (716) 579-3748.