Will free Wi-Fi help lead tourists from State Park to downtown businesses?
Falls receiving $300,000 for parking and traffic study, and John Percy explains "the money shot."
Will Niagara Falls, N.Y., join the list of international destinations like Seoul, New York City, Boston and Barcelona that offer free Wi-Fi to visitors?
It's something tourists increasingly expect, and it's a way to market downtown to the visitors at the State Park, said Roscoe Naguit (below right), Assistant Director of the Niagara Global Tourism Institute.
On Monday, he pitched the Niagara Falls Tourism Advisory Board on the Institute's $150,000 plan to implement free Wi-Fi in the State Park to Old Falls Street.
Naguit is looking for a "one-time" contribution of $50,000 from the city with additional funding coming from the Niagara Falls Economic Development Fund Program and Empire State Development.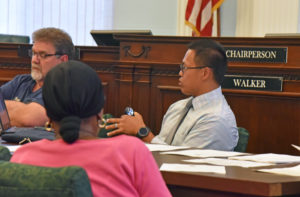 He said the network will be "self-sustaining" after the Phase 1 implementation. Other areas the project will expand to include Main Street, Pine Avenue "and all the way to the Aquarium."
"There will be one or two expansions a year, and this is the most expensive phase," Naguit said.
When tourists log onto the Wi-Fi network a splash page will highlight local downtown businesses. Naguit did not think it was a good idea to send other notifications or information regarding other Falls destinations beyond that.
He's looking at a rollout in early September.
The advisory board — including councilman Kenny Tompkins and chairman Pat Proctor of Rainbow Air — seemed receptive to the idea, and Naguit is likely to make the presentation in front the common council at Monday's upcoming meeting.
Naguit also said some of the communication and Wi-Fi challenges facing the city and tourists are due mainly to the city's location on the U.S.-Canadian border.
"Many visitors turn off their mobile devices to avoid costly international roaming charges," he said. That results in a "lack of connectivity to information on what to do during their stay."
Also, in clusters during events, cell phone towers often become overloaded with users causing massive slowdowns or disruptions in data connectivity, he said.
"Today, people expect Wi-Fi."
Other discussions at the advisory board meeting included the city's traffic debacle on the 4th of July.
While lack of funding was cited by Tompkins as a reason for the lack of manpower and solutions in general, Police Chief Bryan DalPorto said downtown streets were not designed for the massive influxes of cars and gigantic busses the tourists bring.
At the meeting, it was announced the city is receiving $300,000 for a parking and traffic study.
"Which we need," said John Percy of Destination Niagara.
Percy said there's going to be a short-term plan and a long-term plan, which will focus on creating a parking zone away from downtown for cars and to shuttle tourists tourists to downtown and the State Park.
"You don't expect to park at the front gates of Disney World," Percy said.
Proctor said downtown businesses are getting fed up with the traffic snarls.
Ideas included diverting traffic going on the parkway to Buffalo Avenue as well as shutting down the former Robert Moses during large traffic events.
One board member recounted a recent trip through Pennsylvania and Maryland during which her smartphone received notifications for better routes. "It worked very well," she said.
There was also an update on events encompassing the re-emerging Festival of Lights, including a candlelight parade to the tree lighting, fire stations agreeing to decorate and hold community events as well as a 5k run and a "12 bars of Christmas" pub crawl, among a still-growing list of events.
Additionally, when asked, Percy (above left) explained in more detail about recently published information regarding the Erendira Wallenda stunt over the Falls to which the city council contributed $35,000.
"It is an equation that was put out by our PR agency that equated the number of outlets that showcased the photographs or information about the Wallenda event and how many people their reach is.
"So it it adds up that number. That is not a fake number. And that number far exceeded our expectations."
One board member, who doesn't approve of such stunts over the Falls, said she also questioned the huge number Destination Niagara released after the event.
"We are only going by the numbers," Percy said.
"That may mean ABC News may have 50 million viewers, and that goes into that impressionable number. It's adding up to how many they reach. Is that truly the number? You will never know the exact number. It's just a cumulative of all the outlets together that showcased the photographs and everything else."
"We were pleased to have hired AP photographers that got the money shot. All the local news shot up to the sky. It looked like it could have been anywhere. It could have been Toledo, Ohio."
"For here, getting the money shot of her hanging over the Falls looking down. That was the money shot."
"And that's what hit the news. If we didn't have that we wouldn't have of received much of anything. And AP will only carry their AP wire photographer. It was well worth the investment," Percy said.
"Now what does that equate into to? Just because they saw it doesn't mean they are going to run here and see the Falls. It brings Niagara Falls to the forefront of people's minds. This was more of a media event rather than a physical, in-person event."