NT's new police chief Zgolak still pursuing resolution of dispatch issues
North Tonawanda's new police chief, Roger Zgolak (above), was sworn in Tuesday at an early city council meeting, taking over for retiring William Hall.
Zgolak had this to say after the abbreviated session: "They voted today to enter into an agreement with the Benevolent Association for a single, dedicated channel for the police department. I'm hoping through that agreement and with any other negotiations we will have with the sheriff's department that will alleviate whatever issues there were over communication and air time."
Mayor Arthur Pappas announced the appointment, adding: "We had three excellent candidates for the chief's position. It was a very difficult decision but there can only be one chief."
"While it's unfortunate we are losing a great Police Officer to retirement with Chief Hall, I'm very confident in our incoming Chief just the same," said Pappas.  "Our new Chief has displayed exemplary service to our community and has an impeccable record as well.  It was a tough decision, but I feel it's the right one at this time."
Chief Zgolak has been with the North Tonawanda Police Department since August 23, 1985.  Soon after his hiring, he attended and subsequently graduated from the Erie County Central Police Services Law Enforcement Training Academy.  In time, Roger was promoted to the rank of Lieutenant in 1998 and worked as the Officer in Charge for the afternoon shift.  Four years later, in 2002, Roger attained the rank of Captain and was assigned as the Captain of the Patrol Division.
Additional police related duties performed by Chief Zgolak include: serving the department as a state certified Accident Investigator, as a Field Training Officer and a General Topics Instructor.  Chief Zgolak is currently the Chief of the North Tonawanda Auxiliary Police as well.
"I'm honored to have been given this vote of confidence from Mayor Pappas and the Common Council," said Chief Zgolak.  "I look forward to working with the Mayor and the Common Council for the good of the City, as well as the betterment of the Department."
Chief Zgolak currently resides in North Tonawanda with his wife and daughter.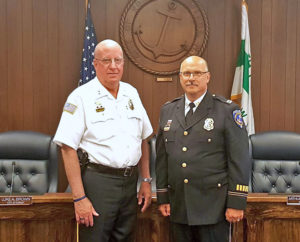 In announcing Hall's retirement, Pappas had this to say: "Hall has served the City of North Tonawanda for the past 32 years, with the last 4 years as Chief of the department. In his many years as a Police Officer, Chief Hall rose through the ranks including Assistant SWAT Team Leader, Detective and Captain/Chief of Detectives."
"Throughout his career, Chief Hall has received numerous accolades and letters of commendation," Pappas said. "In 1999, he received a letter of gratitude from the United States Secret Service for his leadership in a narcotics and counterfeit money investigation.  He was named North Tonawanda Police Department's Officer of the Year in 2005 and was honored as Law Enforcement Officer of the Year by Tonawanda's Exchange Club later that same year.  In 2010, he was honored with the 25 Years of Service Award from the New York Conference of Mayors and Municipal Officers."
"Chief Hall has served this community with great distinction and professionalism," said Mayor Pappas.  "It has been a pleasure working alongside Chief Hall in my time as Mayor.  I certainly hope the best for him in retirement and after 32 years, I'm sure he deserves it."
"I just want to say, it was an honor to serve the community and the citizens of North Tonawanda," said Hall.