Governor's first 'casino money' discussion with Seneca President was six days ago
Also, city failed miserably with July 4th traffic backed up to Whitehaven Road on Grand Island ...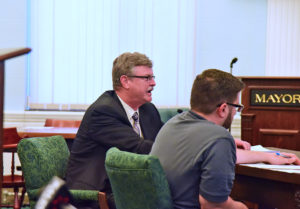 Just around April Fool's Day, the Seneca Nation announced it was terminating payments of "casino money," saying it had fulfilled its contractual obligation to provide a share with the state and the City of Niagara Falls.
Mayor Paul Dyster (above, on Monday) reiterated his inability to speak on what the Governor is doing to help the city as to not "derail" negotiations with Seneca Nation President Todd Gates.
However, according to councilman Kenny Tompkins, who has emerged as the no-nonsense counterbalance to Dyster's increasingly unpopular administration, Governor Andrew Cuomo only spoke with Gates for the first time about the matter six days ago.
"Why did it take three and half months?" Tompkins asked.
Councilman Andrew Touma at Monday's common council meeting expressed his desire for the state to "make the city whole" regarding critical casino money if negotiations become protracted or to just give residents and business owners some piece of mind.
Tompkins agrees: "This isn't our problem. We didn't give 53 acres of our city away. The governor did."
Emails and a call to the governor's office three days ago asking for verification and elaboration have received no response. (In fact, the governor's staffer answering the phone ended the conversation — but before the connection was terminated — with an audible sigh of what could only be described as disgust.)
The governor's decreasing popularity state-wide mirrors what's going on in Niagara Falls.
At the June 26 common council meeting, a dizzying array of issues facing the city was brought up by residents looking for answers and solutions.
Out of frustration, one council regular, Roy McDowell, used humor — and a puppet — to get the council's attention about the Dyster administration not providing councilman Tompkins equal access to information.
On Monday, Ron Anderluh said the city failed miserably when it came to managing the Fourth of July traffic, with no increased traffic-control presence on downtown streets despite many calls for the city to be ready.
"Nobody has mentioned the traffic over the 4th of July weekend. It was horrendous. All the meetings we had preparing for the 4th of July didn't seem like we coordinated anything downtown. The traffic was backed up over the Grand Island Bridge to Whitehaven. Unbelievable! It's not rocket science. You need a police officer down there the entire day."
Anderluh said lack of overtime funds is cited as reason for the inadequate traffic control. He said the city should be funding these operations with revenue from the new parking meters. "We have been taking in enough money in parking to maintain police officers for those three holidays a year."
"These tourists are not spending money," he said. "They are sitting in their cars getting ticked off."
Or sitting in the gallery of council chambers in city hall, wondering why the mayor and department heads leave when everyone else, the concerned citizens stay?